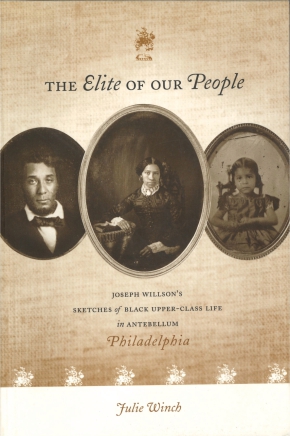 The Elite of Our People
Joseph Willson's Sketches of Black Upper-Class Life in Antebellum Philadelphia
Edited by Julie Winch
Buy
The Elite of Our People
Joseph Willson's Sketches of Black Upper-Class Life in Antebellum Philadelphia
Edited by Julie Winch
"Savvy researchers have long relied on Joseph Willson's little book for its contemporary view of being black in Philadelphia and for its general insights into nineteenth-century African American life. Julie Winch's meticulously researched and knowledgeably annotated edition brings the book alive again for a new generation of readers."
Description

Reviews

Bio

Subjects
Sketches of the Higher Classes of Colored Society in Philadelphia
, first published in 1841, was written by Joseph Willson, a southern black man who had moved to Philadelphia. He wrote this book to convince whites that the African-American community in his adopted city did indeed have a class structure, and he offers advice to his black readers about how they should use their privileged status. The significance of Willson's account lies in its sophisticated analysis of the issues of class and race in Philadelphia. It is all the more important in that it predates W. E. B. Du Bois's
The Philadelphia Negro
by more than half a century.
Julie Winch has written a substantial introduction and prepared extensive annotation. She identifies the people Willson wrote about and gives readers a sense of Philadelphia's multifaceted and richly textured African American community. The Elite of Our People will interest urban, antebellum, and African-American historians, as well as individuals with a general interest in African-American history.
This volume has withstood the test of time. It remains readable. Joseph Willson was well read, articulate, and had a keen eye for detail. His message is as timely today as it was in 1841. The people he wrote about were remarkable individuals whose lives were as complex as his own.
"Savvy researchers have long relied on Joseph Willson's little book for its contemporary view of being black in Philadelphia and for its general insights into nineteenth-century African American life. Julie Winch's meticulously researched and knowledgeably annotated edition brings the book alive again for a new generation of readers."
"Julie Winch . . . has edited the definitive volume of Joseph Wilson's 1841 commentary on Philadelphia's African American high society. . . . Winch comprehensively places Wilson's Sketches in its historical context. . . . The work adds to the expanding literature on the free black community in the pre-Civil War North."
"Like Winch's other works, The Elite of Our People is an important addition to the literature on free black northern society, for it goes beyond historians' interest in white antebellum abolitionists to allow a young African American to speak for his community and himself."
Julie Winch is Professor of History at the University of Massachusetts in Boston. Her previous books are Philadelphia's Black Elite: Activism, Accommodation, and the Struggle for Autonomy, 1787-1848 (1988) and Cyprian Clamorgan's "The Colored Aristocracy of St. Louis" (edited, with an introduction) (1999).
Mailing List
Subscribe to our mailing list and be notified about new titles, journals and catalogs.