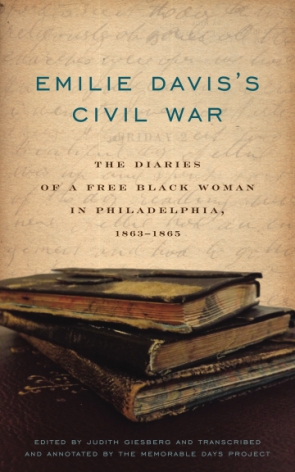 Emilie Davis's Civil War
The Diaries of a Free Black Woman in Philadelphia, 1863–1865
Edited by Judith Giesberg, transcribed and annotated by The Memorable Days Project
BUY
Emilie Davis's Civil War
The Diaries of a Free Black Woman in Philadelphia, 1863–1865
Edited by Judith Giesberg, transcribed and annotated by The Memorable Days Project
"Emilie Davis's diary surely will find an appreciative audience among scholars and readers interested in African Americans during the Civil War era. Its entries, covering January 1863 through December 1865, yield valuable information on multiple topics, including daily life among Philadelphia's free black community, reactions to news from the war's political and military fronts, and the centrality of religion in Davis's world. Judith Giesberg and her coeditors have framed the diary beautifully and placed students of the conflict much in their debt."
Description

Reviews

Bio

Table of Contents

Sample Chapters

Subjects
Emilie Davis was a free African American woman who lived in Philadelphia during the Civil War. She worked as a seamstress, attended the Institute for Colored Youth, and was an active member of her community. She lived an average life in her day, but what sets her apart is that she kept a diary. Her daily entries from 1863 to 1865 touch on the momentous and the mundane: she discusses her own and her community's reactions to events of the war, such as the Battle of Gettysburg, the Emancipation Proclamation, and the assassination of President Lincoln, as well as the minutiae of social life in Philadelphia's black community. Her diaries allow the reader to experience the Civil War in "real time" and are a counterpoint to more widely known diaries of the period.
Judith Giesberg has written an accessible introduction, situating Davis and her diaries within the historical, cultural, and political context of wartime Philadelphia. In addition to furnishing a new window through which to view the war's major events, Davis's diaries give us a rare look at how the war was experienced as a part of everyday life—how its dramatic turns and lulls and its pervasive, agonizing uncertainty affected a northern city with a vibrant black community.
"Emilie Davis's diary surely will find an appreciative audience among scholars and readers interested in African Americans during the Civil War era. Its entries, covering January 1863 through December 1865, yield valuable information on multiple topics, including daily life among Philadelphia's free black community, reactions to news from the war's political and military fronts, and the centrality of religion in Davis's world. Judith Giesberg and her coeditors have framed the diary beautifully and placed students of the conflict much in their debt."
"Emilie Davis's Civil War offers a rare 'interior' view of the daily life and doings of a young black Philadelphian during the Civil War. In brief but regular daily jottings, Emilie Davis recorded the rhythms of life in the city; the associations in clubs, school, and church that formed the marrow of the black community; the feelings she had about loved ones, friends, and public figures; and moments when the war brought home death and dangers. This book commands attention because sustained private views from black women are few, and those few we have are from more educated and affluent writers than Davis. The diaries also benefit from a perceptive introduction by Judith Giesberg and excellent annotation throughout. The result is a book that is at once a rarity and a necessity. It allows us to enter a place and meet a people we hardly know—black Philadelphia during wartime—and by doing so, in critical ways, it turns the narrative of the home front upside down and inside out."
"Emilie Davis's Civil War: The Diaries of a Free Black Woman in Philadelphia, 1863-1865 is both an important educational tool and a vivid depiction of everyday life in a country at war to end the greatest injustice it has ever committed."
Judith Giesberg is Professor of History at Villanova University.
Contents
List of Illustrations
Acknowledgments
List of People and Institutions Mentioned in the Diary
A Note on Method
Introduction
Chapter 1 1863
Chapter 2 1864
Chapter 3 1865
Coda: All's Well that Ends Well
Bibliography
The Memorable Days Project Editorial Team
Index
Mailing List
Subscribe to our mailing list and be notified about new titles, journals and catalogs.