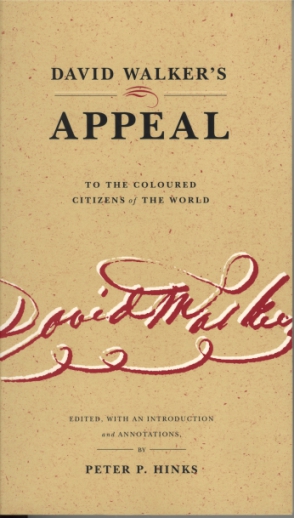 David Walker's Appeal to the Coloured Citizens of the World
Edited by Peter P. Hinks
Buy
David Walker's Appeal to the Coloured Citizens of the World
Edited by Peter P. Hinks
"Peter Hinks . . . is now the leading scholarly authority on Walker."
Description

Reviews

Bio

Subjects
In 1829 David Walker, a free black born in Wilmington, North Carolina, wrote one of America's most provocative political documents of the nineteenth century,
Walker's Appeal to the Coloured Citizens of the World
. Decrying the savage and unchristian treatment blacks suffered in the United States, Walker challenged his "afflicted and slumbering brethren" to rise up and cast off their chains. Walker worked tirelessly to circulate his book via underground networks in the South, and he was so successful that Southern lawmakers responded with new laws cracking down on "incendiary" antislavery material. Although Walker died in 1830, the
Appeal
remained a rallying point for African Americans for many years to come, anticipating the radicalism of later black leaders, from Malcolm X to Martin Luther King, Jr.
In this new edition of the Appeal, the first in over thirty years, Peter P. Hinks, the leading authority on David Walker, provides a masterly introduction and extensive annotations that incorporate the most up-to-date research on Walker, much of it first reported by Hinks in his highly acclaimed biography, To Awaken My Afflicted Brethren. Hinks also includes a unique appendix of documents showing the contemporary response—from North and South, black and white—to the Appeal itself and Walker's attempts to distribute it in the South. Historians and political activists have long recognized the importance of Walker's Appeal. At last we have an edition worthy of its persuasive immediacy and its enduring place in American history.
"Peter Hinks . . . is now the leading scholarly authority on Walker."
"Hinks's edition of Walker's Appeal complements his exhaustively researched To Awaken My Afflicted Brethren. With the Appeal, Hinks turns to the intellectual, interdisciplinary, and argumentative quality and development of Walker's mind. . . . Peter Hinks reintroduces Walker's abolitionist classic to remind scholars of this erudite black activist; to stress the 'central function' of all three versions of the text; . . . and to nuance the political legacy from which Walker sprang and which he conveyed, enhanced, to his heirs."
Peter P. Hinks teaches history and African American Studies at Yale University. He is the author of To Awaken My Afflicted Brethren: David Walker and the Problem of Antebellum Slave Resistance (Penn State, 1997), which was named a Gustavus Myers Outstanding Book for 1998.
Mailing List
Subscribe to our mailing list and be notified about new titles, journals and catalogs.