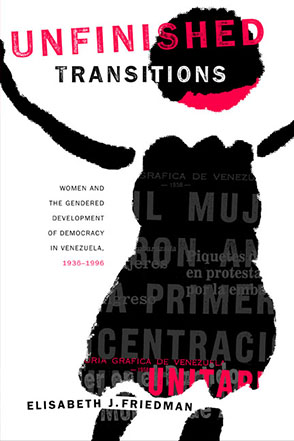 Unfinished Transitions
Women and the Gendered Development of Democracy in Venezuela, 1936–1996
Elisabeth Friedman
Buy
Unfinished Transitions
Women and the Gendered Development of Democracy in Venezuela, 1936–1996
Elisabeth Friedman
"This is a major contribution to the field in several areas as it sits in the intersection of democratic transitions and consolidation, political institutions and civil society, social movements and gender politics. It takes a new approach to explaining the outcomes of women's organizing efforts by using gender analysis to explain the impact of political institutions on women's mobilization. That is, it focuses on gender relations, not just women's actions. It presents new empirical evidence, offers an original interpretation, and advances theoretical development. Moreover, by placing Venezuela in comparative perspective, it allows us to push further in developing generalizations for both theory-building and policy recommendations."
Description

Reviews

Bio

Subjects
This analysis of Venezuelan women's organizing traces a sixty-year struggle to democratize political practice and represent women's interests. It also helps to explain some of the "unfinished business" of Latin American democratization: why women have had difficulty participating in regimes they fought to restore, and how they seek inclusion. Friedman's innovative theoretical approach uses gender analysis to explain the impact of the "political opportunity structure"—the institutions, actors, and discourses—of democratization on women's participation.
"This is a major contribution to the field in several areas as it sits in the intersection of democratic transitions and consolidation, political institutions and civil society, social movements and gender politics. It takes a new approach to explaining the outcomes of women's organizing efforts by using gender analysis to explain the impact of political institutions on women's mobilization. That is, it focuses on gender relations, not just women's actions. It presents new empirical evidence, offers an original interpretation, and advances theoretical development. Moreover, by placing Venezuela in comparative perspective, it allows us to push further in developing generalizations for both theory-building and policy recommendations."
"Elisabeth Friedman offers a clear-eyed look at how women's political participation has evolved in Venezuela, where women have been successful at putting together effective coalitions on specific issues but continue to be politically marginalized. Because she is writing about Venezuela, which remained democratic while much of the region fell under military rule in the 1960s and 1970s, Friedman has an opportunity to think in longer historical terms about women's roles in democratization. She presents the case in a highly readable narrative style with thoughtful analysis of its implications for women's political strategies in the region and, implicitly, in all democratizing states."
"As a participant observer in Venezuelan women's organizations in 1994–95, Friedman reflects both a scholarly and personal engagement with the issues. This is a groundbreaking study of gendered politics, of interest for its theoretical thrust as well as for its contribution to Venezuelan political history."
"Venezuela has long reflected the best and worst of developing democracy in Latin America, and, as Elisabeth J. Friedman demonstrates in this study, while democracy can produce political progress for men, it does not necessarily have the same consequence for women. Indeed, Friedman finds that, paradoxically, women's movements flourish under politically authoritarian rule and tend to fracture and be diminished during periods of democracy. . . . Unfinished Transitions provides a substantial picture of the barriers that feminist organizations face in their quest to change the political reality of Latin America."
"This is a lucid study of women's participation in Venezuelan politics emphasizing their role in two political transitions from dictatorship to democracy."
"Friedman writes in an engaging manner, and her research combines extensive interviews with long-term participant observation, which includes 'hanging out' with many of the principal actors, and impressive document research."
"Friedman's superb study analyzes women's participation in political and civil society during the transition to and consolidation of democracy in Venezuela."
Elisabeth J. Friedman is Assistant Professor of Political Science at Barnard College, Columbia University. Her articles have appeared in Latin American Research Review, World Politics, Debates IESA, and Meridiana.
Also of Interest
Mailing List
Subscribe to our mailing list and be notified about new titles, journals and catalogs.