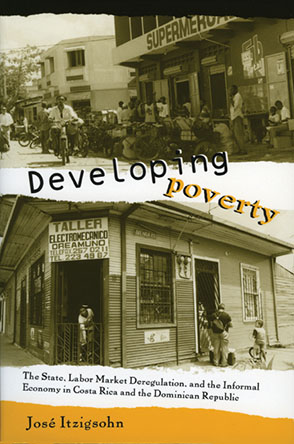 Developing Poverty
The State, Labor Market Deregulation, and the Informal Economy in Costa Rica and the Dominican Republic
José Itzigsohn
Buy
Developing Poverty
The State, Labor Market Deregulation, and the Informal Economy in Costa Rica and the Dominican Republic
José Itzigsohn
"This book is a very useful contribution both to Latin American and Caribbean studies and to the sociology of development. The author has an excellent grasp of theory, providing insightful syntheses of the literature on the state in development and on the informal economy. In this empirically rich study, he explores the important issue of whether or not state regulation of the labor market is positive for employment and incomes. He broadens this issue to include the question of the state's developmental role in the economy. Basically, his purpose is to show that the state can have a positive developmental role and that its regulatory actions can reduce unemployment and raise incomes. He is thus arguing against a body of economic thinking that views economic development and wealth creation as best achieved by allowing market forces to have free play and by reducing the state's regulatory actions."
Description

Reviews

Bio

Subjects
Using data from local surveys, interviews, and national statistics, this comparative study of two Central American cities similarly positioned in the world economy looks at how people make a living outside the mainstream of economic life, in the "informal economy," what opportunities they have for social mobility, and how state policies affect their life chances.
"This book is a very useful contribution both to Latin American and Caribbean studies and to the sociology of development. The author has an excellent grasp of theory, providing insightful syntheses of the literature on the state in development and on the informal economy. In this empirically rich study, he explores the important issue of whether or not state regulation of the labor market is positive for employment and incomes. He broadens this issue to include the question of the state's developmental role in the economy. Basically, his purpose is to show that the state can have a positive developmental role and that its regulatory actions can reduce unemployment and raise incomes. He is thus arguing against a body of economic thinking that views economic development and wealth creation as best achieved by allowing market forces to have free play and by reducing the state's regulatory actions."
"From the standpoints of theory, methodology, and data alike, this book is a major contribution to the multidisciplinary fields of international development and comparative urbanization, social stratification, and social policy. It will prove important to academic and policy specialists in these fields as well as quite useful in upper-level undergraduate courses and graduate seminars. [Its empirical analysis is highly competent as well as clear and insightful. It represents an admirable and successful effort to deploy theory and methodology judiciously to illuminate the interplay of state policy and social inequality in Latin America. The conclusions emphasize not only the pernicious general consequences of neoliberal policy but also substantial variation in the degrees and forms of the consequences in the context of distinctive national institutional patterns]."
"This book ought to set the standard for future research on Latin American labor markets. The title accurately describes this short book's contents, but it does not suggest how carefully and interestingly Itzigsohn develops his arguments about the relationships among informal labor market, the global economy, and national governments' efforts to control and ameliorate the workings of national and labor markets, with particular attention to firms and maze of inconsistent definitions and conflicting hypotheses of the extensive literature with clarity, succinctness, and a refreshingly critical but judicious stance."
"[Itzigsohn] quite effectively uses multiple methods to show how and why the informal economies vary across these two countries. Overall, this book offers a compelling account of these differences, and empirical and theoretical insights for those who study the informal economy and development."
"Although the author has a definite point of view on development models—and on the deficiencies of neoliberal theory—this is a serious, balanced book, not an ideological polemic. His conclusions flow from the results of his research, not from ideological dogma, and when some of the results are not congenial to his viewpoint, he still reports them fairly. It also comes through clearly that he feels deeply about the fates of the workers he met and cares more about helping them than about scoring theoretical points."
José Itzigsohn is Assistant Professor of Sociology at Brown University. His articles have appeared in Social Forces, Latin American Research Review, International Journal of Urban and Regional Research, and Ethnic and Racial Studies.
Mailing List
Subscribe to our mailing list and be notified about new titles, journals and catalogs.