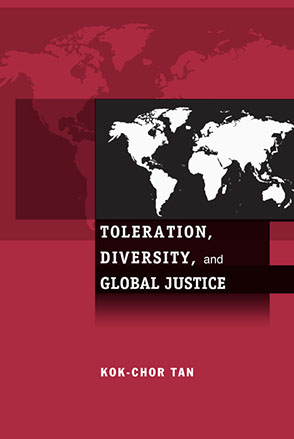 Toleration, Diversity, and Global Justice
Kok-Chor Tan
Buy
Toleration, Diversity, and Global Justice
Kok-Chor Tan
"Tan exposes central flaws with Rawls's political liberalism both for the domestic case and as applied to the global arena. Tan offers a more theoretically consistent alternative theory of global justice that does not abandon its commitment to individual freedom or equality, yet has adequate resources to respect some peoples' rights. The framework Tan offers should be quite congenial to those egalitarian liberals disappointed with Rawls's fairly conservative views as articulated in The Laws of Peoples and also of considerable interest to anyone concerned about the most compelling version of liberalism."
Media

Description

Reviews

Bio

Subjects
Runner Up for the Canadian Philosophical Association Book Prize
The "comprehensive liberalism" defended in this book offers an alternative to the narrower "political liberalism" associated with the writings of John Rawls. By arguing against making tolerance as fundamental a value as individual autonomy, and extending the reach of liberalism to global society, it opens the way for dealing more adequately with problems of human rights and economic inequality in a world of cultural pluralism.
"Tan exposes central flaws with Rawls's political liberalism both for the domestic case and as applied to the global arena. Tan offers a more theoretically consistent alternative theory of global justice that does not abandon its commitment to individual freedom or equality, yet has adequate resources to respect some peoples' rights. The framework Tan offers should be quite congenial to those egalitarian liberals disappointed with Rawls's fairly conservative views as articulated in The Laws of Peoples and also of considerable interest to anyone concerned about the most compelling version of liberalism."
"Tan argues for a comprehensive liberalism that champions individual autonomy and rejects as flawed the political liberalism of John Rawls. . . . This provocative book gathers divergent threads of various debates within liberal theory and moves the argument forward."
"This is an intelligent, perceptive, and well-written book, the first that tries to unite a critical discussion of the philosophical core of political liberalism with an examination of its application to international relations. . . . The study rests on a broad reading of the pertinent literature; indeed, it could function as a guide to the current philosophical literature on international justice for a scholar or graduate student who wanted to get acquainted with it."
"Liberalism involves commitments to personal freedom and mutual tolerance. How are these commitments to be balanced? Must a liberal order tolerate nonliberal groups and practices within itself, even if doing so is costly in terms of personal autonomy? What are the limits of such tolerance? These questions, which arise in global and intrastate contexts, are systematically answered by the liberal philosophy developed in this clear and elegant book by Kok-Chor Tan. Although inspired by Rawls, Tan's liberalism provides a unified and compelling alternative to the liberal vision Rawls has constructed in Political Liberalism (1993) and The Law of Peoples (1999). Tan's alternative covers the full ground, from deep methodological reactions to concrete questions of institutional design. This is a powerful first work."
"The political liberalism in Rawls's Law of Peoples has a worthy challenger in this work by Kok-Chor Tan. This is the most persuasive mapping yet of the route to cosmopolitanism through comprehensive liberalism. Tan's position became a focal point in my graduate class. His moderate version of comprehensive liberalism strikes me as one of the main options in the new generation of work in international normative theory."
"Tan offers a most intriguing analysis of liberalism's philosophical dimensions based on debates surrounding its definition, limits, and purpose. Since he rejects the incompatibility between individualism and cultural diversity, and since he argues that the practice of comprehensive liberalism actually contributes to the flourishing of diversity based on its support of autonomy, his book offers an interesting theoretical framework within which one can analyze Muslim societies and states. This study thus brings to light the dangers of using cultural relativist arguments that justify and legitimize human rights violations on grounds of context-based morality."
"Embracing the difference principle (that inequalities of income shall benefit the least advantaged), domestically and internationally, as well as focusing on individual freedom of conscience that transcends what even ideal 'decent' hierarchical toleration of groups makes likely, Tan makes an important contribution to this unfolding debate."
Kok-Chor Tan was a Faculty Fellow at Harvard University's Center for Ethics and the Professions in 2001/2002.
Mailing List
Subscribe to our mailing list and be notified about new titles, journals and catalogs.