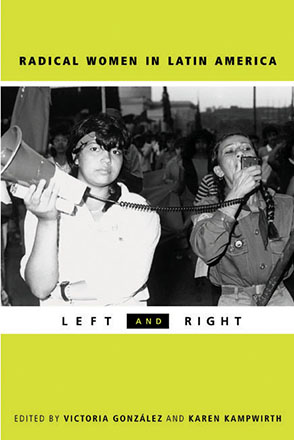 Radical Women in Latin America
Left and Right
Edited by Victoria González-Rivera and Karen Kampwirth
Buy
Radical Women in Latin America
Left and Right
Edited by Victoria González-Rivera and Karen Kampwirth
"Kampwirth and González have assembled a fine collection of articles about women and politics in Latin America, one that challenges existing approaches that have focused largely on studies of leftist or antiauthoritarian movements. The studies combine careful empirical research with a variety of disciplinary approaches to historicize the relationship between gender and political action in modern Latin America. An essential contribution to the increasingly sophisticated field of Latin American gender studies."
Description

Reviews

Bio

Subjects
Radical Women in Latin America
is a collection of original essays by scholars from a variety of disciplines—anthropology, history, and political science—on the political activism of women from both the left and the right. The stories of these radical women challenge traditional portrayals of men as violent and women as inherently peaceful. This volume forces us to confront the fact that there is no automatic sisterhood among women, even among those of the same class and ethnicity. At the same time, the essays show the similarities that can unite women across immense political divides.
This book analyzes radical women's actions and motivations through four interrelated themes—maternalism, feminism, autonomy, and coalitions between left- and right-wing women—in three Central American countries (Nicaragua, El Salvador, and Guatemala) and three South American countries (Argentina, Brazil, and Chile). The editors and contributors to this volume have done extensive and recent field research in Latin America.
Radical Women in Latin America challenges both stereotypical views of Latin American women as easily manipulated and portrayals of women's activism as inherently progressive. This book will make clear that women are capable of defining their own interests and their political identities, organizing autonomously, and even using violence, if they deem it necessary to pursue their goals.
"Kampwirth and González have assembled a fine collection of articles about women and politics in Latin America, one that challenges existing approaches that have focused largely on studies of leftist or antiauthoritarian movements. The studies combine careful empirical research with a variety of disciplinary approaches to historicize the relationship between gender and political action in modern Latin America. An essential contribution to the increasingly sophisticated field of Latin American gender studies."
"In an important innovation, this volume presents new, interdisciplinary case studies of Latin American women's political activity on both the left and the right of the political spectrum. It offers comparisons that allow the reader to gain broader insight than has been available into the strategies and goals of women's political participation. Most significantly, the collection provides the basis for generating new theories of women's organizing that are not based solely on 'progressive' women's movements. Principal among its findings are that women's different political projects are crosscut by issues of feminist ideology, political autonomy, coalition-building, and maternalism. In particular, it concludes that no matter the goal, some level of autonomy from historically male-dominated institutions, whether political parties, unions, or the church, is necessary for women to assert their own interests, however they define them."
"By looking at a range of female behavior, from 'reprehensible acts' to 'laudable ones,' Radical Women in Latin America offers an evenhanded perspective of women's political activities in the region. . . . By their interdisciplinary approach, Gonz

á

lez and Kampwirth have added color to what could have been a rather dense account of gender politics and polemics. They also show us that political transitions cannot be fully explained without considering women's roles on both sides."
"González and Kampwirth are hard-working editors. The essays they selected are focused and smart; their introduction is comprehensive; there is a thematic coherence to the book. Their introduction provides a deft overview of twentieth-century Latin American political history and also articulates questions that frame the volume's ten essays. . . . [It is] the best recent overview of female radicalism in Latin America."
"Radical Women in Latin America is a welcome addition to the rapidly growing—and overlapping, literature—on women and social movements in Latin America that has appeared over the past decade.
Of particular interest to Latin Americanists—professional and graduate political scientists, historians, anthropologists, and sociologists—the book sheds new light on the carried activism of radical women in several South and Central American countries in recent decades.
It is commendable comparative scholarship, ranging extensively over both time and space while remaining firmly planted in the conflicts and controversies of the past forty years.
The editors bring together eight mostly young and richly talented scholars, primarily political scientists, to pen chapters. González and Kampwirth add useful chronologies of the countries under study, an excellent introduction, a thoughtful conclusion, and a chapter each."
"González and Kampwirth's edited volume, Radical Women in Latin America: Left and Right, is groundbreaking."
"This collection contains a fascinating set of analysis of women's movements and feminists located on the broad left-right political spectrum."
"One of the most impressive features of this edited volume is the consistent high quality across the chapters. Each author has written a rich and insightful essay."
"The authors in this volume make excellent use of qualitative methods to provide valuable insights into radical women in Latin America."
"These essays help to create a history of Latin American women's recent past based on balanced research. They also help to establish comparisons among Latin American nations within a well-defined analytical framework."
"The collection of ten essays by young assistant professors from a variety of disciplines—anthropology, history, and political science—presents interdisciplinary case studies of Latin American women's political activity on both the left and the right of the political spectrum. . . . The editors and contributors to this multidisciplinary collection of essays have done not only extensive field research by interviews and personal conversations but also contributed material of archives and newspapers."
Victoria González is earning her Ph.D. in Latin American History from Indiana University.
Karen Kampwirth is Assistant Professor of Political Science and Chair of the Latin American Studies Program at Knox College.
Mailing List
Subscribe to our mailing list and be notified about new titles, journals and catalogs.