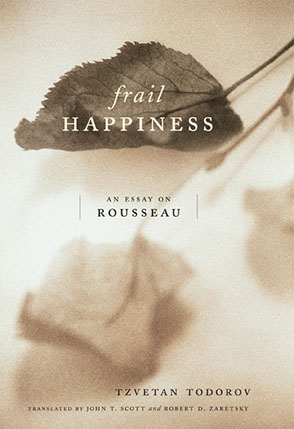 Frail Happiness
An Essay on Rousseau
Tzvetan Todorov, Translated by John T. Scott, and Robert Zaretsky
Buy
Frail Happiness
An Essay on Rousseau
Tzvetan Todorov, Translated by John T. Scott, and Robert Zaretsky
"This translation . . . is doubly welcome. . . . [It] offers readers both an insightful interpretation of Rousseau, one that presents him explicitly as a moral theorist, and an introduction to Todorov's own contributions to what he calls a 'critical humanism'."
Description

Reviews

Bio

Subjects
"We are all confronted, at one time or another, with choices as to what sort of life we will lead." So Tzvetan Todorov begins Frail Happiness, an important interpretation of Rousseau, one suffused with Todorov's own moral seriousness and intellectual depth. While ranging widely through Rousseau's corpus with skill and scholarly authority Todorov returns, again and again, to the fragile yet persistent hope for human happiness.
"This translation . . . is doubly welcome. . . . [It] offers readers both an insightful interpretation of Rousseau, one that presents him explicitly as a moral theorist, and an introduction to Todorov's own contributions to what he calls a 'critical humanism'."
"In Frail Happiness, Todorov argues for the coherence of Rousseau, against those who prefer to underscore his contradictions. In its very simplicity it is an elegant presentation, one that will doubtless attract many readers."
"All the same, Frail Happiness remains possibly the most successful of Tzvetan Todorov's writings on the history of ideas: if the text is little more than a collage of quotations and well-chosen images, it is sustained by great intuition and emotional sympathy; crafted with admirable modesty and sparing means, it succeeds in conveying the essence of Rousseau's thinking, offering an excellent, reader-friendly introduction to anyone wishing to approach his works."
Tzvetan Todorov is a director of research at the Centre National de la Recherche Scientifique (CNRS) in Paris. A linguist, literary theorist, and world-renowned essayist, he is the author of numerous books, several of which have been translated into English, including: Voices from the Gulag: Life and Death in Communist Bulgaria (Penn State, 1999).
John T. Scott is Associate Professor of Political Science at the University of California at Davis.
Robert D. Zaretsky is Associate Professor of French at the University of Houston, where he holds a joint appointment in the Honors College and the Department of Modern and Classical Languages.
Also of Interest
Mailing List
Subscribe to our mailing list and be notified about new titles, journals and catalogs.