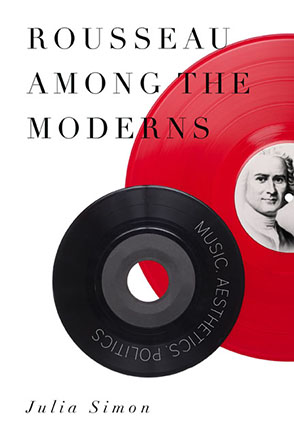 Rousseau Among the Moderns
Music, Aesthetics, Politics
Julia Simon
BUY
Rousseau Among the Moderns
Music, Aesthetics, Politics
Julia Simon
"The research in Rousseau Among the Moderns is excellent. The book is clearly written and deploys an interesting and puckish sense of relation to present-day music. It is an important contribution to Rousseau scholarship and brings together a lot of material that has been published in very different venues."
Description

Reviews

Bio

Table of Contents

Sample Chapters

Subjects
Renowned for his influence as a political philosopher, a writer, and an autobiographer, Jean-Jacques Rousseau is known also for his lifelong interest in music. He composed operas and other musical pieces, invented a system of numbered musical notation, engaged in public debates about music, and wrote at length about musical theory. Critical analysis of Rousseau's work in music has been principally the domain of musicologists, rarely involving the work of scholars of political theory or literary studies. In Rousseau Among the Moderns, Julia Simon puts forth fresh interpretations of The Social Contract, the Discourse on the Origin of Inequality, and the Confessions, as well as other texts. She links Rousseau's understanding of key concepts in music, such as tuning, harmony, melody, and form, to the crucial problem of the individual's relationship to the social order. The choice of music as the privileged aesthetic object enables Rousseau to gain insight into the role of the aesthetic realm in relation to the social and political body in ways often associated with later thinkers. Simon argues that much of Rousseau's "modernism" resides in the unique role that he assigns to music in forging communal relations.
"The research in Rousseau Among the Moderns is excellent. The book is clearly written and deploys an interesting and puckish sense of relation to present-day music. It is an important contribution to Rousseau scholarship and brings together a lot of material that has been published in very different venues."
"Julia Simon's Rousseau Among the Moderns is a fabulous book that adds something new and important to the field of Rousseau studies. In the past two decades or so, a number of studies have attempted to bridge a long-standing critical gulf between Rousseau's literary works and his social theory, Simon's included. But hers is perhaps the first study to integrate what are already interdisciplinary readings of works such as The Social Contract, the Discourse on the Origin of Inequality, and Julie with Rousseau's considerable writing about music."
Julia Simon is Professor of French at the University of California, Davis.
Contents
Acknowledgments
A Note on the Text
Introduction
1 Performance, Rhythm, and the Constitution of Community
2 Singing Democracy: Music and Politics
3 Rameau and Rousseau on Absolute and Relative Value: The Theory/Practice Problem
4 Folk Music: Authenticity, Primitivism, and the Uses of Roots Music
5 Rousseau and Aesthetic Modernity: Music's Power of Redemption
Conclusion: Rousseau Sings the Blues
Notes
Bibliography
Index
Mailing List
Subscribe to our mailing list and be notified about new titles, journals and catalogs.