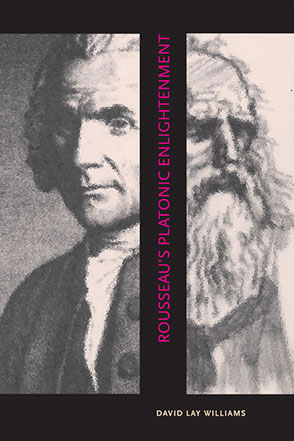 Rousseau's Platonic Enlightenment
David Lay Williams
BUY
Rousseau's Platonic Enlightenment
David Lay Williams
"Rousseau is too often thought to have waved his hands at what successors like Kant and Freud would really grasp. Williams is to be congratulated for following Rousseau's own lead to Plato, his greatest predecessor. Surprisingly, his Platonic Rousseau, though rooted in the past, proves a greater original and more important guide to our own time than the Rousseaus who gesture toward the future."
Description

Reviews

Bio

Table of Contents

Sample Chapters

Subjects
Although many commentators on Rousseau's philosophy have noted its affinities with Platonism and acknowledged the debt that Rousseau himself expressed to Plato on numerous occasions, David Williams is the first to offer a thoroughgoing, systematic examination of this linkage. His contributions to the scholarship on Rousseau in this book are threefold: he enters the debate over whether Rousseau is a Hobbesian (in rejecting transcendent norms) or a Platonist (in accepting them) with a decisive argument supporting the latter position; he tackles from a new angle the ever-challenging question of unity in Rousseau's thought; and he explores the dynamic metaphor of the chain throughout Rousseau's writings as a key to understanding them as inspired by Platonism.
The book is organized into three main parts. The first sketches the background of Platonism and materialist positivism in modern European metaphysics and political philosophy that provided the context for Rousseau's intellectual development. The second examines Rousseau's choice of Platonism over positivism and its consequences for his philosophy generally. The third addresses the legacy of Rousseau's thought and its appropriation by Kant, Marx, and Foucault, suggesting that in an age where materialism and relativism are rife, Rousseau may have much to teach us about how we view our own society and can engage in constructive critique of it.
"Rousseau is too often thought to have waved his hands at what successors like Kant and Freud would really grasp. Williams is to be congratulated for following Rousseau's own lead to Plato, his greatest predecessor. Surprisingly, his Platonic Rousseau, though rooted in the past, proves a greater original and more important guide to our own time than the Rousseaus who gesture toward the future."
"David Williams has now brilliantly undertaken the first serious study of Rousseau's Hellenophilia in seven decades. . . . Williams's book will immediately become the 'standard' one, and will join the company of Shklar, Hendel, Starobinski, and Cassirer as a work that responsible Rousseau students need to know."
"Williams offers a carefully researched and well-argued case for Rousseau as a latter-day Platonist. Readers who care about Rousseau and his role in the unfolding of modernity will want to read this book."
"Williams makes an impressive and largely successful attempt to discuss Rousseau beyond the confines of any one discipline, and as a result this book will be of value to literary scholars, historians of ideas, and philosophers as well as political theorists."
"

In this sterling, deeply researched study, Williams (Univ. of Wisconsin, Stevens Point) explores how thinkers ranging from Hobbes to d'Holbach highlight various sets of ideas that Rousseau combated in developing his philosophical teaching. The account of Rousseau's predecessors who might be called Platonists is especially interesting, as is the account of those who qualify as materialists. Moreover, Williams provides a good overview of Rousseau's teaching, demonstrates a commendable grasp of the relevant secondary literature, and argues ably for the superiority of his own interpretations. . . . Clearly written and superbly organized, this book contributes much to Rousseau studies. An indispensable book for Rousseau scholars, this volume also will appeal to general readers and students at all levels.

"
"David Lay Williams has provided us with a carefully researched and capably argued study of the influence of Platonism on the philosophy of Jean-Jacques Rousseau—the most thorough and systematic study to date. Yet this book is much more than just a study of Rousseau or his relationship to Plato and Platonism ... [its] broad approach allows Williams to demonstrate both Rousseau's originality and the way in which he drew on previous thinkers and traditions … Rousseau's Platonic Enlightenment is not only a significant contribution to Rousseau scholarship but also an immensely useful work for scholars and students of eighteenth-century thought and the history of political philosophy more generally."
"There are many things to like about Rousseau's Platonic Enlightenment: it is clearly organized, lucidly written, and crisply argued. Williams has read virtually everything Rousseau ever wrote, he knows the secondary literature inside-out, and he also knows a lot about the history of philosophy. The chapters on morality and the general will in Rousseau are both first rate, as is the chapter on Kant."
"Williams's Platonic reading of Rousseau is refreshing, illuminating, and compelling. . . [His] accomplished book is a highly significant contribution to our understanding of a perennially beguiling political thinker."
"[Many] readers will appreciate the refreshing boldness with which Williams confronts us with a "choice" . . . between Plato and Hobbes. . . . [This] is a clear and carefully argued book that should be of interest to both Rousseau specialists and eighteenth-century scholars interested in questions of ontology and epistemology."
"Williams' work provides a very welcome framework for reflecting upon and discussing a crucially important, yet overlooked and misunderstood aspect of Rousseau's thought. The author's own Platonism shines through throughout, in his argument and in his method, engaging the reader readily with Rousseau's project to surmount the weaknesses of modern philosophy, especially the Hobbesian tradition. As Williams himself points out, his subject of study is particularly cogent in the age of democratic materialism. The fresh perspective he opens on it will hopefully encourage innovative and constructive re-assessments of Rousseau's sources and legacy, and of his most profound motivations."
"There are many things to like about Rousseau's Platonic Enlightenment: it is clearly organized, lucidly written, and crisply argued. Williams has read virtually everything Rousseau ever wrote, he knows the secondary literature inside-out, and he also knows a lot about the history of philosophy. The chapters on morality and the general will in Rousseau are both first rate, as is the chapter on Kant. . . . Williams, [however], presents a one-sided reading of Rousseau. But then, so did Judith Shklar, and so did Jean Starobinski, even more brilliantly. That David Lay Williams does not seem entirely out of place in such exalted company suggests the extent of his accomplishment in this superbly tendentious new study."
"Rousseau's Platonic Enlightenment is a model of thoughtful and sustained philosophical argument, and Williams is a sympathetic and careful reader of Rousseau. He has evidently learned much from his engagement with the commentators and from his effort to situate Rousseau's contributions within a larger intellectual narrative, and his work is rich with insights. Whether or not one is persuaded by its central claim, Rousseau's Platonic Enlightenment provides the most comprehensive account available of Rousseau's use of Platonic themes, and it offers a provocative argument bound to stimulate readers interested in Rousseau or the larger tradition of political thought."
"David Lay Williams has written an important book. Its several virtues include a careful treatment of Rousseau's primary texts, generous engagement with the secondary literature, and a style characterized by a clarity and precision that renders its arguments accessible not only to specialists but to a wide range of political theorists and historians of ideas. It also develops its argument with conviction and verve, and engagement with this argument will be essential for students of Rousseau."
David Lay Williams is Associate Professor of Political Science and Philosophy at the University of Wisconsin–Stevens Point.
Contents
Foreword
List of Frequently Cited Works
Preface
Acknowledgments
1. The Context, Part 1: Metaphysics and Politics in Hobbes and Locke
2. The Context, Part 2: Materialism and Platonism in Modern Europe
3. Metaphysics and Morality: The Platonism of the Savoyard Vicar
4. The General Will: On the Meaning and Priority of Justice in Rousseau
5. Of Chains, Caves, and Slaves: Allegory and Illusion in Rousseau
6. Rousseau's System of Checks and Balances: The Negative Function of Justice
7. Kant's Conceptions of the General Will: The Formalist Interpretation
8. The Foucauldian Legacy: Critiques Without Justice?
References
Index
Mailing List
Subscribe to our mailing list and be notified about new titles, journals and catalogs.