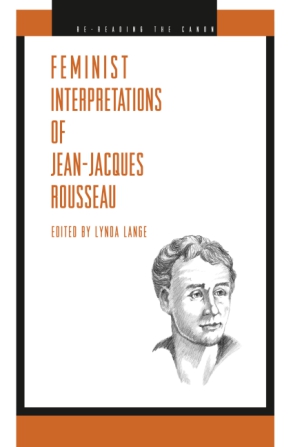 Feminist Interpretations of Jean-Jacques Rousseau
Edited by Lynda Lange
Buy
Feminist Interpretations of Jean-Jacques Rousseau
Edited by Lynda Lange
"Whether Rousseau is seen as a phallocratic tyrant, a proto-feminist philosopher, or situated somewhere between the two, the fifteen essays collected in this volume demonstrate not only the richness and diversity of his thought, but also the exciting debates which his writings continue to inspire in the twenty-first century."
Description

Reviews

Bio

Subjects
A progenitor of modern egalitarianism, communitarianism, and participatory democracy, Jean-Jacques Rousseau is a philosopher whose deep concern with the relationship between the domains of private domestic and public political life has made him especially interesting to feminist theorists, but also has made him very controversial. The essays in this volume, representing a wide range of feminist interpretations of Rousseau, explore the many tensions in his thought that arise from his unique combination of radical and traditional perspectives on gender relations and the state.
Among the topics addressed by the contributors are the connections between Rousseau's political vision of the egalitarian state and his view of the "natural" role of women in the family; Rousseau's apparent fear of the actual danger and power of women; important questions Rousseau raised about child care and gender relations in individualist societies that feminists should address; the founding of republics; the nature of consent; the meaning of citizenship; and the conflation of modern universal ideals of democratic citizenship with modern masculinity, leading to the suggestion that the latter is as fragile a construction as the former.
Overall this volume makes an important contribution to a core question at the hinge of modernism and postmodernism: how modern, egalitarian notions of social contract, premised on universality and objective reason, can yet result in systematic exclusion of social groups, including women.
Contributors are Leah Bradshaw, Melissa A. Butler, Anne Harper, Sarah Kofman, Rebecca Kukla, Lynda Lange, Ingrid Makus, Lori J. Marso, Mira Morgenstern, Susan Moller Okin, Alice Ormiston, Penny Weiss, Elie Wiestad, Elizabeth Wingrove, Monique Wittig, and Linda Zerilli.
"Whether Rousseau is seen as a phallocratic tyrant, a proto-feminist philosopher, or situated somewhere between the two, the fifteen essays collected in this volume demonstrate not only the richness and diversity of his thought, but also the exciting debates which his writings continue to inspire in the twenty-first century."
"This collection, prefaced by Nancy Tuana, is important not only for Rousseau specialists, but everyone interested in the relationship between private and public spaces, the role of women, and the meaning of freedom and identity in democratic societies. The bibliography provides a useful tool for further research on these issues."
Lynda Lange is Associate Professor of Philosophy and Women's Studies at the University of Toronto at Scarborough.
Also of Interest
Mailing List
Subscribe to our mailing list and be notified about new titles, journals and catalogs.