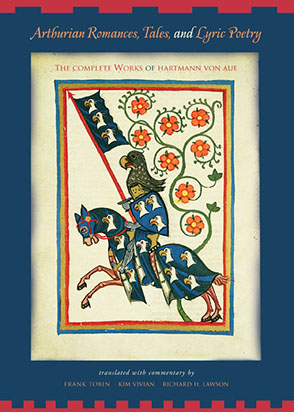 Arthurian Romances, Tales, and Lyric Poetry
The Complete Works of Hartmann von Aue
Translated with commentary Frank Tobin, Kim Vivian, and Richard H. Lawson
Buy
Arthurian Romances, Tales, and Lyric Poetry
The Complete Works of Hartmann von Aue
Translated with commentary Frank Tobin, Kim Vivian, and Richard H. Lawson
"Hartmann von Aue is a writer who belongs in the company of Chrétien de Troyes, Wolfram von Eschenbach, and Gottfried von Strassburg. At last we have a volume that brings together all of Hartmann's works in translations that are authoritative and readable."
Description

Reviews

Bio

Subjects
Hartmann von Aue (c. 1170–1215) is universally recognized as the first medieval German poet to create world-class literature. He crafted German into a language of refined literary expression that paved the way for writers such as Gottfried von Strassburg, Walther von der Vogelweide, and Wolfram von Eschenbach. This volume presents the English reader for the first time with the complete works of Hartmann in readable, idiomatic English.
Hartmann's literary efforts cover all the major genres and themes of medieval courtly literature. His Arthurian romances, Erec and Iwein, which he modeled after Chrétien de Troyes, introduced the Arthurian world to German audiences and set the standard for later German writers. His lyric poetry treats many aspects of courtly love, including fine examples of the crusading song. His dialogue on love delineates the theory of courtly relationships between the sexes and the quandary the lover experiences. His verse novellas Gregorius and Poor Heinrich transcend the world of mere human dimensions and examine the place and duties of the human in the divine scheme of things. Longfellow would later use Poor Heinrich in his Golden Legend.
Arthurian Romances, Tales, and Lyric Poetry is a major work destined to place Hartmann at the center of medieval courtly literature for English readers.
"Hartmann von Aue is a writer who belongs in the company of Chrétien de Troyes, Wolfram von Eschenbach, and Gottfried von Strassburg. At last we have a volume that brings together all of Hartmann's works in translations that are authoritative and readable."
"An excellent example of good translation skills, and it also has the advantage over the other versions of containing all the works of Hartmann of Aue."
"Attempting to deal with the complete works of any prolific writer in any genre is a daunting challenge, but Frank Tobin, Kim Vivian, and Richard Lawson have done Hartmann and the literature that he represents a great service.
"As a complete anthology of Hartmann's works intending to bring a larger audience among English-language readers to this important writer, its goal is admirably attained."
"The translations are remarkably consistent, both in tone and style, and the notes have been seamlessly referenced from one text to the next. . . . This volume will give a broad audience long-awaited access to one of medieval Germany's most significant poets as an excellent addition to introductory courses in medieval studies, as a fine acquisition for general library collections, and as essential (and enjoyable) reading for all medievalists who are not yet familiar with the work of Hartmann von Aue."
Frank Tobin is Professor of German at the University of Nevada, Reno.
Kim Vivian is Associate Professor of German at Augustana College.
Richard H. Lawson is Professor Emeritus of German at the University of North Carolina at Chapel Hill.
Together they have also edited the McGraw-Hill Anthology of German Literature.
Also of Interest
Mailing List
Subscribe to our mailing list and be notified about new titles, journals and catalogs.