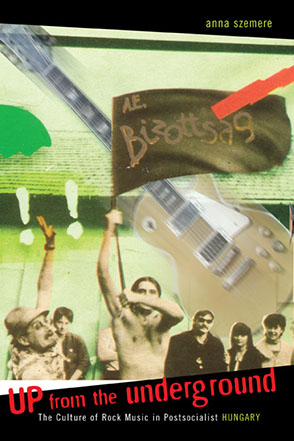 Up From the Underground
The Culture of Rock Music in Postsocialist Hungary
Anna Szemere
BUY
Up From the Underground
The Culture of Rock Music in Postsocialist Hungary
Anna Szemere
"Up from the Underground demonstrates the theoretical fertility of focusing on music to illuminate the culture of politics and the politics of culture. Anna Szemere makes a major contribution to the sociology of culture in general."
Description

Reviews

Bio

Subjects
What happens to a community of oppositional artists when the purpose and meaning of their opposition are undermined by social transformation? Such was the dilemma facing many underground artists in Eastern Europe following the collapse of state socialism. In
Up from the Underground
, Anna Szemere looks at the underground based on rock music in Hungary, showing how it anticipated, precipitated, and responded to a period of fundamental change.
Szemere's work focuses on a community of rock musicians that became popular with Hungary's urban youth culture in the early 1980s—groups with names such as the Committee, Control Group, and the Galloping Coroners. Szemere reveals the activities, discourse, and group life of musicians against the background of shifting institutional contexts. By the mid-1990s the change of regime had altered the cultural dynamics of Hungarian society, leading to a complete realignment of the underground music world. Szemere uses the opportunity presented by these developments to challenge one-dimensional representations of popular culture and transition in the region. She also addresses more general questions about the nature and uses of expressive culture, autonomy, social change, and social reproduction.
Up from the Underground is an important addition to the scholarship on the cultural dimension of the most profound societal change in Europe since World War II. It also enriches the increasingly global field of cultural sociology and cultural studies by rethinking its central assumptions and theories in the light of Eastern Europe's unique historical and social experience.
"Up from the Underground demonstrates the theoretical fertility of focusing on music to illuminate the culture of politics and the politics of culture. Anna Szemere makes a major contribution to the sociology of culture in general."
"This is a fascinating study of forms of life too often ignored in the social sciences and in the study of political regimes. It illustrates vividly the complex ways in which micro- and macro-politics (and anti-politics) are implicated in social transition."
"Criticism aside, Szemere presents a wonderful ethnography of an artistic community. This book certainly deserves the attention of anyone interested in the sociology of art, sociology of music, and recent debates on the politics of popular culture."
"The tremendous value of this book is that it salvages the Hungarian rock underground from the dustbin of history, dusts it off, and examines with great clarity both its lasting and not so lasting features, dilemmas, issues, lessons and consequences. It also suggests a new direction in the study of popular music, where an emphasis on aesthetics and personal ethical technologies can reveal deeper connections between music, politics and social and cultural change."
"While perhaps not overly provocative to jaded western readers, Szemere's extensively interview-based and theoretical account of 'the messy terrain of musicians' everyday struggles to create a voice and make that voice heard' (p. 229) in the Hungarian post-Communist rock underground makes for largely fascinating reading."
"As her previous work in the field has blazingly proved, there is no one better placed to write about rock music within Hungarian culture than Anna Szemere; anyone who is, like me, interested in the history of popular music and attendant cultures in Hungary already has much to thank her for.
For those interested in Hungarian culture, this book is an absolute must."
Anna Szemere teaches in the Sociology Department, Emory University.
Also of Interest
Mailing List
Subscribe to our mailing list and be notified about new titles, journals and catalogs.