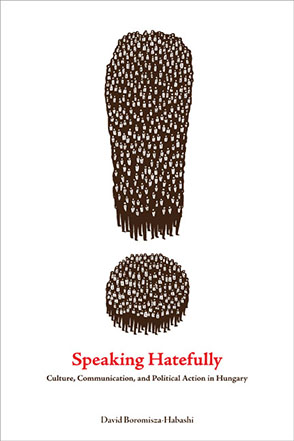 Speaking Hatefully
Culture, Communication, and Political Action in Hungary
David Boromisza-Habashi
BUY
Speaking Hatefully
Culture, Communication, and Political Action in Hungary
David Boromisza-Habashi
"This book is interesting and provocative, not to say courageous. It takes a term that arouses intense passions in the United States and analyzes it in an alien cultural/political context in ways that go beyond the usual tenor of U.S. conversations on such topics, showing that even positions one may find odious have an internal 'logic' in local sociohistorical contexts. That alone is an important contribution to scholarship on political debate, which usually assumes competing 'sides' and, at least implicitly, privileges certain positions over others. In this way, the analysis poses provocative questions about scholars' own potential 'cultural' biases and political engagements. (Whether scholars are ready to accept the challenge is another question.)"
Description

Reviews

Bio

Table of Contents

Sample Chapters

Subjects
In Speaking Hatefully, David Boromisza-Habashi focuses on the use of the term "hate speech" as a window on the cultural logic of political and moral struggle in public deliberation. This empirical study of gyűlöletbeszéd, or "hate speech," in Hungary documents competing meanings of the term, the interpretive strategies used to generate those competing meanings, and the parallel moral systems that inspire political actors to question their opponents' interpretations. In contrast to most existing treatments of the subject, Boromisza-Habashi's argument does not rely on pre-existing definitions of "hate speech." Instead, he uses a combination of ethnographic and discourse analytic methods to map existing meanings and provide insight into the sociocultural life of those meanings in a troubled political environment.
"This book is interesting and provocative, not to say courageous. It takes a term that arouses intense passions in the United States and analyzes it in an alien cultural/political context in ways that go beyond the usual tenor of U.S. conversations on such topics, showing that even positions one may find odious have an internal 'logic' in local sociohistorical contexts. That alone is an important contribution to scholarship on political debate, which usually assumes competing 'sides' and, at least implicitly, privileges certain positions over others. In this way, the analysis poses provocative questions about scholars' own potential 'cultural' biases and political engagements. (Whether scholars are ready to accept the challenge is another question.)"
"David Boromisza-Habashi's book offers a fascinating cultural analysis of the highly charged public conversation that surrounded Hungarian 'hate speech' as a term for talk and a social problem at a particular juncture in the country's history. It is an exemplary study of the way speakers breathe meaning and life into a cultural key symbol in contesting issues of identity, morality, and social action in an intensely divisive political context. While richly resonant with local Hungarian culture and history, this study addresses themes and concerns that many readers will find pertinent to their own cultural worlds. Intriguingly, the book makes a bold move by reaching beyond ethnographic interpretation and analysis towards a consideration of the potential social and activist uses of cultural discourse analysis as a form of 'counsel.' This book will be of great interest to communication scholars, anthropologists, political scientists, and students of law, among others."
"This book joins an ethnographic examination of culture with public discourse in a profound and compelling account of Hungary's struggles to forge shared meaning about 'hate speech.' Its relevance to the study of culturally situated communication practices extends beyond a particular nation and its historical moment, offering an important perspective on speech as action. It is also splendidly readable, both rich in careful detail and convincing in its wide-ranging theoretical implications."
"Scholars interested in national identity, freedom of expression, and democratic deliberation will all find this book a useful addition to their libraries."
"Boromisza-Habashi thoroughly displays the connection between public discourse and cultural knowledge in an accessible fashion, and examines key terms of the debate, such as content and tone, in depth. For practitioners, the text uncovers the nuances of culture as they inform political arguments. . . . Boromisza-Habashi offers a thorough accounting of the cultural discourses that compose a passionate public debate regarding hate speech in free societies."
David Boromisza-Habashi is Assistant Professor of Communication at the University of Colorado Boulder.
Contents
Acknowledgments
Introduction: Cultural Thinking About Social Issues
1 History as Context
2 Diversity of Meaning
3 Interpretations: Tone Versus Content
4 Interpretations: How to Sanction "Hate Speech"
5 Rhetorical Resistance
6 From Cultural Knowledge to Political Action
Appendix: Theory and Methods
Notes
References
Index
Mailing List
Subscribe to our mailing list and be notified about new titles, journals and catalogs.