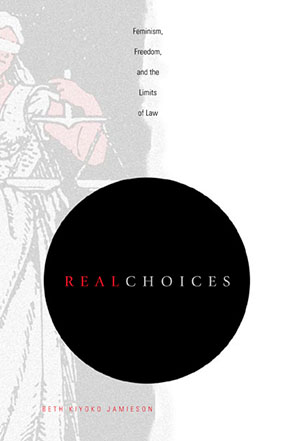 Real Choices
Feminism, Freedom, and the Limits of Law
Beth Kiyoko Jamieson
Buy
Real Choices
Feminism, Freedom, and the Limits of Law
Beth Kiyoko Jamieson
"This is a beautifully written book—well researched, persuasively argued, very intelligent, refreshingly accessible—on a topic of considerable importance and urgency."
Description

Reviews

Bio

Subjects
Grounded in the history of political thought, and illuminated by legal studies and feminist theory, this book offers a challenging new approach to thinking about liberty in the wake of decades of criticism of liberalism from feminists, communitarians, and conservatives alike. Fundamental to this approach is the author's argument that liberty and equality are not inconsistent values and that political theory would do well to abandon the dichotomy between "negative" and "positive" liberty.
The principles of liberty Jamieson proposes—identity, privacy, and agency—are not meant to be rigid or universal but rather contextualist and contingent. To demonstrate these principles, she offers a series of three case studies of legal conflicts: for identity, heightened constitutional protection for homosexuals; for privacy, regulation of assisted reproduction such as surrogacy and sperm donation; and for agency, the rights and responsibilities of battered women.
"This is a beautifully written book—well researched, persuasively argued, very intelligent, refreshingly accessible—on a topic of considerable importance and urgency."
"Certain to be thought-provoking and even controversial, Jamieson offers a critique of existing feminist theory and seeks to reconstruct a vision of feminism that is securely wedded to the Western liberal tradition. Troubled by some feminist theories that depict a thin and unidimensional view of liberalism, Jamieson critically examines the works by some of the major thinkers in the Western political tradition and paints a more nuanced view of liberalism—one that is compatible with, and indeed integral to, feminist political principles and policy goals. The grace with which the author interweaves normative political theory with contextualized case analyses of timely policy issues makes the book an important contribution to legal and policy debates. . . . The chapter on intimate violence is especially provocative and is sure to fuel debate over, and within, the law and narrative movement, as well as among feminists and activists who work with the victims of domestic violence."
"Beth Kiyoko Jamieson has written a valuable book. Dedicated to addressing, conceptualizing, and critiquing liberty as a feminist value and from a feminist perspective, she focuses seriatim on three major components of a feminist theory of liberty: identity, privacy, and agency. . . . Her work is stimulating and worthy of wide attention and dialogue."
"Jamieson succeeds admirably in presenting a theory of liberty that encompasses both old and new ways of thinking about the concepts, contexts, and limits of liberty, equality, personal dignity, personal responsibility, and diversity that is useful for the application of justice and jurisprudence relevant to feminists and feminist ideals.
Beth Kiyoko Jamieson, a lecturer in the Department of Politics at Princeton University, sets herself the monumental task of justifying 'the need for and constructing a feminist theory of liberty.' While this may seem like something of an arrogant boast, Jamieson does just that in a cogently explained and eminently readable book.
It is refreshing to see a subject that is too often so abstract it loses all personal significance explained in an accessible and more personally relevant fashion. It made me aware of just how important and individually significant the issue of liberty is, and, because of its clarity, it should do the same for other readers."
"Revisiting the place of liberty in feminist jurisprudence, Jamieson offers a provocative reminder of the integrity of the individual and the difficulty of protecting it in the face of compelling challenges."
"The author's elegant treatment of surrogacy, sperm donation, and just family laws that celebrate liberty while not exploiting others is compelling."
Beth Kiyoko Jamieson is Lecturer in the Department of Politics at Princeton University.