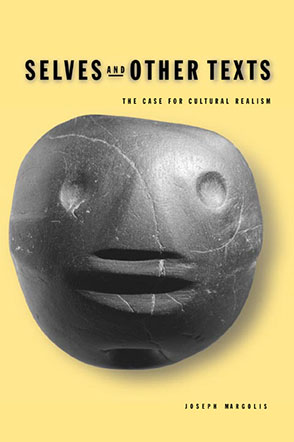 Selves and Other Texts
The Case for Cultural Realism
Joseph Margolis
Buy
Selves and Other Texts
The Case for Cultural Realism
Joseph Margolis
"This book [presents] a bold and eloquent defense of 'cultural realism'. . . as this applies to the arts and, in lesser degree, history and literature. Throughout, major epistemological and metaphysical issues—especially those raised by the artwork (e.g., its ontological status, its referential powers, holism, its constative claims, etc.)—are addressed, with ingenious and intriguing solutions offered, fresh at every turn. . . . A distinctive contribution of this book is its catholicity of outlook, which allows Margolis to draw upon and merge the best insights of both analytical and continental traditions in philosophy. There is no one in today's philosophical world who has a comparable mastery of both of these often antithetical traditions—and who is able to combine them so skillfully and creatively. . . . The result is a book that will be of broad appeal to practitioners and students of both schools of philosophical thought. . . . No other book combines such an effective critique of the views of others in aesthetics and the humanities generally with such an original point of view as his own."
Description

Reviews

Bio

Subjects
Extending his well-known investigations into the nature and logic of art and history in the cultural world, Joseph Margolis here offers a sustained account of how selves and the cultural phenomena they generate (language, history, action, art) can be viewed as just as "real" as the physical nature from which they are emergent, while not being reducible to it. The book starts off with a review of prominent philosophies of art over the past half-century, focusing especially on Beardsley, Goodman, and Danto, so as to highlight the need for carefully distinguishing between the metaphysical and epistemological features of physical nature and human culture. The second part of the book builds on the first part's analyses of artworks to propose a theory of selves as "self-interpreting texts." Selves and Other Texts aims to develop new ways of understanding the conceptual inseparability of our analysis of physical nature and our analysis of ourselves.
"This book [presents] a bold and eloquent defense of 'cultural realism'. . . as this applies to the arts and, in lesser degree, history and literature. Throughout, major epistemological and metaphysical issues—especially those raised by the artwork (e.g., its ontological status, its referential powers, holism, its constative claims, etc.)—are addressed, with ingenious and intriguing solutions offered, fresh at every turn. . . . A distinctive contribution of this book is its catholicity of outlook, which allows Margolis to draw upon and merge the best insights of both analytical and continental traditions in philosophy. There is no one in today's philosophical world who has a comparable mastery of both of these often antithetical traditions—and who is able to combine them so skillfully and creatively. . . . The result is a book that will be of broad appeal to practitioners and students of both schools of philosophical thought. . . . No other book combines such an effective critique of the views of others in aesthetics and the humanities generally with such an original point of view as his own."
"This is a truly thought provoking and surprisingly easily understood text that should be read by not only philosophers, but artists and historians as well."
Joseph Margolis is Laura H. Carnell Professor of Philosophy at Temple University. His previous books include What, After All, Is a Work of Art? (Penn State Press, 1999).
Mailing List
Subscribe to our mailing list and be notified about new titles, journals and catalogs.