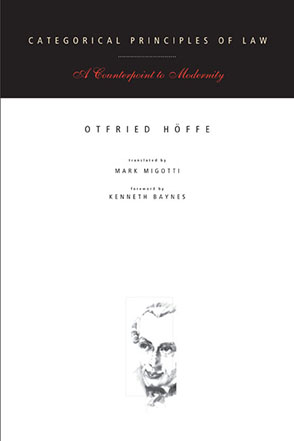 Categorical Principles of Law
A Counterpoint to Modernity
Otfried Höffe, and Translated by Mark Migotti
Buy
Categorical Principles of Law
A Counterpoint to Modernity
Otfried Höffe, and Translated by Mark Migotti
"Kantian theories of law and politics are not well understood in English-language philosophy, which has tended to ignore Kant's actual writings on these topics in favor of his more foundational ethical works, from which philosophers often draw erroneous inferences about what the 'Kantian' view must be on issues of applied ethics and political philosophy. Höffe's book is a much-needed presentation of a contemporary Kantian position by a leading German philosopher of law, containing a thoughtful critical response to the positions of Rawls and Habermas. Migotti's translation is smooth, accurate, and a scholarly achievement all by itself."
Description

Reviews

Bio

Subjects
In Germany, Otfried Höffe has been a leading contributor to debates in moral, legal, political, and social philosophy for close to three decades. Höffe's work (like that of his contemporary, Jürgen Habermas), brings into relief the relevance of these German discussions to their counterparts in English-language circles.
In this book, originally published in Germany in 1990 and expanded since, Höffe proposes an extended and original interpretation of Kant' philosophy of law, and social morality. Höffe articulates his reading of Kant in the context of an account of modernity as a "polyphonous project," in which the dominant themes of pluralism and empiricism are countered by the theme of categorically binding moral principles, such as human rights. Paying equal attention to the nuances of Kant's texts and the character of the philosophical issues in their own right, Höffe ends up with a Kantianism that requires, rather than precludes, a moral anthropology and that questions the fashionable juxtaposition of Kant and Aristotle as exemplars of incompatible approaches to ethical and political thought.
"Kantian theories of law and politics are not well understood in English-language philosophy, which has tended to ignore Kant's actual writings on these topics in favor of his more foundational ethical works, from which philosophers often draw erroneous inferences about what the 'Kantian' view must be on issues of applied ethics and political philosophy. Höffe's book is a much-needed presentation of a contemporary Kantian position by a leading German philosopher of law, containing a thoughtful critical response to the positions of Rawls and Habermas. Migotti's translation is smooth, accurate, and a scholarly achievement all by itself."
"The book offers a highly interesting critical reinterpretation and defense of Kant's doctrine of right."
Otfried Hoffe is Professor of Philosophy at the Law School of the University of Tobingen. His books include Aristotle (SUNY, forthcoming).
Mark Migotti is Professor of Philosophy at the University of Calgary.
Mailing List
Subscribe to our mailing list and be notified about new titles, journals and catalogs.