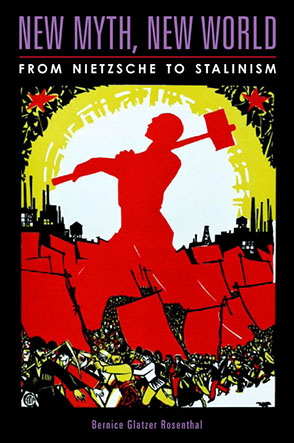 New Myth, New World
From Nietzsche to Stalinism
Bernice Glatzer Rosenthal
BUY
New Myth, New World
From Nietzsche to Stalinism
Bernice Glatzer Rosenthal
"New Myth, New World is an original and provocative reinterpretation of Nietzsche's central impact on Soviet culture. Rosenthal has read widely and deeply in primary sources running from philosophy, religion, and poetics to political ideology, architecture, and street theater. In addition, she seems to know all the relevant scholarship, not just in English and Russian but also in German and French and other languages as well. This is a model of wide-ranging, well-informed historical research."
Description

Reviews

Bio

Table of Contents

Sample Chapters

Subjects
The Nazis' use and misuse of Nietzsche is well known. The Superman, the "will to power," Nietzsche's equation of bourgeois democracy and decadence, and his denigration of reason were staples of Nazi propaganda. Communists also used and misused Nietzsche, but that fact is largely unknown because Soviet propagandists invoked reason and labeled Nietzsche the "philosopher of fascism," even while covertly appropriating his ideas. In this pioneering book, Bernice Glatzer Rosenthal excavates the trail of long-obscured Nietzschean ideas that took root in late Imperial Russia, intertwining with other elements in the culture to become a vital ingredient of Bolshevism and Stalinism.
Nietzsche made a difference. He furnished intellectual ammunition for a prolonged conflict about culture, society, and politics that began around the turn of the century. His first Russian admirers were poets, philosophers, and political activists. They responded to the changes transforming their society by espousing new values and seeking a new faith by which to live and work. This response resulted in new aesthetic and political amalgams, such as Symbolism, Futurism, Nietzschean Christianity, and Nietzschean Marxism. The ensuing debates between and among their partisans reverberated throughout the wider culture and therefore also into Bolshevism, becoming the subject of an uninterrupted polemic between Bolsheviks and non-Bolsheviks, and among Bolsheviks, that continued into the 1930s.
In Stalin's time, unacknowledged Nietzschean ideas were used to mobilize the masses for the great tasks of the first Five-Year Plan and the Cultural Revolution, which was intended to eradicate "bourgeois" values and attitudes from Soviet life and to construct a distinctly Socialist culture. Nietzsche's belief that people need illusions to shield them from reality underlay Socialist Realism, the official Soviet aesthetic from 1934 on. In the aftermath of de-Stalinization, the government cast Nietzsche as the personification of "bourgeois" nihilism and "bourgeois" individualism. Soviet intellectuals wishing to reappropriate their lost cultural heritage discovered the Nietzsche-influenced intellectuals of late Imperial Russia and reopened discussion on the issues they had posed.
More than an exercise in historical rediscovery, New Myth, New World offers a new interpretation of modern Russian history. By uncovering the buried influence of Nietzschean ideas on Soviet culture and politics, Rosenthal opens new avenues for understanding Soviet ideology and its influence on the twentieth century.
"New Myth, New World is an original and provocative reinterpretation of Nietzsche's central impact on Soviet culture. Rosenthal has read widely and deeply in primary sources running from philosophy, religion, and poetics to political ideology, architecture, and street theater. In addition, she seems to know all the relevant scholarship, not just in English and Russian but also in German and French and other languages as well. This is a model of wide-ranging, well-informed historical research."
"New Myth, New World: From Nietzsche To Stalinism by Bernice Glatzer Rosenthal is a thoughtful and scholarly reinterpretation of Nietzsche's lasting influence upon Soviet culture."
"Rosenthal's mastery of the often intricate details of Russian and Soviet political thought is truly impressive and contributes dramatically to the credibility of her thesis. Her work will force scholars to reevaluate not only Nietzsche's influence on twentieth-century thought but also the origins of Soviet culture. Anyone who wants to understand the evolution of Marxist-Leninist thought, in all of its manifestations, would do well to read New Myth, New World."
"In New Myth, New World: From Nietzsche to Stalinism, Bernice Glatzer Rosenthal proposes a refreshing, unconventional approach to Nietzsche's heritage, and demonstrates how ideas have a life of their own, influencing, in arcane ways, trends that may be the opposite of what their proponents claim.
Professor Rosenthal's book is an exercise in cultural archeology: she excavates long-forgotten or neglected themes, symbols, ideas that have permeated various trends of the Russian tradition from the populists to the Bolsheviks."
"In her third book on Nietzsche and Russia, Rosenthal documents the persistence of Nietzsche in Russia's history in a recondite and kaleidoscopic way. Her command of the topic shows. . . . Highly recommended."
"Rosenthal's exploration of the 'psychopolitical utility to myth' (113) in New Myth, New World serves as a timely and thought-provoking guide through a key portion of this new territory. The reader will have to work through Rosenthal's dense prose, close reasoning, and occasional bursts of associative analogy, but the reader will not be disappointed. This is an excellent work."
"The author's scholarly intuition, which sometimes cuts across the work's declared aims, notes and delineates a tendency, a set of problems which are obviously going to dictate the pattern of Nietzsche reception in Russia during the next few years."
Bernice Glatzer Rosenthal is Professor of History at Fordham University. She is the editor of three prior books that have paved the way for this study—Nietzsche in Russia (1986), Nietzsche and Soviet Culture: Ally and Adversary (1994), and The Occult in Russian and Soviet Culture (1997). She is also the co-author of A Revolution of the Spirit: Crisis of Value in Russia, 1890-1924 (1990).
Contents
List of Illustrations
Acknowledgments
Works Frequently Cited
Introduction
Section I: The Seed-Time: The Russification of Nietzsche, 1890–1917
1. Symbolists
2. Philosophers
3. Nietzschean Marxists
4. Futurists
Summary: The Nietzschean Agenda in 1917
Section II. Nietzsche in the Bolshevik Revolution and the Civil War, 1917–1921
5. Apocalypse Now: Bolshevik Fusions of Marx, Engels, and Nietzsche
6. Beyond Bolshevism: Visions of a Revolution of the Spirit
Section III. Nietzschean Ideas in the Period of the New Economic Policy (NEP), 1921–1927
7. Concretizing the Myth: New Cult, New Man, New Morality
8. New Forms, New Language, New Politics
Section IV. Echoes of Nietzsche in Stalin's Time, 1928–1953
Part I: Dionysus Unleashed: The Cultural Revolution and the First Five-Year Plan
9. "Great Politics" Stalin-Style
10. Cultural Revolution in the Arts and Sciences
Part II: Art as a Lie: Nietzsche and Socialist Realism
11. Nietzsche's Contributions to the Theory of Socialist Realism
12. The Theory Implemented
Part III: The Lie Triumphant: Nietzsche and Stalinist Political Culture
13. The Stalin Cult and Its Complements
14. Cultural Expressions of the Will to Power
Epilogue: De-Stalinization and the Reemergence of Nietzsche
Index