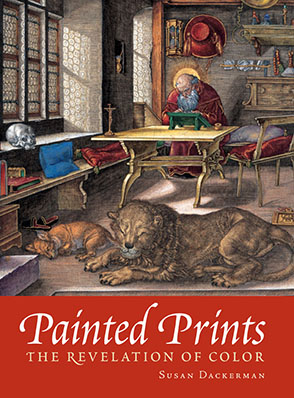 Painted Prints
The Revelation of Color in Northern Renaissance and Baroque Engravings, Etchings, and Woodcuts
Susan Dackerman
BUY
Painted Prints
The Revelation of Color in Northern Renaissance and Baroque Engravings, Etchings, and Woodcuts
Susan Dackerman
"This fascinating catalogue offers a lucid introduction to a neglected yet basic phenomenon of printmaking. The field has been dominated by normative notions of prints as black and white and long assumed that the coloring of a print is somehow vulgar or a later and unwanted addition, supplied by insensitive collectors or unscrupulous dealers. Dackerman's study of coloring has the potential to shock us into a sharper consciousness of our inherited biases while also prompting us to look freshly and carefully at these beguiling prints."
Description

Reviews

Bio

Table of Contents

Sample Chapters

Subjects
An old master print with color is almost invariably regarded as a suspect object because the color is presumed to be a cosmetic addition made to compensate for deficiencies of design or condition.
Painted Prints
challenges this deeply entrenched assumption about the material and aesthetic structure of old master prints by showing that in many cases hand coloring is not a dubious supplement to a print but is instead an integral element augmenting its expressive power, beauty, and meaning.
Published in conjunction with an exhibition at The Baltimore Museum of Art and St. Louis Art Museum, Painted Prints reproduces and discusses a rich variety of hand-colored prints from Northern Europe of the Renaissance and Baroque periods. Anonymous woodcuts are juxtaposed with masterworks by such famed artists as Dürer, Holbein, and Goltzius. These prints, secular as well as religious, muted as well as vibrant in tonality, make it clear that hand coloring was a widespread, enduring practice, developed to satisfy the demands of both elite and popular audiences.
Painted Prints presents new research into the men and women who specialized in hand coloring and offers numerous insights into the social and economic organization of Renaissance and Baroque printmaking. It also draws on scientific analyses of the materials and techniques of hand coloring to address important questions of authenticity, chronology, and condition. With a catalogue and color illustrations of all the hand-colored prints in the exhibition, this book makes a groundbreaking contribution to the study of old master prints and their pivotal place in the visual culture of early modern Europe.
The exhibition, "Painted Prints: The Revelation of Color in Northern Renaissance and Baroque Engravings, Etchings, and Woodcuts," will be at The Baltimore Museum of Art from October 6, 2002, to January 5, 2003 and St. Louis Art Museum from February 14 to May 18, 2003.
"This fascinating catalogue offers a lucid introduction to a neglected yet basic phenomenon of printmaking. The field has been dominated by normative notions of prints as black and white and long assumed that the coloring of a print is somehow vulgar or a later and unwanted addition, supplied by insensitive collectors or unscrupulous dealers. Dackerman's study of coloring has the potential to shock us into a sharper consciousness of our inherited biases while also prompting us to look freshly and carefully at these beguiling prints."
"The hand-colored print has remained largely unmapped territory in the history of art. Both curators and historians of old master prints have tended to favor the graphic purity of black and white and are often reluctant to pronounce on the troublesome matter of whether coloring is original or added at a much later date. By tracing the history of this subject, Painted Prints makes an essential contribution to our knowledge of Northern Renaissance art. It is a history of taste and technique studied in context and with the aid of modern scientific analysis. The catalogue presents a judicious selection of objects loaned from many collections in America and abroad. The experience of these embellished images will enhance and thoroughly reorient our understanding of old master prints and their prior evaluation."
"If Great Altarpieces punctures a modern prejudice about what a painting must look like, Painted Prints: The Revelation of Color (Pennsylvania State University Press, $35), the catalogue of a fascinating exhibition currently at the Baltimore Museum of Art, manages to shake up some very old assumptions about the nature of the graphic arts. Susan Dackerman begins with Erasmus's attack on the coloring of Dürer's prints, and suggests that this belief in the fundamental purity of black and white—which was reaffirmed some four hundred years later when Erwin Panofsky saluted Erasmus's view in his book on Dürer—has kept us from fully appreciating a whole range of chromatic possibilities. Dackerman's book is no mere postmodern reaction to what she seems to suggest is Panofsky's purism. She demonstrates that hand-coloring has been an integral element in printmaking since the fifteenth century. Beginning with the attractively rough-and-ready patches of hue that were applied to fifteenth-century woodcuts, Dackerman pursues the subject all the way to the seventeenth century and Hercules Seger's exquisitely tinted landscape etchings. Painted Prints shows us the many ways in which applied color has been set in a rich, frequently subtle, and complex dynamic with the monochrome of the print."
"Dackerman and Primeau deserve our warm thanks for restoring an entire category of prints to our history of these media and for opening our eyes to the startling and striking qualities of a neglected phenomenon."
"This catalog accompanies an intriguing exhibit of painted Northern Renaissance and Baroque prints mounted by the Baltimore Museum of Art (BMA) and then moving to St. Louis. Dackerman, who is a curator at BMA, and Thomas Primeau, a conservator there, present an intriguing overview of the hand application of paint after black-and-white prints were made. . . . Their provocative and unique thesis is that these prints have not been appropriately valued by later sensibilities, which hold more highly the aesthetics of black-and-white prints, and that the hand-colored prints deserve to be reevaluated."
"This exhibition catalog, gorgeously and lavishly illustrated, presents the argument that coloring, even with stencils, was distinctly not déclassé, particularly in Germany during the 16th century. . . . Beautifully produced, the book will remain useful long after the exhibition's run because the research it presents challenges our normal ways of thinking about the early maturity of printmaking."
"Beautifully produced, the book will remain useful long after the exhibition's run because the research it presents challenges our normal ways of thinking about the early maturity of printmaking."
Susan Dackerman is Curator of the Department of Prints, Drawings, and Photographs at The Baltimore Museum of Art.
Thomas Primeau is Associate Paper Conservator at The Baltimore Museum of Art.
Contents
Foreword
List of Lenders
Acknowledgments
1. Introduction: Rediscovering Painted Prints
Susan Dackerman
2. Painting Prints in Germany and the Netherlands
Susan Dackerman
3. The Technology and Materials of Renaissance and Baroque Hand-Colored Prints
Thomas Primeau
Catalogue
Appendix: Results of Analytical Testing of Hand-Colored Prints
Bibliography
Painting Prints in Germany and the Netherlands
It is a truism in the history of art that color was applied to the earliest prints to compensate for their technical shortcomings. The traditional account of the development of printmaking asserts that as the expertise of print designers and block and plate cutters improved over the course of the fifteenth century, the need for the addition of color diminished. Interior modeling achieved through fine hatching and cross-hatching created the effects of modeling and shading, which had previously been attained by the addition of color. Descriptions like the following are common: "Throughout the XV century it was quite usual for illustrations, like separate woodcuts, to be colored by hand, at first in flat tints, afterwards with shading, and this practice only gradually gave way after Dürer, at the close of the century, had brought in such reforms in the technique of wood-engraving that the higher class of cuts were accepted as complete in plain black and white."1 Here adding color becomes a remedy for perceived technical inadequacies rather than an essential aspect of early print production.2 This is curious given the predominance of painted prints in the ¹fifteenth century.
From the inception of printmaking in the late fourteenth century, colorists painted woodcuts, metalcuts, and engravings. In the case of woodcuts, they applied paints both through stencils and freehand, painting single colors within the distinct fields delineated by the thick contour lines. The coloring of Last Judgment with Apostles (cat. no. 1) from about 1460 by a German artist is typical, using transparent red, green, yellow, and brown and opaque black paints to color discrete compositional elements. The lack of modeling or shading within the painted fields parallels the lack of modeling in the printed design. Typically, portions of the sheet remained unpainted, allowing the white of the paper to show through. The application of the colors is not always precise and in places exceeds the boundaries of the printed lines, suggesting that the colorist swiftly painted a considerable number of impressions. The number of woodcuts colored in this manner demonstrates that the appearance of the color itself was valued over the meticulousness of its application.
Early on, religious institutions produced woodcuts and metalcuts for sale as devotional images, pilgrimage and saint's-day souvenirs, and talismans against -illness. By the third quarter of the fifteenth century, professional printmakers' workshops replaced monasteries as the principal site of print production. Approximately ten thousand fifteenth-century northern European woodcuts survive,3 yet we assume, due to the fragility of paper and the use of prints in daily rituals, that this represents only a small fraction of those originally printed. The vast majority of these prints are hand-colored.
The 1490s mark a turning point in the history of the woodcut. Designers, most notably the Nuremberg artist Michael Wolgemut, transformed the medium by creating prints that demonstrated greater articulation of volume, shading, and light effects. Unlike the woodcuts of his fifteenth-century predecessors, Wolgemut's printed lines provided his compositions with greater three-dimensionality and consequently the appearance of greater naturalism. Yet despite Wolgemut's innovations to the medium, colorists continued to paint the majority of woodcuts from the late fifteenth century. Needless to say, this hardly lessens the merits of Wolgemut's advances, but suggests that his contemporaries did not understand his innovations and the addition of color to be mutually exclusive.
The established account of the history of printmaking hinges on Albrecht Dürer, Wolgemut's premier student. Dürer is credited with dramatically altering the medium of printmaking, releasing it from its need for color. The sophistication of his woodcuts surpassed those of his teacher. Dürer supplemented his contour lines with delicate hatching and cross-hatching, providing his woodcuts with the appearance of light, volume, and, most significantly, a range of tonality from white to black. His talents as an engraver were equally remarkable, creating textures, light effects, and tonality unprecedented in intaglio prints. However, print colorists both during Dürer's lifetime and throughout the sixteenth century continued to paint impressions of his woodcuts and engravings. Although these painted prints may appear jarring to the modern eye, they were not extraordinary to print patrons of the sixteenth century.
Printmaking was a significant aspect of the artistic production of many of Dürer's contemporaries. Hans Burgkmair, Lucas Cranach, and Albrecht Altdorfer, among others, are all recognized for their ingenuity and their expansion of the medium's possibilities. Significant among these advances were attempts to re¹ne the addition of printed color to woodcuts. Indeed, it was precisely the desire to add color to prints that drove a creative competition between Burgkmair and Cranach. Their rivalry resulted in the invention of the chiaroscuro woodcut, which is colored by printing multiple tone blocks. In addition to those prints that resulted from innovative methods of color printing, these artists also produced numerous prints that were more traditionally hand-painted. In fact, the woodcuts and engravings of the most distinguished artists continued to be painted throughout the sixteenth and early seventeenth centuries.
The primary purpose of this study is to overturn several assumptions: that the addition of color to prints was merely a means to remedy technical deficiencies, that the addition of color obliterated the superior printed matrix, and that the addition of color was separate from the printed design. Rather, color was often integral to the conception and meaning of printed images. If one conceives of hand coloring as an antidote to underdeveloped printmaking techniques, then color should have had no place once the medium matured. Yet, despite this familiar art-historical narrative, color application was practiced and appreciated through the seventeenth century, well beyond the nascent stages of the medium. This study attempts to reevaluate the art-historical bias against color in prints, in large measure by focusing on the extraordinary variety of painted prints from the fifteenth through the seventeenth centuries. In doing so it hopes both to expand upon art history's account of prints and to examine an important visual component of northern Renaissance art.
Mailing List
Subscribe to our mailing list and be notified about new titles, journals and catalogs.