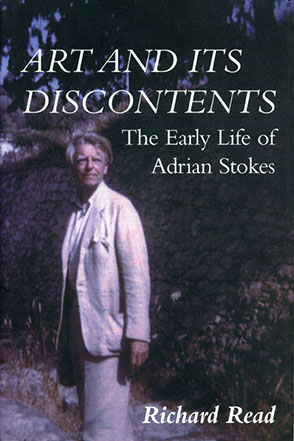 Art and Its Discontents
The Early Life of Adrian Stokes
Richard Read
Buy
Art and Its Discontents
The Early Life of Adrian Stokes
Richard Read
"Art and Its Discontents is a powerful, detailed, and precise account of the early development of Stokes's intellect and ideas in which biography certainly plays an important part but in which analysis is without doubt the more important partner. This is certain to stand as the most authoritative account of the complexity of Stokes's oeuvre—and something of its personal and cultural etiology—that we are likely to see."
Description

Reviews

Bio

Subjects
Although interest in the painter, poet, and art writer Adrian Stokes (1902–1972) has been growing in recent years,
Art and Its Discontents
is the first biographical study of this pivotal figure in British modernism. Focused on Stokes's formative years, the book offers important new insights into his intellectual development, his growing commitment to the arts, and his eventual turn to the art criticism that would win him international renown.
Even as Richard Read follows Stokes from his London childhood to his travels in Italy and his psychoanalysis with Melanie Klein, he weaves Stokes's experiences and writings into the great social and cultural issues of his era. Stokes's friendship with Ezra Pound is given its due, but Read balances his exploration of Stokes's modernist ideas with detailed discussion of his profound debt to the teachings of John Ruskin and Walter Pater. Seen in this broad perspective, Stokes emerges as a thinker who bridged Victorian and modernist cultures and renewed the British tradition of aesthetic criticism.
"Art and Its Discontents is a powerful, detailed, and precise account of the early development of Stokes's intellect and ideas in which biography certainly plays an important part but in which analysis is without doubt the more important partner. This is certain to stand as the most authoritative account of the complexity of Stokes's oeuvre—and something of its personal and cultural etiology—that we are likely to see."
"Art and Its Discontents is no conventional biography, but an absorbing account of how architectural, painterly, poetic, psychoanalytic, and broadly cultural concerns intersect uniquely in the early life and works of one person. Richard Read's definitive study reveals Stokes's writing to be a litmus paper for the understanding of English Modernism in its wider historical context."
"Art and Its Discontents is a masterful written, exceedingly thoughtful, and highly commended study of a singularly articulate individual."
"Richard Read has performed a kind of intellectual autopsy, weaving together elements of biography and criticism to build a composite image of a substantial neurotic writer. He is at his best as a textual critic, unraveling Stokes's often baroque prose to reveal confessional elements and illuminate obscure internal concordances. Despite a dense and sometimes flat-footed prose style, he clearly aims for a sort of poetic effect, much as Stokes did himself."
"This reviewer, who has learnt a great deal from Read's book, does not note the absence of Krieger in a spirit of criticism but of curiosity. What would happen if this reference were added to the multi-buttressed artifact of insight that Read's book is? Read Read, anyhow. A very rewarding book."
"Read's analysis of how Stokes arrived at this position in the early 1930s is judicious and illuminating."
Richard Read is Senior Lecturer in the School of Architecture and Fine Arts at The University of Western Australia and has published in major journals on the relationship between literature and the visual arts, Australian art, and contemporary film.