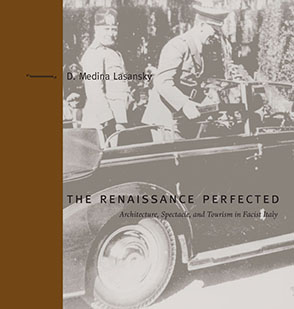 The Renaissance Perfected
Architecture, Spectacle, and Tourism in Fascist Italy
D. Medina Lasansky
BUY
The Renaissance Perfected
Architecture, Spectacle, and Tourism in Fascist Italy
D. Medina Lasansky
"More than simply entertaining the people, these festivals recall . . . the memory of a long lost time that was for us as glorious and memorable as that of Rome."
Media

Description

Reviews

Bio

Table of Contents

Sample Chapters

Subjects
2005 Winner of the ISI Henry Paolucci/Walter Bagehot Book Award
Mussolini's bold claims upon the monuments and rhetoric of ancient Rome have been the subject of a number of recent books. D. Medina Lasansky shows us a much less familiar side of the cultural politics of Italian Fascism, tracing its wide-ranging efforts to adapt the nation's medieval and Renaissance heritage to satisfy the regime's programs of national regeneration. Anyone acquainted with the beauties of Tuscany will be surprised to learn that architects, planners, and administrators working within Fascist programs fabricated much of what today's tourists admire as authentic. Public squares, town halls, palaces, gardens, and civic rituals (including the famed Palio of Siena) were all "restored" to suit a vision of the past shaped by Fascist notions of virile power, social order, and national achievement in the arts. Ultimately, Lasansky forces readers to question long-standing assumptions about the Renaissance even as she expands the parameters of what constitutes Fascist culture.
The arguments in The Renaissance Perfected are based in fresh archival evidence and a rich collection of illustrations, many reproduced for the first time, ranging from photographs and architectural drawings to tourist posters and film stills. Lasansky's groundbreaking book will be essential reading for students of medieval, Renaissance, and twentieth-century Italy as well as all those concerned with visual culture, architectural preservation, heritage studies, and tourism studies.
"More than simply entertaining the people, these festivals recall . . . the memory of a long lost time that was for us as glorious and memorable as that of Rome."
"The Renaissance Perfected is a well-argued and original look at the Italian Fascist appropriation and utilization of the Italian medieval and Renaissance heritage. Lasansky illuminates the functioning and politics of Fascist mass and high culture, architecture, urban design, and tourism. Her treatment of the politics and practices of restoration is superb."
"Lasansky stands to substantially enrich the field, opening it up to new questions and changing scholars' perceptions of the place of antiquity vs. the medieval and Renaissance periods in Fascists' 'consciousness' with respect to architectural design, conservation, archaeology, city planning, and the elaboration of civic rituals such as pseudo-medieval festivals."
"Medina Lasansky's book, The Renaissance Perfected, should be required reading for anyone in Renaissance Studies. Her study of Fascist Italy shows how the regime promoted civic architecture, how it canonized medieval and Renaissance monuments in Tuscany in particular, and how it manipulated popular festivals all in the service of political ideology. Scholars as well as students are still in the grip of this Fascist vision of pre-modern Italy since our textbooks, monographs and lectures fail to take into account the urban redesign, the 'edited' monuments, or the 'invented traditions' in cities like Siena, Arezzo or San Gimignano. While Renaissance art history has begun to engage with its origins in nineteenth-century historicism it has yet to grapple with the legacy of Mussolini and Italy's Fascist period. Lasansky's book unsettles our basic, cherished assumptions about Renaissance architecture and urbanism. It challenges us to confront the use of the Renaissance in the present as well as in the recent past."
"This is an engaging study whose prime merit lies in pointing the way to future engagements with this topic; it is a beautifully crafted and well-illustrated study whose images are often surprising and sometimes disconcerting. Lasansky's reinterpretation of the architectural legacy of Italy's Fascists certainly appeals to Renaissance and contemporary art historians alike."
"This is an outstanding example of a deconstructivist approach to history. It is sumptuously produced. The text is generously illustrated in color and black-and-white and is followed by acknowledgments, footnotes, bibliography, and index. This book is for anyone with a special interest in Italian culture."
"A beautiful book by an architectural historian which will make you think differently about Italian history after reading it. It is an exploration of the ways in which the medieval and early Renaissance Italy beloved by so many of as are, to some extent, a self-conscious creation of the Fascist era. This original book throws a genuinely new light on both the age of Mussolini, and on our understanding of our assumptions about the Renaissance."
"Lasansky's is the most recent in a line of fairly smart books on the reception of the Renaissance in the nineteenth and twentieth centuries."
"One hopes that Lasansky's book stimulates further interest in this fascinating and quite important subset of the reception of the Renaissance in recent times."
"D. Medina Lasansky's The Renaissance Perfected: Architecture, Spectacle and Tourism in Fascist Italy displays the rich possibilities of cultural history."
"This beautifully produced and readable book is full of insight and interest. But the reader of The Renaissance Perfected should be warned: Tuscany will never seem the same."
"The Renaissance Perfected . . . is a refreshing and original analysis of the Italian Fascist Regime's appropriation and political exploitation of the medieval and Renaissance past. . . . The Renaissance Perfected is beautifully written and illustrated. Lasansky makes a major contribution to the study of the relationship between the Fascist regime and Italy's urban landscape. I would recommend this book to anyone interested in the history, art history, or politics of the period."
"Lasansky's study enriches our knowledge of how popular images and beliefs became powerful tools in the construction of reality during the Facist ventennio and afterward."
"While scholars recognize the ways our perception of the Renaissance was conditioned by nineteenth-century historicism, the same is not true for how this understanding was mediated in the built environment under Fascism. This is where Lasansky makes her greatest contribution. She helps shift attention from modern architecture to a broader perspective encompassing buildings and culture in general."
D. Medina Lasansky is Assistant Professor of Architecture at Cornell University and co-editor of Architecture and Tourism: Perception, Performance, and Place (2004).
Contents
List of Illustrations
A Personal Meditation
Preface
Introduction: Aesthetic Dissonance
1. The Love Affair with Tuscany
2. Mechanisms of Display
3. Urban Politics: The Fascist Rediscovery of Medieval Arezzo
4. Urban Theater: Performance, Virility, and Race
5. Accelerating Accessibility: Architecture for Mass Consumption
6. History as Spectacle: The Partita a Scacchi in Marostica
Conclusion: Fascist Strategies
Acknowledgments
Abbreviations
Notes
Bibliography
Index
Mailing List
Subscribe to our mailing list and be notified about new titles, journals and catalogs.