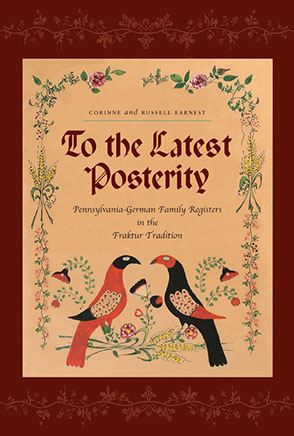 To the Latest Posterity
Pennsylvania-German Family Registers in the Fraktur Tradition
Corinne Earnest, and Russell Earnest
BUY
To the Latest Posterity
Pennsylvania-German Family Registers in the Fraktur Tradition
Corinne Earnest, and Russell Earnest
"Beautifully illustrated."
Description

Reviews

Bio

Table of Contents

Sample Chapters

Subjects
The family register holds a distinctive place in American visual culture. Used to record marriages and offspring within a family through several generations, the family register also incorporates hand-illuminated decorative art.
To the Latest Posterity
is the first major study to explore the colorful world of Pennsylvania German family registers and their place in American social, religious, and cultural traditions.
Renowned authorities on fraktur, Russell and Corinne Earnest trace the evolution of decorative family registers from their roots in medieval European illuminated manuscripts to their distinctly American forms that spread through Pennsylvania German culture. The form had a special association with persecuted Mennonites, who used the decorative documents to claim roots in their new home. The documents came to represent the separation from the Old World and the creation of family roots in the New. To the Latest Posterity is filled with examples of family registers from museums and private collections, including early handmade work as well as printed registers that were hand-filled in the nineteenth century. Bringing the art to the twentieth century, the Earnests discuss the adoption of the art by Amish, who continue the practice of illuminated family record-keeping today.
Pennsylvania German History and Culture Series
"Beautifully illustrated."
"Corinne and Russell Earnest, experts on fraktur, have produced a lovely book filled with color and black and white examples of family registers, both hand-drawn and printed."
"The numerous illustrations with substantive captions, a grouping of which appears in color, add significantly to creating an understanding and appreciation for the registers. An appendix of artists and scriveners who worked in the family register format, a short chronology of dates associated with the development of registers, and a glossary of terms both used in describing and found upon the registers are all welcome resources included in the book."
"To the Latest Posterity possesses broad appeal because it combines the interests of the art enthusiast, the calligrapher, the genealogist, and the historian."
"This comprehensive study explores the world of printed family registers beginning with roots in Europe where information was almost solely limited to baptismal and other records of state church, and extending through several centuries in Pennsylvania to the present day Amish community in which family registers continue to be designed. . . . The volume contains an exceptional array of thirty-seven color plates, illustrating the six forms of Pennsylvania-German family registers. Also included are twenty-nine black and white illustrations. . . . This publication is an important and well-researched addition to Pennsylvania German studies. . . . The publication of this instructive and colorful volume, the first comprehensive documentation of this previously unappreciated Pennsylvania-German family register tradition, splendidly culminates their years of dedicated research."
"This volume is well illustrated with sixty-seven black-and-white or color examples. Each illustration is well captioned and sourced and includes an additional paragraph of explanatory information. . . . This book can be enjoyed by anyone interested in Pennsylvania German culture, folk art, or family history."
"To the Latest Posterity offers an impressive and well-documented display of a long-standing but rarely considered vernacular expressive form; as such, it will both prompt and aid future investigations."
Corinne and Russell Earnest have studied fraktur for over thirty years, and have recorded the genealogy infill from more than 25,000 fraktur. They have published nineteen books about genealogy and fraktur, including German-American Family Records in the Fraktur Tradition, Three Volumes (1991–1993), The Genealogist's Guide to Fraktur: For Genealogists Researching German-American Families, with Beverly Repass Hoch (1991), and Fraktur: Folk Art and Family (1999).
Contents
List of Illustrations
Acknowledgments
Prologue
1. Perspectives on Family Registers
2. Pennsylvania-German Family Registers and the Fraktur Tradition
3. Comparisons of Pennsylvania-German and New England Family Registers
4. Texts on Pennsylvania-German Family Registers
5. Forms of Pennsylvania-German Family Registers
Preprinted Broadside-type Family Registers with Printed Infill
Freehand Broadside-type Family Registers
Preprinted Broadside-type Family Registers with Added, Handwritten Infill
Preprinted Family Registers Bound into Bibles
Freehand Family Registers Written on Blank Pages of Bibles
Freehand Family Registers in Booklet Form
Epilogue
Appendixes
Notes
Selected References
Index
Also of Interest
Mailing List
Subscribe to our mailing list and be notified about new titles, journals and catalogs.