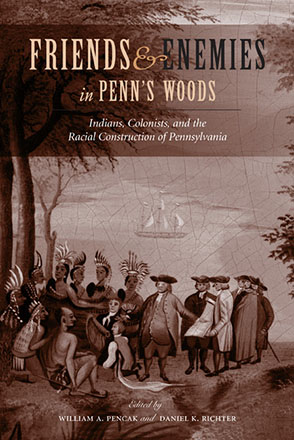 Friends and Enemies in Penn's Woods
Indians, Colonists, and the Racial Construction of Pennsylvania
Edited by William A. Pencak and Daniel K. Richter
BUY
Friends and Enemies in Penn's Woods
Indians, Colonists, and the Racial Construction of Pennsylvania
Edited by William A. Pencak and Daniel K. Richter
"Friends and Enemies in Penn's Woods is a well-conceived series of essays that together treat the themes of coexistence and racial conflict. And they do so with great sensitivity to change. The essays reveal, in vivid detail, ordinary as well as great individuals grappling with these great problems. But, perhaps because they are written by both some of the most established scholars in the field and new, rising talent, the essays are not in complete harmony with one another, they do not tell a single, seamless story. Instead, this is a book in which many sparks fly."
Description

Reviews

Bio

Table of Contents

Sample Chapters

Subjects
Two powerfully contradictory images dominate historical memory when we think of Native Americans and colonists in early Pennsylvania. To one side is William Penn's legendary treaty with the Lenape at Shackamaxon in 1682, enshrined in Edward Hicks's allegories of the "Peaceable Kingdom." To the other is the Paxton Boys' cold-blooded slaughter of twenty Conestoga men, women, and children in 1763. How relations between Pennsylvanians and their Native neighbors deteriorated, in only 80 years, from the idealism of Shackamaxon to the bloodthirstiness of Conestoga is the central theme of
Friends and Enemies in Penn's Woods
.
William Pencak and Daniel Richter have assembled some of the most talented young historians working in the field today. Their approaches and subject matter vary greatly, but all concentrate less on the mundane details of how Euro- and Indian Pennsylvanians negotiated and fought than on how people constructed and reconstructed their cultures in dialogue with others. Taken together, the essays trace the collapse of whatever potential may have existed for a Pennsylvania shared by Indians and Europeans. What remained was a racialized definition that left no room for Native people, except in reassuring memories of the justice of the Founder.
Pennsylvania came to be a landscape utterly dominated by Euro-Americans, who managed to turn the region's history not only into a story solely about themselves but a morality tale about their best (William Penn) and worst (Paxton Boys) sides. The construction of Pennsylvania on Native ground was also the construction of a racial order for the new nation. Friends and Enemies in Penn's Woods will find a broad audience among scholars of early American history, Native American history, and race relations.
"Friends and Enemies in Penn's Woods is a well-conceived series of essays that together treat the themes of coexistence and racial conflict. And they do so with great sensitivity to change. The essays reveal, in vivid detail, ordinary as well as great individuals grappling with these great problems. But, perhaps because they are written by both some of the most established scholars in the field and new, rising talent, the essays are not in complete harmony with one another, they do not tell a single, seamless story. Instead, this is a book in which many sparks fly."
"This is an excellent collection of essays whose authors, a combination of seasoned scholars and neophytes, make a special effort to speak to one another. This gives the book more cohesion than one usually finds in anthologies. I highly recommend it to professional historians and advance studies of Native American and colonial history."
"Gathering together some of the best and most recent scholarship on eighteenth-century race and cultural encounters, Friends and Enemies in Penn's Woods is a testament to the dynamic state of early Pennsylvania history. Indeed, a plethora of submissions to a regional journal gave editors William A. Pencak and Daniel K. Richter the raw material to shape this volume around the work of thirteen historians, many of whom were nurtured in the academic community that thrives in the mid-Atlantic. This volume, then, is also a tribute to the stimulating scholarly discussions generated at the McNeil Center for Early American Studies and the rich archival sources found in the Historical Society of Pennsylvania, the Library Company of Philadelphia, and other area repositories."
"As with most collections, the essays here vary in depth and quality, but compared to other collections, this one holds together especially well. Organized chronologically and dealing so closely with the same region and problems, the book situates the dark side of Pennsylvania's history in an easy-to-follow narrative, with richness of detail and, remarkably, with little to no redundancy."
"Every now and again—but all too rarely— a collection of essays appears that lives up to its title. The editors of Friends and Enemies in Penn's Woods, William Pencak and Daniel Richter, have produced such a book."
"The authors as well as the editors are to be congratulated for their success in pulling a diverse body of work together so effectively."
Bill Pencak is Professor of History at Penn State University. He has co-edited three books published by Penn State Press: with John Frantz, Beyond Philadelphia: The American Revolution in the Pennsylvania Hinterland (1998), with William Alan Blair, Making and Remaking Pennsylvania's Civil War (2001), and with Randall Miller, Pennsylvania: The History of the Commonwealth (2002).
Daniel K. Richter is Professor of History at the University of Pennsylvania, where he is also the Richard S. Dunn Director of the McNeil Center for Early American Studies. His most recent book, Facing East from Indian Country: Rediscovering Colonial North America ( 2001) was a finalist for the Pulitzer Prize. He also co-edited, with James H. Merrell, Beyond the Covenant Chain: The Iroquois and Their Neighbors in Indian North America, 1600–1800, which was re-issued by Penn State Press in 2003.
Contents
List of Maps and Figures
Acknowledgments
Introduction: Daniel K. Richter and William A. Pencak
Part I: Peoples in Conversation
1. New Sweden, Natives, and Nature
Michael Dean Mackintosh
2. Colonialism and the Discursive Antecedents of Penn's Treaty with the Indians
James O Neil Spady
3. Imagining Peace in Quaker and Native American Dream Stories
Carla Gerona
4. Indian, Métis, and Euro-American Women on Multiple Frontiers
Alison Duncan Hirsch
Part II: Fragile Structures of Coexistence
5. Female Relationships and Intercultural Bonds in Moravian Indian Missions
Amy C. Schutt
6. The Death of Sawantaeny and the Problem of Justice on the Frontier
John Smolenski
7. Justice, Retribution, and the Case of John Toby
Louis M. Waddell
8. The Diplomatic Career of Canasatego
William A. Starna
Part III: Toward a White Pennsylvania
9. Delawares and Pennsylvanians after the Walking Purchase
Steven C. Harper
10. Squatters, Indians, Proprietary Government, and Land in the Susquehanna Valley
David L. Preston
11. Metonymy, Violence, Patriarchy, and the Paxton Boys
Krista Camenzind
12. "Real" Indians, "White" Indians, and the Contest for the Wyoming Valley
Paul Moyer
13. Whiteness and Warfare on a Revolutionary Frontier
Gregory T. Knouff
Afterword: James H. Merrell
Abbreviations
Notes
Contributors
Index
Mailing List
Subscribe to our mailing list and be notified about new titles, journals and catalogs.