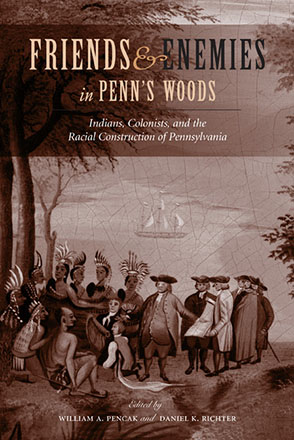 Friends and Enemies in Penn's Woods
Indians, Colonists, and the Racial Construction of Pennsylvania
Edited by William A. Pencak and Daniel K. Richter
Buy
Friends and Enemies in Penn's Woods
Indians, Colonists, and the Racial Construction of Pennsylvania
Edited by William A. Pencak and Daniel K. Richter
"Friends and Enemies in Penn's Woods is a well-conceived series of essays that together treat the themes of coexistence and racial conflict. And they do so with great sensitivity to change. The essays reveal, in vivid detail, ordinary as well as great individuals grappling with these great problems. But, perhaps because they are written by both some of the most established scholars in the field and new, rising talent, the essays are not in complete harmony with one another, they do not tell a single, seamless story. Instead, this is a book in which many sparks fly."
Description

Reviews

Bio

Table of Contents

Sample Chapters

Subjects
Two powerfully contradictory images dominate historical memory when we think of Native Americans and colonists in early Pennsylvania. To one side is William Penn's legendary treaty with the Lenape at Shackamaxon in 1682, enshrined in Edward Hicks's allegories of the "Peaceable Kingdom." To the other is the Paxton Boys' cold-blooded slaughter of twenty Conestoga men, women, and children in 1763. How relations between Pennsylvanians and their Native neighbors deteriorated, in only 80 years, from the idealism of Shackamaxon to the bloodthirstiness of Conestoga is the central theme of
Friends and Enemies in Penn's Woods
.
William Pencak and Daniel Richter have assembled some of the most talented young historians working in the field today. Their approaches and subject matter vary greatly, but all concentrate less on the mundane details of how Euro- and Indian Pennsylvanians negotiated and fought than on how people constructed and reconstructed their cultures in dialogue with others. Taken together, the essays trace the collapse of whatever potential may have existed for a Pennsylvania shared by Indians and Europeans. What remained was a racialized definition that left no room for Native people, except in reassuring memories of the justice of the Founder.
Pennsylvania came to be a landscape utterly dominated by Euro-Americans, who managed to turn the region's history not only into a story solely about themselves but a morality tale about their best (William Penn) and worst (Paxton Boys) sides. The construction of Pennsylvania on Native ground was also the construction of a racial order for the new nation. Friends and Enemies in Penn's Woods will find a broad audience among scholars of early American history, Native American history, and race relations.
"Friends and Enemies in Penn's Woods is a well-conceived series of essays that together treat the themes of coexistence and racial conflict. And they do so with great sensitivity to change. The essays reveal, in vivid detail, ordinary as well as great individuals grappling with these great problems. But, perhaps because they are written by both some of the most established scholars in the field and new, rising talent, the essays are not in complete harmony with one another, they do not tell a single, seamless story. Instead, this is a book in which many sparks fly."
"This is an excellent collection of essays whose authors, a combination of seasoned scholars and neophytes, make a special effort to speak to one another. This gives the book more cohesion than one usually finds in anthologies. I highly recommend it to professional historians and advance studies of Native American and colonial history."
"Gathering together some of the best and most recent scholarship on eighteenth-century race and cultural encounters, Friends and Enemies in Penn's Woods is a testament to the dynamic state of early Pennsylvania history. Indeed, a plethora of submissions to a regional journal gave editors William A. Pencak and Daniel K. Richter the raw material to shape this volume around the work of thirteen historians, many of whom were nurtured in the academic community that thrives in the mid-Atlantic. This volume, then, is also a tribute to the stimulating scholarly discussions generated at the McNeil Center for Early American Studies and the rich archival sources found in the Historical Society of Pennsylvania, the Library Company of Philadelphia, and other area repositories."
"As with most collections, the essays here vary in depth and quality, but compared to other collections, this one holds together especially well. Organized chronologically and dealing so closely with the same region and problems, the book situates the dark side of Pennsylvania's history in an easy-to-follow narrative, with richness of detail and, remarkably, with little to no redundancy."
"Every now and again—but all too rarely— a collection of essays appears that lives up to its title. The editors of Friends and Enemies in Penn's Woods, William Pencak and Daniel Richter, have produced such a book."
"The authors as well as the editors are to be congratulated for their success in pulling a diverse body of work together so effectively."
Bill Pencak is Professor of History at Penn State University. He has co-edited three books published by Penn State Press: with John Frantz, Beyond Philadelphia: The American Revolution in the Pennsylvania Hinterland (1998), with William Alan Blair, Making and Remaking Pennsylvania's Civil War (2001), and with Randall Miller, Pennsylvania: The History of the Commonwealth (2002).
Daniel K. Richter is Professor of History at the University of Pennsylvania, where he is also the Richard S. Dunn Director of the McNeil Center for Early American Studies. His most recent book, Facing East from Indian Country: Rediscovering Colonial North America ( 2001) was a finalist for the Pulitzer Prize. He also co-edited, with James H. Merrell, Beyond the Covenant Chain: The Iroquois and Their Neighbors in Indian North America, 1600–1800, which was re-issued by Penn State Press in 2003.
Contents
List of Maps and Figures
Acknowledgments
Introduction: Daniel K. Richter and William A. Pencak
Part I: Peoples in Conversation
1. New Sweden, Natives, and Nature
Michael Dean Mackintosh
2. Colonialism and the Discursive Antecedents of Penn's Treaty with the Indians
James O Neil Spady
3. Imagining Peace in Quaker and Native American Dream Stories
Carla Gerona
4. Indian, Métis, and Euro-American Women on Multiple Frontiers
Alison Duncan Hirsch
Part II: Fragile Structures of Coexistence
5. Female Relationships and Intercultural Bonds in Moravian Indian Missions
Amy C. Schutt
6. The Death of Sawantaeny and the Problem of Justice on the Frontier
John Smolenski
7. Justice, Retribution, and the Case of John Toby
Louis M. Waddell
8. The Diplomatic Career of Canasatego
William A. Starna
Part III: Toward a White Pennsylvania
9. Delawares and Pennsylvanians after the Walking Purchase
Steven C. Harper
10. Squatters, Indians, Proprietary Government, and Land in the Susquehanna Valley
David L. Preston
11. Metonymy, Violence, Patriarchy, and the Paxton Boys
Krista Camenzind
12. "Real" Indians, "White" Indians, and the Contest for the Wyoming Valley
Paul Moyer
13. Whiteness and Warfare on a Revolutionary Frontier
Gregory T. Knouff
Afterword: James H. Merrell
Abbreviations
Notes
Contributors
Index
Introduction
Daniel K. Richter and William A. Pencak
Two powerfully contradictory images dominate historical memory of relations between Native Americans and Pennsylvania colonists: Penn's Treaty, a reverie of harmonious coexistence in 1682; and the Conestoga massacre, a nightmare of innocent people slaughtered in 1763. The two images are curiously ahistorical, abstracted from real human time. Penn's Treaty remains frozen in endless variations on Benjamin West's famous painting and Edward Hicks's allegories of the "Peaceable Kingdom." The first, it should be remembered, was composed a century after the event it portrays and a generation after Paxton Boys did their Conestoga deed; the second locates interracial harmony in the same utopian realm in which the lion lies down with the lamb. Conestoga resides in a darker dystopian corner of the national consciousness, but one all too frequently realized in countless lynchings, Great Swamp Fights, and Wounded Knees.
Penn's Treaty and Conestoga lie outside historical time in other senses as well. Despite their bipolar iconic status, they seem to bear no direct causal or historical relationship to each other, posing instead the great historical dilemma of how, in the space of but eighty years, peace could have given way to bloodlust—how, has James H. Merrell has put it in one of the few efforts to trace the connection, "Penn's Woods became an abbatoir." At best we struggle for some moral tale of family decline in which William Penn—good-hearted father to both his people and the Indians—is replaced by unworthy sons and a future generation more interested in land-grabbing than treating their fellow human beings with respect. The Founder, we prefer to believe, bought land from Native Americans fair and square, inaugurating a remarkable era of peace and honest dealing. Things only began to go sour in the era of the "Walking Purchase" of 1737, when his successors swindled the Delawares out of much of what became the province's northeast corner. In the 1750s, the wrath of the dispossessed came down upon Pennsylvania during the Seven Years—or "French and Indian"—War. Still, in memories of that conflict, Euro-Americans often seem more victims than aggressors, burned out of their homes and hauled off to Indian captivity through no fault of their own, while Quakers in Philadelphia nonetheless tried to keep the peace. Even in a narrative of declension from the Eden of Penn's Treaty, then, the brutal violence of Conestoga finds little connection to the main currents of Pennsylvania's history.
And just as Penn's Treaty and Conestoga stand historically isolated one from another, each also derives its symbolic power from its seeming disconnection to contexts of its own day. Each seems an historical aberration: Penn's Treaty as a fresh, pacific start, remarkable for its radical disjuncture from historical norm of conflict; Conestoga as a tragic moment when the inevitable stream of racial incompatibility overflowed to a level of rage unworthy of civilized combatants. And perhaps less obviously, our images of Penn's Treaty and Conestoga are also fundamentally ahistorical in one final way. In each, Euro-Americans tend to be the only real actors, the only bearers of moral messages. William Penn and the Paxton Boys, not the Native people they treated with and murdered, dominate the scenes.
The essays in this volume provide no easy or definitive answers. But they do attempt to move beyond ahistorical set-pieces to frame more subtle contexts for interactions between Euro-Americans and Native Americans in what became known as Pennsylvania. They begin by recognizing as historical problems what have too often been considered historical givens: how Pennsylvania came to be a landscape utterly dominated by Euro-Americans and how those who dominated managed to turn the region's history not only into a story solely about themselves but a morality tale about their best (William Penn) and worst (Paxton Boys) sides. These essays also assume that the puzzle of how a significant corner of Native America came to be Penn's Woods reveals something broader about the ways in which, as Europeans and their descendants constructed a society on territory that once belonged to Native people, they simultaneously defined those people as a racial Other and consigned them to the historical past rather than the living present. The construction of Pennsylvania on Native ground was also the construction of a racial order for the new nation.
In exploring the racial construction of Pennsylvania, the chapters below vary greatly in approaches and subject matter, but all concentrate less on mundane details of how colonists and Indians negotiated and fought than on how peoples defined themselves, their relationships, and their cultural landscape with reference to others. The first group of chapters, "Peoples in Conversation," examines the ways in which Europeans and Native Americans encountered and tried to make sense of each other initially and through the early eighteenth century. Very real points of congruence between views of the world provided some basis for mutual understanding, but underlying disparities in interests made such understandings—and the possibilities for peaceful coexistence they implied—inherently fragile. Right from the beginning, the intercultural conversation was far from the lovefest enshrined in the Penn's Treaty icon. Michael Dean Mackintosh and James O'Neil Spady discuss relations between the Lenapes and the Swedes and the Dutch during the half-century before William Penn arrived. Misunderstandings abounded concerning land purchases (whether they were perpetual and exclusive, as the Europeans thought, or temporary and shared, as the Indians believed) and the natural world (a resource to be exploited for the Europeans or a realm of powerful spiritual forces for the Indians). Violence broke out intermittently, and tension rather than harmony was the norm. Nor is William Penn's own record as spotless as his admirers have maintained. As Spady shows, the Lenapes had the choice of either submitting to European mores and laws or leaving. Once Penn purchased the land, mutual use was impossible as forests became fields and thousands of Europeans insisting on exclusive possession filled the area around Philadelphia.
"Peoples in Conversation" continues with chapters in which Carla Gerona and Alison Duncan Hirsch explore two types of European-Native American contact that have been relatively neglected: the realm of dreams and the role of women. Quakers, Gerona points out, believed all human beings, including Indians, had the "inner light" through which God could communicate with them and that dreams could be one medium of encounters with the divine. Similarly, Native American societies placed great stock in the import of nocturnal visions. Dreams do not dictate their own interpretation, however, and Pennsylvania intermediaries were especially apt to point out how Native dreams supposedly mandated peaceful land sessions and coexistence. Only after warfare broke out in the mid-eighteenth century did Quakers begin to consider Indian dreams the work of the devil. On a more material level, Hirsch shows that women were crucial participants in the cultural conversation between Euro-Americans and Native people: large numbers came to councils with their men, they served as go-betweens, they processed and sold skins in the important fur trade, and they provided hospitality for people traveling from one society to another. Hirsch also reads between the lines of colonial texts to show how both contemporaries and later historians minimized women's vital role in preserving the tenuous connections between Pennsylvanians and the people they ultimately displaced. The racial construction of Pennsylvania history required its gendered construction as well.
The essays in the second section, "Fragile Structures of Coexistence," concentrate on how both the peaceful possibilities and the inherent tensions discussed by Mackintosh, Spady, Gerona, and Hirsch generated social and cultural frameworks that at least some Euro-Americans and Indians managed to inhabit together. Amy C. Schutt examines the interactions between Native and colonial women in Moravian missions. The missionary effort the Unitas Fratrum began in the 1740s possessed a vigor neither the Quakers nor any other Pennsylvania religious group had demonstrated. From their headquarters at Bethlehem the Moravians granted missionary status to every man and woman who went to convert the inhabitants of the Upper Lehigh, Susquehanna, and ultimately Ohio valleys where they concentrated their efforts. Native and European women were especially close, sharing agricultural tasks, childbearing and -rearing, and educational experiences. Many were dear friends who confided their innermost thoughts to each other. Dispossessed from their lands in the Hudson Valley, Mahicans and Delawares found in Moravians confidants who provided spiritual and worldly guidance in their new homes in the Upper Lehigh Valley.
Such mutual understanding was rare: much contact between Pennsylvanians and Native Americans consisted of encounters on the border of the two worlds where relatively isolated individuals forged—and smashed—their own personal relationships. As John Smolenski and Louis M. Waddell show, when those relationships went bad, the confusing circumstances and multiple sources of authority on all sides of what was anything but a clearly defined Pennsylvania-Indian frontier led to situations in which the fate of accused criminals was more a matter of compromise and power politics than a standard of justice. Smolenski shows how in two cases—the murders of Native Americans Sawantaeny in 1722 and of Tacocolie and Quilee in 1728—the Euro-American perpetrators were respectively exonerated and hanged based on complicated Native American negotiations with the Pennsylvania authorities who were willing to execute frontiersmen who threatened the peaceful boundary they sought to maintain. Similarly, Waddell details the fascinating case of John Toby, a Nanticoke Indian who sexually assaulted a nine-year-old Euro-American girl in 1751. He was freed from jail after a short time as part of Pennsylvania's effort to keep an increasingly precarious peace with the Nanticokes.
But the Native Americans who Pennsylvania devoted most of its energy to appeasing were the Six Nations of the Haudenosaunee, or Iroquois League—nations whose core territories lay well to the north and west of Philadelphia, at several layers remove from the Lenapes and other peoples whose lands Euro-Pennsylvanians coveted. This curiously distant emphasis derived from the distinctive historical character of the Native peoples who were actually on the front lines of Penn's Woods' expansion. The Lenapes of the lower Delaware Valley lived in many small, almost entirely autonomous, communities when they first encountered Europeans at the turn of the seventeenth century. These local groups participated in loose regional political groupings that were not so much unified tribes as collections of peoples who shared strong affinities of marriage, trade, and language with each other. Speaking on their behalf were what seemed to Euro-Americans countless "kings"—headmen of various kin groups whose overlapping use-rights to territory required colonists to make multiple "purchases" of any single patch of real estate (while providing multiple opportunities for those headmen both to stave off definitive transfers of large tracts and to exploit the Euro-American authorities who had to pay and repay to clear their titles). The Munsee-speakers of the watershed north of the Delaware Water Gap were similarly decentralized, and the social turmoil spawned by the epidemics that devastated both of these peoples in the mid-seventeenth century only compounded the political confusion.
Epidemics, indigenous warfare, and colonial pressures created an even more vexed situation in the Susquehanna River watershed after the 1670s, when the Iroquoian-speaking Susquehannocks, who had controlled much of the mid-Atlantic region's trade in the early and mid-seventeenth century, relocated first to the borders of Maryland and then surrendered to the League Iroquois, who resettled and absorbed most of the survivors. In subsequent decades, an array of refugee groups from all over the Atlantic seaboard—Lenapes, Munsees, and Hudson-River valley Mahicans (together the three groups came to be known in the course of their migrations as "Delawares"); Nanticokes, Conoys, and Shawnees from locations to the south; family groups from the Six Nations and from Algonquian New England—created polyglot communities that spread from the Susquehanna and its tributaries westward into the Allegheny, Monongahela, and Ohio countries.
And, as the legal cases discussed by Smolenski and Waddell clearly demonstrate, no one, Native or European, seemed clearly in charge. Blending a variety of political and cultural traditions in potentially unstable ways, each Indian village, and perhaps even each small kin group, was autonomous. And the Penn family—fighting its many battles with Maryland, Virginia, and New York for paper title to Indian lands in the interior while ever-increasing waves of Scots-Irish, German, and English immigrants poured into the contested space—desperately needed a single Indian authority from which they could extract the treaty documents that would give them title to real estate under European law and the right to collect quitrents from Euro-American settlers on the ground. As the work of the late Francis Jennings demonstrated, a faction of Iroquois leaders gladly agreed to satisfy the Pennsylvanians' demand for a single authoritative Native voice. In this marriage of convenience, no single Iroquois diplomat played a more important role than the Onondaga spokesman Canasatego. William A. Starna's essay traces the evolution of the Iroquois as Pennsylvania's putative enforcers through a succession of treaty councils in which Canasatego participated in the years surrounding the Walking Purchase. Starna also points out that the Iroquois courted Pennsylvania more out of desperation than strength: surrounded by stronger British and French colonies, and suffering from hunger as they lost their lands to whites, an alliance with Pennsylvania served the interests of both the Quaker elite and the Iroquois at the expense of the people—both Euro- and Native American—who actually lived on the lands that were sold.
A theme in all of the chapters in the second section is the degree to which the fragile structures of Euro-Indian coexistence rested on personal connections, among religious women, among those who negotiated the thickets of intercultural law, among those who claimed to speak for their people at treaty conferences. When collective stereotypes began to trump personal connections, coexistence became increasingly unlikely. Yet, as the final group of essays, "Toward a White Pennsylvania," suggests, the process of racial estrangement was neither simple nor direct. Steven C. Harper and David L. Preston demonstrate that the orderly removal and settlement the Pennsylvanians and Iroquois hoped to dictate was being undermined even before it was negotiated. Harper shows that Euro-Americans had been living in the territory conveyed in the Walking Purchase for at least a decade and that Native Americans remained in the area long afterwards. In his account, the Walking Purchase emerges more as symbolic ratification of a process of dispossession than a turning point, and also as a symbol of the failure of efforts by outside powers to keep Indians and colonists separate. David Preston tells a similar story for the Susquehanna Valley. Grass-roots squatters and Native Americans interacted, sometimes in friendly, sometimes in hostile, ways despite the efforts of the provincial government and Iroquois to keep them apart. In vain did Pennsylvania authorities, headed by Provincial Secretary Richard Peters, burn squatters' cabins in the early 1750s in an attempt to prevent encounters that would disturb the peace.
Although pockets of friendly mutual interaction would remain, the mixing of Native and European peoples became increasingly parlous by the eve of the Seven Years War. Krista Camenzind explores how that conflict led many Euro-Americans to brand all Indians as both racially different and evil. Native American attacks against isolated farms challenged men's patriarchal role as protectors of their families and forced them into towns as refugees. There they encountered similar men and vented their frustration by forming mobs, firing guns, and ultimately killing any Indians they could find, refusing to distinguish friend from foe. Eastern Pennsylvanians, too became targets of the frontier men's wrath for protecting Indians and attempting to make such easy racial distinctions. In short, Pennsylvania during the Seven Years War articulated the myth of heroic yet victimized frontier folk, attacked by Native Americans and neglected by uncomprehending authorities in more settled regions. In Camenzind's account, the Conestoga massacre becomes not an aberration but a logical outgrowth of long-developing historical developments.
The Wyoming Valley in northeast Pennsylvania, as Paul Moyer shows, traced a similar long-term trend toward racialized violence. Native Americans, Pennsylvanians, and Connecticut Yankees struggled with each other throughout the late eighteenth and even into the early nineteenth century before possession of the land was finally established. Not only did some of the Paxton Boys move northward after the massacre of 1763, but they brought with them a style of warfare that colonists began to use in conflict with each other. Frequently disguising themselves as "White Indians," partisans on both sides practiced guerrilla warfare and random killings in an effort to secure control of the region. As Gregory T. Knouff argues, veterans of the American Revolution not only described themselves as "White" in opposition to "Indians" in their early nineteenth-century pension depositions, but they justified the "savage" methods of their scalping raids by claiming that they had reacted defensively to Indians who used the same tactics against White families. With the revolutionary generation, the stark separation of Native and Euro-Americans, practiced by Pennsylvania from the beginning, had finally established itself ideologically in a national consciousness in which White males earned citizenship through ethnic cleansing.
Taken together, then, these essays trace the collapse of whatever potential may have existed for a Pennsylvania shared by Indians and Europeans, and its replacement by a racialized definition that left no room for Native people—except in reassuring memories of the justice of the Founder, and thus presumably of at least some of his Euro-American successors as well. Yet the startling contrast between peaceful beginnings and violent endings should not obscure the possibility that the eras of peace and war shared much in common. As Merrell has recently argued, Pennsylvania may have remained peaceful for so long precisely because it was so successful in uprooting Native Americans from their homelands, while brutal war came despite, and perhaps even because of, close mutual familiarity across cultural lines. In this and many other ways, the experience of how Native America became Penn's Woods suggests fruitful points of both contrast and comparison with patterns of relations between Indians and Europeans elsewhere on the continent.
First, the environment. Despite the different conceptions of nature and land ownership that Mackintosh and Spady explore, outside the fertile southeast, most of the area that became Penn's Woods long retained its seventeenth-century appearance., In this respect, Pennsylvania differed from coastal regions to the north and south where large-scale ecological transformations had almost obliterated the pre-contact environment by 1800. Although Iroquois and Pennsylvania provincial authorities made great efforts to keep Natives and Europeans separated, squatters, legitimate settlers, and Indians on the frontier engaged in agricultural and economic practices that united diverse peoples. As Harper, Preston, and Moyer show, Native and Euro-American farmers operated side-by-side, both communally and individually, borrowing each other's methods and establishing friendships as well as animosities.
At the same time, both Native and Euro-American hunters used the river valleys as conduits for the fur trade, leading to the creation of multiethnic communities such as Shamokin. Had the Seven Years War not occurred, it is possible to imagine a Pennsylvania frontier on which Indians and whites interacted peacefully or solved their differences to general satisfaction, as some of the households described by Smolenski, Waddell, and Starna suggest. Of course, it remains a moot question as to just how powerful these interethnic grass-roots ties were and whether they could have survived the joint pressure of the Iroquois and the Pennsylvania government.
Many of these informal ties between Native and Euro-Americans were between women, or involved women interacting with men. As Hirsch and Schutt show, the frontiers of Pennsylvania, like many other regions of cultural contact, enhanced the power of Euro-American women. More sedentary than men, they frequently learned other languages more quickly and established deep friendships. Both the Quakers and the Moravians granted women the right to preach and proselytize along with men. That so much initial intercultural contact occurred peacefully and among women explains why Native American women in this region, unlike those described by Irene Silverblatt in Peru and Karen Anderson in New France, were often at the forefront of cooperation and innovation rather than resistant to economic, religious, and other forms of change.
Alcohol, on the other hand, was an agent of change primarily, although not exclusively, managed by men. In his study of Cherokee anomie, William McLoughlin notes that alcohol abuse tends to be especially prevalent among people who lose their cultural moorings. The Native Americans who traded, treated, and warred with Euro-Pennsylvanians not only endured multiple relocations and recombinations, but rum, along with furs, was a principal item of commerce. Inevitably, both Native Americans in general and those who tried to mediate between Indian and European worlds often turned to liquor for consolation, especially given the obligatory drinking which was a necessary social ritual at many encounters. Liquor cemented ties, but as Smolenski and Waddell show, it also produced (and sometimes at the same time exculpated) crime.
After mid-century, peacekeeping yielded to full-scale race war. As Gregory Evans Dowd's work has demonstrated, Pontiac's Rebellion received its spiritual leadership from Neolin, who preached a pan-Indian racial consciousness that demonized Whites and reflected the union the numerous displaced Native groups achieved. The frontiers of Pennsylvania may have been the first place on the continent where "Reds" and "Whites" consciously battled each other as racially-defined groups. Studies of how "Whiteness" became the sine qua non of American citizenship have usually attributed this racial consciousness to the need for an insecure group to define itself and cement its ties against "others." They have also debated the extent to which Whiteness as opposed to other factors shaped group self-consciousness and animosities. It seems likely that the sharp Red-White dichotomy Gregg Knouff describes had special explanatory power for both multiethnic Pennsylvania and the multiethnic Indian villages of the Susquehanna and Ohio countries, where both sides had to unite numerous recently dislocated groups to an extent previously unprecedented. By 1800, to be a Pennsylvanian meant to be White. To be a Delaware or a Shawnee meant to be Red—and, as Whites saw it, not to be a Pennsylvanian. To a tragic extent, the same remains true to this day. According to the 2000 Federal census, among all fifty states and the District of Columbia, Pennsylvania ranks last in the percentage of its population classified as Native American—a mere 0.01%, compared to a national average of .9% and an average among the original thirteen states of about .04%. Moreover, among the original states, only the Keystone lacks both an Indian reservation within its boundaries and any Native groups that (as of this writing) have won legal recognition of their status from state or federal governments.
That Native America thoroughly became Penn's Woods, in demographic as well as political and cultural terms, is thus beyond question. How and why that racial transformation occurred are the contentious issues that unite the varied essays in this book. For all their thematic congruencies, the chapters originated separately in the work of a talented group of (mostly) younger scholars. With the exception of the essays by Hirsch, Schutt, and Starna, each originated as a submission to Pennsylvania History. The work was of such high quality that there appeared to be only two choices: either pre-empt several issues of the journal while students of other aspects of the state's history gnashed their teeth, or collect the work in a single volume. As one of us was then editor of the journal and the other a specialist in relations between Native Americans and Euro-American colonists, a collaboration to pursue the second option seemed natural. The partnership also made sense for another reason: we had known each other (we realized with some alarm) for a quarter-century, since our days as graduate students at Columbia University, where each of us studied with Alden T. Vaughan, to whom this volume is dedicated and whose relentless pursuit of both historical accuracy and good writing we have tried to embrace throughout our careers. His sense of fairness, we trust, will allow him to appreciate our duty also to dedicate the this book to Francis Jennings, whose work, more than any other, mapped the complicated, often ugly, historical terrain that Pennsylvanians and Indians created together.
However much these chapters may have initially cohered in theme and approach, essays that originated independently seldom find easy compatibility within the covers of a single volume. Many of our authors made heroic sacrifices in theme, style, and, most bloodily, of pages of cherished prose for the good of a work that—without, we hope, squelching individual voices and interpretive perspectives—can be read profitably from beginning to end. We thank them for their patience, good humor, and remarkable adherence to deadlines set by editors prone to long silences punctuated by frantic bursts of activity. Additional thematic coherence and scholarly collaboration among the authors occurred as the project entered its final stages, when drafts of each chapter were posted on a protected web site for review and suggestion. This form of virtual scholarly conference prevented several of the inevitable errors of fact or interpretation that slip into the best of work from finding their way into print.
Some of the compromises among the authors required careful choices (and some controversies) over terminology. We have attempted to avoid, for instance, the term backcountry despite its established use in much of the historiography and in the other work of several of our contributors. As Jennings once said on the floor of an academic conference devoted to the B-word, to the people who lived in contested interior spaces, the territory was "the frontcountry"; moreover, the term can convey an eastern, Eurocentric bias that works against the themes of cultural contestation we are trying to highlight in this volume—a bias that in itself has often been an aspect of a racially constructed past in which Euro-Americans expanded westward into empty lands at the back of the centers of civilization. Frontier can be a similarly problematic word—but only if used to convey a sense of empty space. We have tried to use it here with some precision to denote a zone of contestation, of cultural contact between Euro-Americans and Native Americans that was equally "frontier" to all sides. Settlers, too, has been used with some care, as a term equally applicable to Native as well as Euro-Americans who colonized contested frontier spaces.
And, in a work in which the construction of racial categories is a major theme, we have attempted to use Euro-Americans and Indians or Native Americans as convenient collective names for diverse groups who did not necessarily understand each other (or themselves) as "races." White and Red are used only in contexts where socially constructed racial categorization was in play as historical phenomenoa, and the terms are capitalized to emphasize their constructedness. Of course Pennsylvania, too, was a construct; we have done our best to use this term to refer primarily to the political entity created by Euro-Americans, not to describe the Native American landscape that eventually became the Keystone State. In all quotations, abbreviations have been silently expanded and antique orthography has been replaced with modern equivalents. No attempt has been made to convert the Old Style (Julian) Calendar to the New Style (Gregorian), but dates are given as if the year began on 1 January, and the Quaker practice of referring to months and days of the week by numbers has been silently converted to the modern, pagan form.
"Our own feelings sufficiently prompt us to testify our personal esteem for you," Governor Thomas Mifflin wrote to Alexander McGillivray and the rest of the Creek delegation he led to Philadelphia in July 1790. "As we hope the conduct of Pennsylvania, from the landing of William Penn to this day, has unequivocally proved her love of justice, her disposition for peace, and her respect for the rights and happiness of her neighbors, it is with sincere pleasure that we anticipate . . . the establishment of a lasting harmony between your Nation and the United States of America." Linking Penn's Treaty with the broader history of the United States while ignoring the counter-icon of Conestoga—and defining Native people as, at best, "neighbors" rather than those with a place in his commonwealth's spacial, political, and social order—Mifflin participated deeply in the discursive process by which, in the minds of White Pennsylvanians, Native America became Penn's Woods. We hope the essays that follow advance understanding not only of Mifflin's era but of the world of more intimate relationships between Euro-American and Native American people that he and his contemporaries sought to erase from historical memory.
Mailing List
Subscribe to our mailing list and be notified about new titles, journals and catalogs.