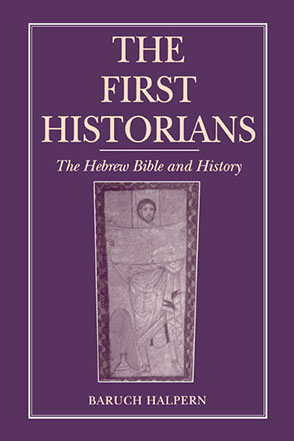 The First Historians
The Hebrew Bible and History
Baruch Halpern
Buy
The First Historians
The Hebrew Bible and History
Baruch Halpern
"The First Historians is a book that no one with serious interest in biblical scholarship can afford to neglect. Halpern is one of the most fertile, exuberant, and audacious minds of his generation. He is witty, learned, and outrageous in turn, a Momigliano of Hebrew historiography. One learns more from one book by Halpern than from a dozen by his plodding peers."
Description

Reviews

Bio

Subjects
An important reinterpretation of the Hebrew Bible as historiography, now available in paper.
"The First Historians is a book that no one with serious interest in biblical scholarship can afford to neglect. Halpern is one of the most fertile, exuberant, and audacious minds of his generation. He is witty, learned, and outrageous in turn, a Momigliano of Hebrew historiography. One learns more from one book by Halpern than from a dozen by his plodding peers."
"With characteristic imagination, erudition, and wit, Halpern challenges the established understanding. . . of the Former Prophets. His designation of those books as historiography will surprise those who think that genre began with the Greeks. No one concerned with the roots of historical thinking in the West or with the relationship of the Bible to history can afford to miss this extraordinary volume."
"It is an impressive and extremely important book. My only regret is that someone didn't write these things long ago. Halpern shows himself to be a master of literature, history, Semitic linguistics, ancient Near Eastern texts, and archaeology. No one in his generation controls all of these tools of the trade as Halpern does."
Baruch Halpern is Chair in Jewish Studies and Professor of Ancient History and Religious Studies at Penn State University. His books include The Hebrew Bible and Its Interpreters, edited with W. H. Propp and D. N. Freedman (1990) and Law, Politics, and Society in the Ancient Mediterranean World, edited with D. W. Hobson (1992).