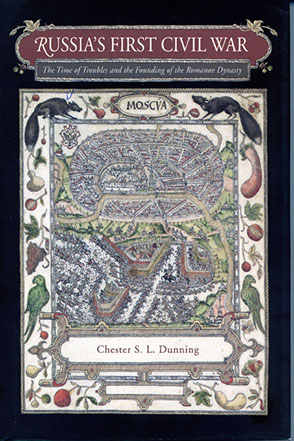 Russia's First Civil War
The Time of Troubles and the Founding of the Romanov Dynasty
Chester S. L. Dunning
BUY
Russia's First Civil War
The Time of Troubles and the Founding of the Romanov Dynasty
Chester S. L. Dunning
"This is clearly the best and most judicious account of the Time of Troubles in any language. A magnificent achievement that will significantly benefit the reading world, especially those interested in Russia and comparative civil disorders."
Description

Reviews

Bio

Subjects
The Time of Troubles was a period of great upheaval in Russian history. It began when the ancient ruling dynasty died out in 1598 and Boris Godunov defeated rival boyars to become the tsar. For more than a decade thereafter, Russia was plagued by dynastic struggle, devastating famine, widespread uprisings, and invasion by Polish and Swedish armies. The Time of Troubles finally ended in 1613 with the establishment of the Romanovs as the ruling dynasty. Russia's state crisis had been so severe that it nearly destroyed the country and seriously delayed its emergence as a great power. Ever since then the Time of Troubles has occupied a unique place in Russia's collective memory.
Russia's First Civil War is the first major post-Marxist reassessment of the Time of Troubles and the first detailed study of that tragic era in English. Historians have long misinterpreted popular uprisings during the Times of Troubles as the first social revolution of the Russian masses against serfdom. Dunning overturns this view and demonstrates that at the heart of the "Troubles" was a long and extremely violent civil war that divided Russian society vertically instead of horizontally. He shows that serfs did not actively participate in the civil war and that the abolition of serfdom was never a rebel goal. Instead, most rebels were petty gentry, professional soldiers, townsmen, and cossacks who were united in fierce opposition to tsars they believed to be illegitimate usurpers.
Based upon exhaustive research, Russia's First Civil War is a masterful mix of social and military history, firmly placing the Time of Troubles in the context of the waves of wars and rebellions that swept through early modern Europe and Asia.
"This is clearly the best and most judicious account of the Time of Troubles in any language. A magnificent achievement that will significantly benefit the reading world, especially those interested in Russia and comparative civil disorders."
"We can thank Chester S. L. Dunning for explaining, much more than anyone before him, why and how this stunning reversal of fortunes occurred."
"Comprehensive and highly original interpretation of the Russian 'Smutnoe vremia' (Time of Troubles)"
"A sweeping, detailed, readable account of the first Russian civil war and an excellent analysis of the war's causes and development. . . . This one deserves a place on the shelf of anyone interested in the period."
"Dunning's book is a welcome addition to the literature on the Time of Troubles, offering a chronological narrative of events that provides more detail on the military campaigns of 1604–07 than other English-language accounts."
"Likely to remain the standard English-language work for some time to come.
[This book] offers a comprehensively detailed narrative account of events, every twist and turn of every conspiracy and campaign. This is underpinned by a constant critical engagement with the historiography."
"Chester S. L. Dunning's new book is a historical tour de force, a major reconceptualization of Russia's Time of Troubles, 1598-1613."
"Chester Dunning's book is therefore, an invaluable contribution to Russian history, arguable the most in-depth monograph to be published on the 'Time of Troubles' in English.
Overall, Russia's First Civil War is an exceptional source on this crucial but little-known era of Russian history. It is a thorough and well-documented account, if somewhat dry in style, and will be of inestimable value to all Russianists and scholars of early modern history."
"This prodigious piece of scholarship represents an ambitious comprehensive approach to the political, military, social and economic crisis that befell Russia in the beginning of the seventeenth century. Written primarily for an audience of specialists, this volume provides a new framework for the understanding of the Time of Troubles that goes beyond traditional Marxist and Western interpretation and takes a fresh look at the vast array of primary sources of the period."
Chester S. L. Dunning is Associate Professor of History at Texas A&M University. He is editor and translator of The Russian Empire and Grand Duchy of Muscovy by Jacques Margeret (1983).