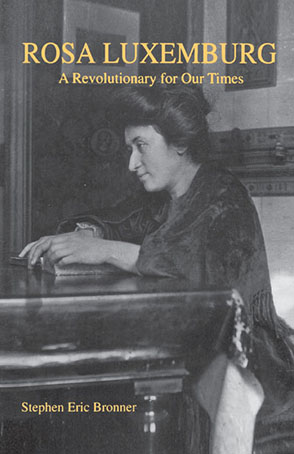 Rosa Luxemburg
A Revolutionary for Our Times
Stephen Eric Bronner
Buy
Rosa Luxemburg
A Revolutionary for Our Times
Stephen Eric Bronner
"Resurrecting the legacy of one who maintained 'Freedom is always and exclusively freedom for those who think differently,' Bronner has written an admirable and pertinent book which contributes to debates among democratic socialists as to 'the way forward.'"
Description

Reviews

Bio

Subjects
Rosa Luxemburg (1871–1919) was Polish, Jewish, and a woman in an international socialist movement dominated by Germans, gentiles, and men. For Luxemburg, there was no real socialism without democracy and no real democracy without socialism. In this biography Stephen Eric Bronner establishes Luxemburg's legacy to contemporary socialist theory and practice.
"Resurrecting the legacy of one who maintained 'Freedom is always and exclusively freedom for those who think differently,' Bronner has written an admirable and pertinent book which contributes to debates among democratic socialists as to 'the way forward.'"
"This small booklet is a useful and sympathetic synthesis of Rosa Luxemburg's life and work, and their relevance for present-day politics. Her ideas on nationalism and internationalism, reform and revolution, imperialism and war, democracy and mass strike are aptly presented in a lively and non-academic way. . . . The greatest merit of the book is its partisan character; its decision to approach Rosa Luxemburg not as a closed chapter in the history of the Labor Movement, but as a source of inspiration for the present struggles, for a model of socialist democracy beyond bureaucracy and reformism, Stalin and-or Noske."
"Stephen Eric Bronner's book attempts to set a great revolutionary's thought in its historical context and also make the questions which she raised relevant to the concerns of the present. . . . Bronner's valuable book [is] the accessible lead into Luxemburg's enigmatic thinking and being which we have needed for some time."
Stephen Eric Bronner is Professor of Political Science and Comparative Literature at Rutgers University. He is the author of, most recently, Moments of Decision: Political History and Crises of Radicalism and Socialism Unbound and the editor of The Letters of Rosa Luxemburg.