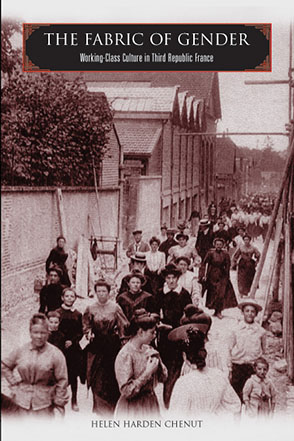 The Fabric of Gender
Working-Class Culture in Third Republic France
Helen Chenut
Buy
The Fabric of Gender
Working-Class Culture in Third Republic France
Helen Chenut
"The Fabric of Gender is a ground-breaking book that reflects years of learning, impeccable research, a deep familiarity with France, and work in an exceptionally broad range of sources—visual, archival, and oral history."
Description

Reviews

Bio

Table of Contents

Subjects
The years of the Third Republic (1870–1940) in France were ones of intense social and economic transformation as workers struggled to defend their rights in the face of growing industrial capitalism. In
The Fabric of Gender
, Helen Chenut paints a vivid picture of working life during these years by following four generations of laboring women and men in one community, the textile town of Troyes in the Champagne region.
In Troyes workers were locked in an adversarial relationship with mill owners, whose monopoly over the labor market in a single-industry town largely determined the workers' future. And yet workers managed to create a counterculture of resistance by founding labor unions, consumer cooperatives, and socialist parties through which they were gradually able to implement change. Women were key actors in this struggle as their garment-making skills became increasingly important to the growing productivity of the knitted textile industry. Drawing upon rich archival records, oral histories, and highly evocative illustrations, Chenut tells a fascinating story of this fight for a "social republic," one in which both men and women had the right to work for a living wage and to partake in a consumer society.
The Fabric of Gender appears at a time when European labor historians are reexamining their field. Chenut's innovative study of working-class culture—integrating gender, class, politics, and consumption—stands as a model for the expansion of labor history beyond traditional lines of inquiry.
"The Fabric of Gender is a ground-breaking book that reflects years of learning, impeccable research, a deep familiarity with France, and work in an exceptionally broad range of sources—visual, archival, and oral history."
"The Fabric of Gender

is an extraordinary work of labor history, notable for its remarkable erudition and thoroughness. Chenut takes seriously the multiple identities of the category we call 'workers.' I know of no other study that so fully integrates the impact of politics, gender, social conditions, labor relations, private life, and culture into the narrative of labor history.

"
"This nuanced and complex book shows in remarkable ways the manner in which gender infused worker identity, class conflict, and even class cooperation. Troyes represents a microcosm of the same sorts of issues being played out at the national level, which makes this study a rich and indispensable contribution to our understanding of Third Republic France and its legacies."
"The Fabric of Gender combines meticulous research with stimulating analyses of contemporary documents. It is an invaluable contribution to our understanding of working-class culture in the Third Republic."
"Helen Chenut's elegantly written and meticulously researched study is a reminder of why labor history continues to matter."
"This study makes a significant contribution to attempts to replace ideological fictions with cultural and economic facts."
"Helen Chenut's latest book is an innovative, meticulously researched, and well-crafted study of the evolution of working-class culture in Troyes, France."
Helen Chenut is Lecturer in the Department of History at the University of California at Irvine.
Contents
List of Illustrations
Acknowledgments
List of Abbreviations
Introduction
1. The Great Strike
2. The World of Textile Work: Continuity and Change
3. Millworkers, Socialism, and the Labor Movement
4. A Culture of Textile Production
5. Workers as Consumers
6. Feminization and Industrial Expansion
7. Expanding the Consumer Market
8. The Depression Decade and the Popular Front
Conclusion
Bibliography
Index
Mailing List
Subscribe to our mailing list and be notified about new titles, journals and catalogs.