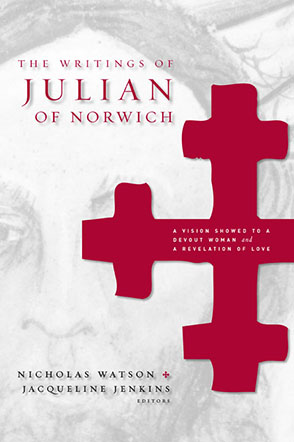 The Writings of Julian of Norwich
A Vision Showed to a Devout Woman and A Revelation of Love
Edited by Nicholas Watson and Jacqueline Jenkins
Buy
The Writings of Julian of Norwich
A Vision Showed to a Devout Woman and A Revelation of Love
Edited by Nicholas Watson and Jacqueline Jenkins
"This is a fine and very welcome addition to the growing corpus of scholarly work on what may well be the most important work of Christian reflection in the English language."
Description

Reviews

Bio

Table of Contents

Subjects
Julian of Norwich (ca. 1343–ca. 1416), a contemporary of Geoffrey Chaucer, William Langland, and John Wyclif, is the earliest woman writer of English we know about. Although she described herself as "a simple creature unlettered," Julian is now widely recognized as one of the great speculative theologians of the Middle Ages, whose thinking about God as love has made a permanent contribution to the tradition of Christian belief. Despite her recent popularity, however, Julian is usually read only in translation and often in extracts rather than as a whole.
This book presents a much-needed new edition of Julian's writings in Middle English, one that makes possible the serious reading and study of her thought not just for students and scholars of Middle English but also for those with little or no previous experience with the language.
• Separate texts of both Julian's works, A Vision Showed to a Devout Woman and A Revelation of Love, with modern punctuation and paragraphing and partly regularized spelling.
• A second, analytic edition of A Vision printed underneath the text of A Revelation to show what was left out, changed, or added as Julian expanded the earlier work into the later one.
• Facing-page explanatory notes, with translations of difficult words and phrases, cross-references to other parts of the text, and citations of biblical and other sources.
• A thoroughly accessible introduction to Julian's life and writings.
• An appendix of medieval and early modern records relating to Julian and her writings.
• An analytic bibliography of editions, translations, scholarly studies, and other works.
The most distinctive feature of this volume is the editors' approach to the manuscripts. Middle English editions habitually retain original spellings of their base manuscript intact and only emend that manuscript when its readings make no sense. At once more interventionist and more speculative, this edition synthesizes readings from all the surviving manuscripts, with careful justification of each choice involved in this process. For readers who are not concerned with textual matters, the result will be a more readable and satisfying text. For Middle English scholars, the edition is intended both as a hypothesis and as a challenge to the assumptions the field brings to the business of editing.
"This is a fine and very welcome addition to the growing corpus of scholarly work on what may well be the most important work of Christian reflection in the English language."
"This is an edition like no other. Word for word and thought for thought, Watson and Jenkins give Julian's texts the closest reading they have ever had. The editors' daring break with current trends will make it much easier henceforth to read A Revelation of Love and much harder to evade the challenge of its intricate and radical thought. Adopting a wholly new approach to Julian's sources, the copious notes initiate the novice reader gently into the mysteries of Middle English, while inviting specialists to enter more fully than ever before into the process of making this book, which, in the final words of its author, 'is begotten by Goddess gifted and his grace, but it is not yet performed."
"Embracing both scholarly and pedagogical needs, this remarkable volume meets the editors' stated goal of providing an edition that is true to their understanding of Julian's rigorous and eloquent thought and that makes that thought accessible, as Julian herself would wish, to readers at all levels."
"Watson and Jenkins's exemplary edition allows for a much wider understanding of Julian's texts than previous such undertakings, and is, by more than a little, the best edition we now have."
"This is not an inexpensive text and may well be out of the reach of the ordinary reader. Yet for the teacher/lover of medieval spirituality, it is an indispensable work."
"Clearly this edition has much to contribute to the growing interest among scholars, students, and enthusiasts of contemplative writers from the medieval period. Anyone interested in understanding the differences and similarities among manuscripts of Julian's writing will be well served by using this text."
"A book that offers this much material takes a while to unpack, and instructors might hesitate at its bulk. But quite apart from the advantages of the text, the notes will be invaluable for an attentive student. . . . Watson and Jenkins's edition is liberal indeed, but their sensitivity to the fine detail of Julian's argument justifies their audacity."
Nicholas Watson is Professor of English at Harvard University. He is co-editor of two Penn State Press books: The Idea of the Vernacular: An Anthology of Middle English Literary Theory, 1280–1520 (1999) and The Vulgar Tongue: Medieval and Postmedieval Vernacularity (2003).J
acqueline Jenkins is Associate Professor of English at the University of Calgary. She co-edited St. Katherine of Alexandria: Texts and Contexts in Western Medieval Europe (2003).
CONTENTS
Preface
Acknowledgments
INTRODUCTION
Part One: On Julian and Her Writings
Part Two: On Readers of Julian's Writings
Part Three: On Editing Julian's Writings
Part Four: On Using This Edition
A Vision Showed to a Devout Woman
A Revelation of Love
Textual Notes
APPENDIX: RECORDS AND RESPONSES, 1394-1674
A. The Westminster Revelation (with Hugh Kempster)
B. Bequests to Julian of Norwich, 1393-1416
C. Excerpt from The Book of Margery Kempe (chapter 18)
D. The Cambrai Nuns" Margaret Gascoigne and the Upholland Manuscript
E. Serenus Cressy's Edition of a Revelation and the Stilling fleet Controversy
Bibliography (by Amy Appleford)
Also of Interest
Mailing List
Subscribe to our mailing list and be notified about new titles, journals and catalogs.