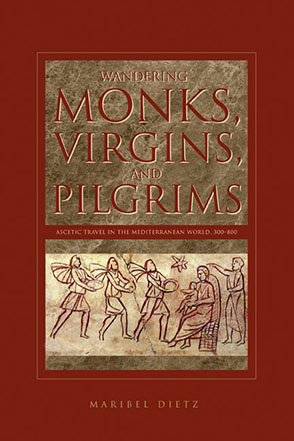 Wandering Monks, Virgins, and Pilgrims
Ascetic Travel in the Mediterranean World, A.D. 300–800
Maribel Dietz
BUY
Wandering Monks, Virgins, and Pilgrims
Ascetic Travel in the Mediterranean World, A.D. 300–800
Maribel Dietz
"This is a fine book and a good read. I can't think of anything else that explores in such an original way the themes of pilgrimage and early asceticism from the age of Constantine to that of Charlemagne."
Description

Reviews

Bio

Table of Contents

Sample Chapters

Subjects
Religious travelers were a common sight in the Mediterranean world during Late Antiquity and the early Middle Ages. In fact, as Maribel Dietz finds in
Wandering Monks, Virgins, and Pilgrims
, this formative period in the history of Christianity witnessed an explosion of travel, as both men and women took to the roads, seeking spiritual meaning in a life of itinerancy.
Much of this early Christian religious travel was not focused on a particular holy place, as in the pilgrimage of later centuries to Rome, Jerusalem, and Santiago de Compostela. Rather, the inspiration was more practical. Travel was a way of escaping hostility or social pressures or of visiting living and dead holy people. It was also a means of religious expression of homelessness and temporary exile. The wandering lifestyle mirrored an interior journey, an imitation of Christ and a commitment to the Christian ideal that an individual is only temporarily on this earth.
Women were especially attracted to religious travel. In the centuries before the widespread cloistering of women, a life of itinerancy offered an alternative to marriage and a religious vocation in a society that excluded women from positions of spiritual leadership.
Eventually, ascetic travel gave way to full-fledged pilgrimage. Dietz explores how and why religious travel and monasticism diverged and altered so greatly. She examines the importance of the Cluniac reform movement and the creation of the pilgrimage center of Santiago de Compostela in the emergence of a new model of religious travel: goal-centered, long-distance pilgrimage aimed not at monks but at the laity.
Wandering Monks, Virgins, and Pilgrims is essential reading for those who study the history of monasticism, for it was in a monastic context that religious travel first claimed an essential place within Christianity. It will also be important for anyone interested in pilgrimage and the role of women in the history of Christianity.
"This is a fine book and a good read. I can't think of anything else that explores in such an original way the themes of pilgrimage and early asceticism from the age of Constantine to that of Charlemagne."
"Maribel Dietz has captured the religious facets of a Late Antique world filled with movement, where administrative, legal, and strategic expectations already depended on complex systems of lodging, supply, and transportation. The resulting scenes of bustle and fatigue, of loneliness and excitement—the indispensable basis for more symbolic and imaginative displacement—carry us from the age of Constantine through the periods of barbarian settlement and Islamic expansion. The author is as careful as her sources in distinguishing between mere restlessness and a disciplined rejection of security. Spain provides a paradigm; the special interest of women is acknowledged; and a rich context is supplied for the familiar but narrower phenomenon of pilgrimage. To read the book is to embark on a fresh and exhilarating journey."
"Dietz's book is amply researched and handsomely written. In it one meets some of the most influential figures in the history of Christianity."
"Dietz provides a counterpart to the apparent single-minded scholarly focus on pilgrimage to holy sites as the only 'religiously motivated travel.' This volume is essential reading for anyone interested in early Christian travel around the Mediterranean world."
Maribel Dietz is Associate Professor of History at Louisiana State University.
Contents
Introduction
1. The Culture of Movement
2. Early Iberian Religious Travelers: Egeria, Orosius and Bachiarius
3. Monastic Rules and Wandering Monks
4. Women and Religious Travel
5. Travel and Monasticism on the Iberian Peninsula
6. Post-Islamic Monastic Travel
Epilogue
Bibliography
Index