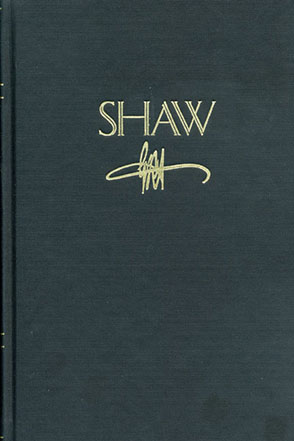 SHAW: The Annual of Bernard Shaw Studies, vol. 27
Edited by MaryAnn K. Crawford, and Edited by Michel W. Pharand
BUY
SHAW: The Annual of Bernard Shaw Studies, vol. 27
Edited by MaryAnn K. Crawford, and Edited by Michel W. Pharand
Table of Contents

Subjects
Contents
INTRODUCTION: THE EVOLUTION OF SHAVIANCONSCIOUSNESS
MaryAnn K. Crawford and Michel W. Pharandi
1. ON ARCHITECTURE
Bernard Shaw
2. KING MAGNUS AND KING MINUS: A PLAY AND A PLAYLET
Stanley Weintraub
3. G.B.S. AND "THE LAW OF CHANGE"
A. M. Gibbs
4. SHAW, STOPPARD, AND "AUDIBLE INTELLIGIBILITY"
Martin Meisel
5. SHAW AND CONVERSION
Nicholas Grene
6. GETTING PUBLISHED: GRANT RICHARDS AND THE SHAWBOOK
Michel W. Pharand
7. MORE LOOKED AT THAN LISTENED TO": SHAW
ON THE PREREVOLUTIONARY RUSSIAN STAGE
Laurence Senelick
8. A DRAMATIST FOR ALL SEASONS: BERNARD SHAW
IN VIENNA, 1933–1945
Barbara Pfeifer
9. SHAW, CONNOLLY, AND THE IRISH CITIZEN ARMY
Nelson O'Ceallaigh Ritschel
10. THE STRATEGY AND THE BACTERIOLOGY: SCRUTINIZING THE MICROBE IN SHAW'S TOO TRUE TO BE GOOD
Charles A. Carpenter
11. WILDE AND SHAKESPEARE IN SHAW'S
YOU NEVER CAN TELL
John A. Bertolini
12. SHAKESPEARE'S SHAVIAN CLEOPATRA
Annie Papreck King
13. "CONSIDERING THE ALTERNATIVES . . .":
SHAW AND THE DEATH OF THE INTELLECTUAL
Vanessa L. Ryan
14. THE LAST WORD ON LAST WORDS: SHAW AND
CATASTROPHIC DRAMA
Lawrence Switzky
15. SHAW'S LETTERS IN OTHER PEOPLE'S BOOKS:
THE "ORPHANS"
lsidor Saslav
REVIEWS
G.B.S. Boxed (The Bernard Shaw Collection, six-DVD set)
Bernard F. Dukore
Shaw at 150: The BBC on DVD (The Bernard Shaw Collection,
six-DVD set)
Peter Gahan
More Shaw on the Great War (What Shaw Really Wrote about the
War, edited by J . L. Wisenthal and Daniel O'Leary)
Stanley Weintraub
The Voice of Shaw (The Spoken Word, two-CD set,
by Bernard Shaw)
Ivan Wise
Dick Dudgeon, Caesar, and Captain Brassbound in Poland
(G. B. Shaw's Unconventional Hero in Three Plays for
Puritans, by Malgorzata Bielecka)
Julie A. Sparks
A CONTINUING CHECKLIST OF SHAVIANA
John R. Pfeiffer
CONTRIBUTORS
NOTICES
INTERNATIONAL SHAW SOCIETY NEWS