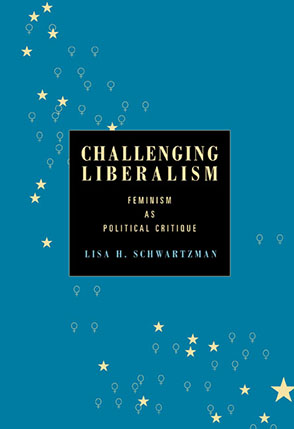 Challenging Liberalism
Feminism as Political Critique
Lisa H. Schwartzman
BUY
Challenging Liberalism
Feminism as Political Critique
Lisa H. Schwartzman
"In her clear and engaging book, Lisa Schwartzman argues that liberalism fails as a theory of justice because it fails to uncover and resist oppression. Drawing on the work of Catharine MacKinnon, Judith Butler, and Wendy Brown, she offers original, feminist critiques of Nussbaum, Rawls, Okin, and Dworkin. This book will be of interest to political philosophers from both liberal and feminist schools as well as legal theorists."
Description

Reviews

Bio

Table of Contents

Sample Chapters

Subjects
Questions about the relevance and value of various liberal concepts are at the heart of important debates among feminist philosophers and social theorists. Although many feminists invoke concepts such as rights, equality, autonomy, and freedom in arguments for liberation, some attempt to avoid them, noting that they can also reinforce and perpetuate oppressive social structures.
In Challenging Liberalism Schwartzman explores the reasons why concepts such as rights and equality can sometimes reinforce oppression. She argues that certain forms of abstraction and individualism are central to liberal methodology and that these give rise to a number of problems. Drawing on the work of feminist moral, political, and legal theorists, she constructs an approach that employs these concepts, while viewing them from within a critique of social relations of power.
"In her clear and engaging book, Lisa Schwartzman argues that liberalism fails as a theory of justice because it fails to uncover and resist oppression. Drawing on the work of Catharine MacKinnon, Judith Butler, and Wendy Brown, she offers original, feminist critiques of Nussbaum, Rawls, Okin, and Dworkin. This book will be of interest to political philosophers from both liberal and feminist schools as well as legal theorists."
"Feminists often criticize liberalism as too abstract and individualistic. Lisa Schwartzman argues, in her balanced evaluation, that the real problems are instead that liberalism has been covertly and concretely patriarchal and ignored the power structures of sexual politics. Seeking to separate what is valuable in liberalism from what is downright oppressive, she examines leading contemporary texts (Rawls, Dworkin) and their feminist critics (Jaggar) and defenders (O'Neill, Nussbaum), differentiating her critique also from postmodernists (Brown, Butler). Her original approach often evokes the response, 'Of course!' This is a stimulating text for a seminar or advanced undergraduate course. It deserves to be read by feminist philosophers and by scholars in women's studies, political science, law, and sociology."
Lisa H. Schwartzman is Associate Professor of Philosophy at Michigan State University.
Contents
Acknowledgments
Introduction
Part I A Feminist Critique of Liberalism
1. Individualism, Oppression, and Liberal Rights Theory
2. Abstract Ideals and Social Inequality: Dworkin's Equality of Resources
3. Rawlsian Abstraction and the Social Position of Women
Part II Abstraction, Ideals, and Feminist Methodologies
4. Idealization, Abstraction, and the Use of Ideals in Feminist Critique
5. Feminism as an Alternative Methodology
Part III Feminist Postmodernism: An Alternative to Liberalism?
6. Politicized Identity, Women's Experience, and the Law
7. Speech, Authority, and Social Context
Conclusion: Toward a Feminist Approach to Political Theorizing
Notes
Bibliography
Index