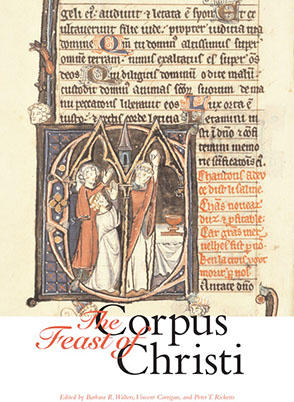 The Feast of Corpus Christi
Barbara R. Walters, Vincent Corrigan, and Peter T. Ricketts
Buy
The Feast of Corpus Christi
Barbara R. Walters, Vincent Corrigan, and Peter T. Ricketts
"In this welcome, scholarly book, three American academics working in the field of medieval studies assemble a remarkable collection of material that brings fresh light to bear on the origins and early development of the festival of Corpus Christi."
Description

Reviews

Bio

Table of Contents

Subjects
The feast of Corpus Christi, one of the most solemn feasts of the Latin Church, can be traced to the Fourth Lateran Council in 1215 and its resolution of disputes over the nature of the Eucharist. The feast was first celebrated in Liège in 1246, thanks largely to the efforts of a religious woman, Juliana of Mont Cornillon, who not only popularized the feast, but also wrote key elements of an original office.
This volume presents for the first time a complete set of source materials germane to the study of the feast of Corpus Christi. In addition to the multiple versions of the original Latin liturgy, a set of poems in Old French, and their English translations, the book includes complete transcriptions of the music associated with the feast. An introductory essay lays out the historical context for understanding the initiation and reception of the feast.
"In this welcome, scholarly book, three American academics working in the field of medieval studies assemble a remarkable collection of material that brings fresh light to bear on the origins and early development of the festival of Corpus Christi."
"The inclusion of Corpus Christi material in such vernacular poems attests to the growing popularity of the feast and the desire of the Church that this feast be received and disseminated at a popular level. Beyond the content of this book that is stellar, this volume distinguishes itself as a monument to collaborative research and a must-have for any serious scholar of the liturgy."
"The Feast of Corpus Christi is in many ways an invaluable resource. It makes available for the first time a centrally important group of texts and chants, presented in such a way that specialists and nonspecialists alike can easily make use of them for research and teaching. Although not everyone will agree with Walters's contentions, the book greatly enriches our understanding of the feast by placing an abundant offering of primary source material in its historical context."
Barbara R. Walters is Professor of Sociology at The City University of New York, Kingsborough Community College and SPS, University Center.
Vincent Corrigan is Professor of Musicology at Bowling Green State University in Ohio.
Peter T. Ricketts is Honorary Professor of French Studies at the University of Birmingham.
CONTENTS
Acknowledgments
Abbreviations
Preface
PART I: INTRODUCTION
1. THE FEAST AND ITS FOUNDER by Barbara R. Walters
The Vita of Juliana of Mont Cornillon
Realizing Juliana of Mont Cornillon
Juliana of Mont Cornillon as Prophetess
Diffusion of the Feast through Social Networks
Thirteenth-Century Liège
The Community of Women
Textual Communities and Texts
PART II: MATERIALS FOR THE STUDY OF CORPUS CHRISTI: SOURCES
2. INTRODUCTION TO THE LITURGICAL MANUSCRIPTS by Barbara R. Walters
BNF 755 and Offices A, B, and C
Chronological Ordering of the Three Offices and the Papal Bull Transiturus
Gy and Zawilla's Analyses
The New Critical Editions
3. CRITICAL EDITIONS OF THE LITURGICAL MANUSCRIPTS by Vincent Corrigan
The Manuscripts
Indices
Editions
The Hague, National Library of the Netherlands, MS 70.E.4
Prague, Abbey of Strahov, MS D.E.I.7
Paris, Bibliothèque nationale de France, lat. 1143
Graz, Universitäts Bibliothek, MS 134
Brussels, Bibliothèque royale, 139
Brigham Young University, Harold B. Lee Library,
Special Collections, Vault 091 R263 1343
Edinburgh University Library, MS 211.iv (Inchcolm Antiphonary)
PART III: POEMS OF THE MOSAN PSALTERS
4. INTRODUCTION TO THE MOSAN PSALTERS by Barbara R. Walters
CRITICAL EDITION OF THE POEMS OF THE MOSAN PSALTERS
by Peter T. Ricketts
Bibliography
Manuscripts
Published Sources
Index