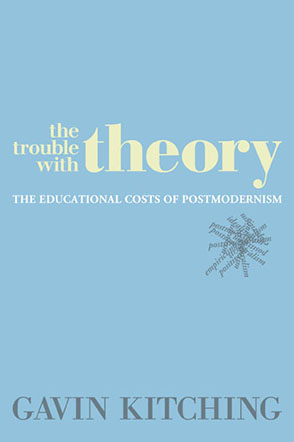 The Trouble with Theory
The Educational Costs of Postmodernism
Gavin Kitching
Buy
The Trouble with Theory
The Educational Costs of Postmodernism
Gavin Kitching
"The Trouble with Theory . . . is not a politically conservative book, and herein lies its strength. Eschewing the usual wild right hooks in favour of a few well-aimed left jabs, Kitching has knocked postmodernism on its arse where most have only rocked it back on its heels."
Description

Reviews

Bio

Subjects
In the wake of two decades in which postmodern theory has become very popular in university humanities and social science departments around the world, Gavin Kitching claims that postmodernism is causing harm to students intellectually.
Postmodern theory has engaged the hearts and heads of the brightest students because of its apparent political and social radicalism. Yet Kitching writes: "At the heart of postmodernism is very poor, deeply confused, and misbegotten philosophy. As a result even the very best students who fall under its sway produce radically incoherent ideas about language, meaning, truth, and reality."
This is not another conservative attack on postmodern theory. Rather, it is a carefully considered analysis from a dedicated university teacher who is convinced that we have gone terribly astray. He analyzes why typical postmodern theoretical approaches simply aren't effective tools for dealing with the realities of people and their activities, and he describes the philosophical confusion that lies at the heart of the problem. He also demonstrates the political implications for students, their universities, and society when students learn to use poorly constructed arguments as the basis of their writing.
The Trouble with Theory is essential reading for all students writing a thesis in the humanities and the social sciences and for their teachers.
"The Trouble with Theory . . . is not a politically conservative book, and herein lies its strength. Eschewing the usual wild right hooks in favour of a few well-aimed left jabs, Kitching has knocked postmodernism on its arse where most have only rocked it back on its heels."
Gavin Kitching is Professor of Politics in the School of Social Science and International Studies at the University of New South Wales. He is also the author of two other Penn State Press books: Marxism and Science (1994) and Seeking Social Justice Through Globalization (2001).