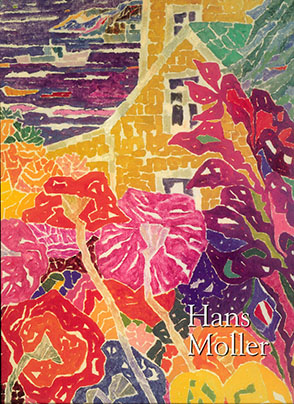 Hans Moller
Purveyor of Color, 1905–2000
Valerie Livingston
Buy
Hans Moller
Purveyor of Color, 1905–2000
Valerie Livingston
"I only want to wake up every day and decide what colors to paint my sky." —Hans Moller
Description

Bio

Subjects
"I only want to wake up every day and decide what colors to paint my sky." —Hans Moller
In 1936, graphic designer Hans Moller and his wife, Helen, fled Hitler's Germany for New York City. He easily found employment at an advertising agency but soon became fascinated by the Surrealist art of the New York galleries. In 1942, after several years of experimentation, Moller gave the first exhibition of what would be a career lasting nearly six decades.
Moller eventually divided his time between Allentown, Pennsylvania, and Monhegan, Maine. Although now little known, during the 1940s and 1950s his numerous self-portraits and luminous landscapes were exhibited in New York galleries alongside works by Mark Rothko and Milton Avery. Ad Reinhardt esteemed Moller so much that he added the artist's name to a painting in which he paid homage to visionary creators.
This book, which accompanied a Moller retrospective that traveled throughout Pennsylvania in 2001 and 2002, offers an opportunity to explore the professional and personal life of an artist virtually unknown in today's art world. Valerie Livingston interweaves fifty color reproductions of Moller's work—pieces spanning his entire career—with commentary and a brief but invaluable biography of this elusive artist.
Valerie Livingston is Director of the Lore Degenstein Gallery at Susquehanna University, where she is also Associate Professor of Art History.