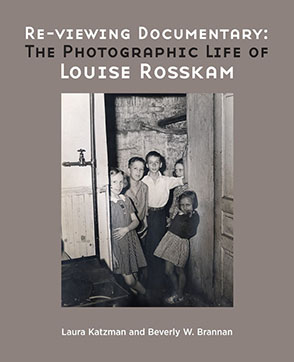 Re-viewing Documentary
The Photographic Life of Louise Rosskam
Laura Katzman, and Beverly W. Brannan
BUY
Re-viewing Documentary
The Photographic Life of Louise Rosskam
Laura Katzman, and Beverly W. Brannan
"For years, Louise Rosskam's important contribution to the formative years of American documentary expression went virtually unrecognized. With the fine work of Laura Katzman and Beverly Brannan, we can at last see and understand the profound depth and beauty of Rosskam's work. Her own story, revealed so eloquently through this compelling book, is a powerful reminder of the lasting resonance of the documentary artist. This book—like the photographer herself—is a true gem."
Description

Reviews

Bio

Subjects
This 2014 printing features a laminated cover and french flaps.
Re-viewing Documentary, the companion volume to the exhibition of the same name, examines the work of Louise Rosskam (1910–2003), an elusive pioneer of the golden age of American documentary photography from the 1930s through the 1960s. Often in collaboration with her better-known husband, Edwin (1903–1985), Rosskam photographed for the Farm Security Administration/Office of War Information, the U.S. Treasury Department, the Standard Oil Company, the Office of Information for Puerto Rico, and the New Jersey Department of Education. To government, corporate, and commercial projects she brought a vision infused with compassion, humor, and far-reaching social purpose.
Re-viewing Documentary is the first study to assess Louise Rosskam's contributions to the Rosskam team in the context of the larger field of social reform photography. It addresses the boundaries she traversed in negotiating her role in a profession in which women were making dynamic strides. The authors reveal how Rosskam embraced the documentary impulse of the age, broadened the mass media uses of documentary, and even recognized the mode's limitations. The book highlights the extraordinary photographs she and Edwin created in Puerto Rico as it developed from an impoverished U.S. possession to an industrialized commonwealth. In doing so, they helped expand the perimeters—geographic and ideological—of U.S. documentary practice.
"For years, Louise Rosskam's important contribution to the formative years of American documentary expression went virtually unrecognized. With the fine work of Laura Katzman and Beverly Brannan, we can at last see and understand the profound depth and beauty of Rosskam's work. Her own story, revealed so eloquently through this compelling book, is a powerful reminder of the lasting resonance of the documentary artist. This book—like the photographer herself—is a true gem."
"We can be grateful to Laura Katzman and Beverly Brannan for their thorough study of Louise Rosskam, which gives her a deserved place on the roster of notable twentieth-century documentary photographers. In unraveling the mystery of Rosskam's previous obscurity, the authors illuminate an American culture very different from our own."
Laura Katzman is Associate Professor of Art History at James Madison University and co-author of Ben Shahn's New York: The Photography of Modern Times.
Beverly W. Brannan is Senior Curator of Photography at the Library of Congress and co-editor of FSA: The American Vision.