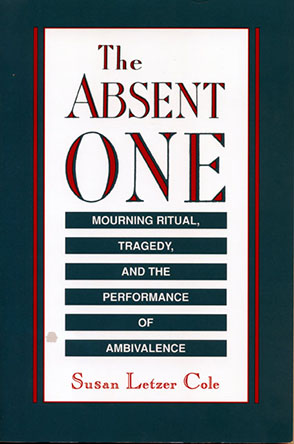 The Absent One
Mourning Ritual, Tragedy, and the Performance of Ambivalence
Susan L. Cole
Buy
The Absent One
Mourning Ritual, Tragedy, and the Performance of Ambivalence
Susan L. Cole
"In this ambitious study, Cole links the text of Aeschylus's The Persians, Shakespeare's Hamlet, Racine's Phedre, Ibsen's Ghosts, Ionesco's Exit the King, and Chaikin's Trespassing to explore the similarities between mourning ritual and tragedy."
Description

Reviews

Bio

Subjects
Here is presented a new theory of the origins of tragedy, based on its perceived kinship with mourning ritual. Mourners and tragic protagonists alike journey through dangerous transitional states, confront the uncanny, express themselves in antithetical style, and, above all,
enact
their ambivalence toward their beloved dead. Elements common to both tragedy and mourning ritual are first identified in actual Chinese, African, and Greek funerary rites and then analyzed in tragedies by Aeschylus, Sophocles, Shakespeare, Racine, Ibsen, O'Neill, Miller, Beckett, and Ionesco. Included is a firsthand account of exploration of the tragedy-mourning link in the rehearsal process of the great experimental theater director, Joseph Chaikin.
Opening her first chapter, Dr. Cole says, "The grave is the birthplace of tragic drama and ghosts are its procreators. For tragedy is the performance of ambivalence which ghosts emblematize: what we fear in particular—the revenant, the ghost returning to haunt us—is also what we desire—the extending of life beyond the moment of death."
"In this ambitious study, Cole links the text of Aeschylus's The Persians, Shakespeare's Hamlet, Racine's Phedre, Ibsen's Ghosts, Ionesco's Exit the King, and Chaikin's Trespassing to explore the similarities between mourning ritual and tragedy."
"Susan Cole's thesis in this provocative book is exactly expressed in its title. Tragedy begins historically as a displaced ritual of mourning, and that ritual is itself an expression of ambivalence: sorrow for the loss of the departed one (father or father-figure, invariably), mediated by a feeling of triumph at his replacement. Her premise links disparate sources— Chinese and Nigerian funerary rituals, among others, and a full range of Western drams from Aeschylus to Joseph Chaikin."
"The concept of ambivalence is central to Susan Cole's useful theoretical yoking of mourning ritual and tragedy, a quality that characterizes contemporary response to the genre of tragedy itself. . . . This stimulating study not only illuminates the tragic canon, it suggests why contemporary theatrical representations of tragedy are so desiccated: with a few exceptions like The Gospel at Colonus, they lack a living ceremonial surrogate. Like Hamlet, our theatre mourns in a world without the means for mourning."
Susan Letzler Cole is Professor of English and Academic Coordinator of Dramatic Studies at Albertus Magnus College.