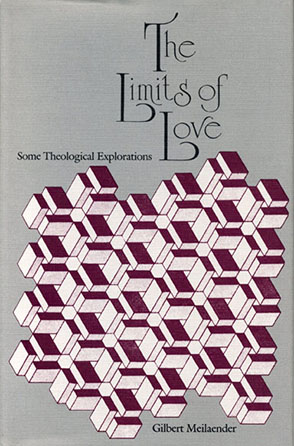 The Limits of Love
Some Theological Explorations
Gilbert Meilaender
Buy
The Limits of Love
Some Theological Explorations
Gilbert Meilaender
"[The Limits of Love] presents a very good although not totally systematic analysis of some important issues in contemporary morality. [Meilaender's] avoidance of dualistic tendencies, his emphasis on the fact that there are limits to the love we can express, and the requirement that we not violate negative precepts allow his in general to offer a cogent and clear theological discussion. . . . No matter how much theological expertise the reader has, the book is very readable and offers fresh and provocative approaches and insights to thinking about crucial medical and moral issues which confront contemporary society."
Description

Reviews

Bio

Subjects
Reflecting upon some problems of the moral life, Gilbert Meilaender considers their difficulties within a vision that accentuates not only the limits, but also the promise, of the Christian story. Created by God as finite beings, we make particular attachments. Redeemed by God for a community transcending nature and history, our love always carries us beyond the special bonds of time and place. We live, therefore, with a sense of permanent tension.
If this tension heightens our sense of the perplexities of life, it should not free us from the obligation to probe, clarify, and (where we can) resolve some of those difficulties. The author holds that theological ethics must clarify the direction for growth and development within the Christian life. He undertakes such analysis, emphasizing throughout the limits of the human condition, the importance of our nature as embodied persons, and the danger and pretension in some of our attempts to take control of and master human life. This Christian vision is developed in chapters that explore a range of moral problems, such as abortion, artificial reproduction, euthanasia, care for defective infants, provision of artificial nutrition and hydration, and marital and political community. These are throughout, however, theological explorations. Taken together they illumine not only particular problems of the moral life but a vision of life—classically Christian in its conception, humane in its care for particular bonds of attachment, and modest in its recognition of moral limits on our ability to seek the good.
Meilaender has developed a broad recognition both among scholars and students of ethics and among interested general readers. He has the capacity to throw fresh angles of vision on complex problems so as to help both the sophisticated and the uninitiated reader to think more penetratingly about moral questions.
"[The Limits of Love] presents a very good although not totally systematic analysis of some important issues in contemporary morality. [Meilaender's] avoidance of dualistic tendencies, his emphasis on the fact that there are limits to the love we can express, and the requirement that we not violate negative precepts allow his in general to offer a cogent and clear theological discussion. . . . No matter how much theological expertise the reader has, the book is very readable and offers fresh and provocative approaches and insights to thinking about crucial medical and moral issues which confront contemporary society."
"This book is a rare contribution from the Augustinian theological tradition to the present debate over bioethics. It is rare both for its unflinching insight into the conflict between the classical Christian ethical tradition and the utilitarianism of liberal culture and for its nuanced moral analysis of abortion, euthanasia, and related topics. . . . Perhaps this stimulating little book is a harbinger of a sorely needed ethic of faith."
Gilbert Meilaender is Professor of Religion at Oberlin College. He is the author of Friendship: A Study in Theological Ethics (1984) and The Theory and Practice of Virtue (1981).