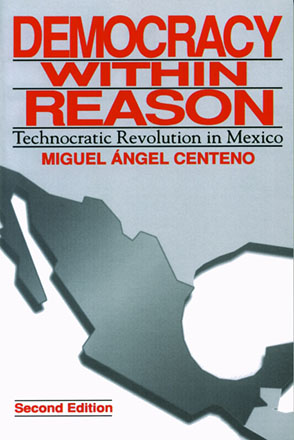 Democracy Within Reason
Technocratic Revolution in Mexico
Miguel Angel Centeno
Buy
Democracy Within Reason
Technocratic Revolution in Mexico
Miguel Angel Centeno
"[This book] sheds light on a much-lauded case of successful economic reform and provides valuable quantitative material to complement the prevailing sociological work on Mexico. . . . Centeno's literature review of the relationship between democracy and the market is intelligent, comprehensive, nuanced, and up-to-date. In addition to bringing elite studies back into the sociology of Mexico, he also raises meaningful questions about the longer-term political implications of Salinas's tenure. As such, this book lays a solid and necessary foundation for future work on Mexico."
Media

Description

Reviews

Subjects
A 1994 Choice Outstanding Academic Title
During the 1980s the Mexican regime faced a series of economic, social, and political disasters that led many to question its survival. Yet by 1992 the economy was again growing, with inflation under control and the confidence of international investors restored. Mexico was now touted as an example for regimes in Eastern Europe to emulate.
How did Carlos Salinas and his team of technocrats manage to gain political power sufficient to impose their economic model? How did they sustain their revolution from above despite the hardships these changes brought for many Mexicans? How did they stage their remarkable political comeback and create their "democracy within reason"? Why did Salinas succeed in keeping control of his revolution while Mikhail Gorbachev failed to do so in his similar effort at radical reform?
Miguel Centeno addresses these questions by analyzing three critical developments in the Mexican state: the centralization of power within the bureaucracy; the rise of a new generation of technocrats and their use of a complex system of political networks; and the dominance of a neoliberal ideology and technocratic vision that guided policy decisions and limited democratic participation. In his conclusion the author proposes some alternative scenarios for Mexico's future, including the role of NAFTA, and suggests lessons for the study of regimes undertaking similar transitions.
Of obvious interest to students of contemporary Mexico and Latin America, the book will also be very useful for those analyzing the transition to the market in other countries, the role of knowledge in public policy, and the nature of the modern state in general.
"[This book] sheds light on a much-lauded case of successful economic reform and provides valuable quantitative material to complement the prevailing sociological work on Mexico. . . . Centeno's literature review of the relationship between democracy and the market is intelligent, comprehensive, nuanced, and up-to-date. In addition to bringing elite studies back into the sociology of Mexico, he also raises meaningful questions about the longer-term political implications of Salinas's tenure. As such, this book lays a solid and necessary foundation for future work on Mexico."
"An outstanding case study of the vital problem of political and economic restructuring many societies are facing today, the work is significant for the understanding it provides of the Mexican case and in revealing lessons applicable to other regimes. Meticulously researched, systematically organized and well-written, the book contains a wealth of data."