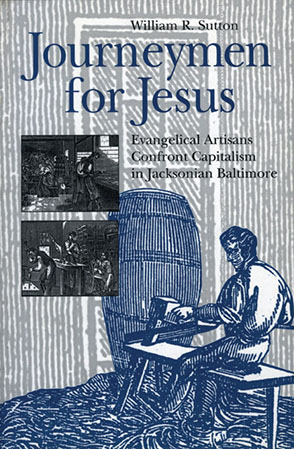 Journeymen for Jesus
Evangelical Artisans Confront Capitalism in Jacksonian Baltimore
William R. Sutton
Buy
Journeymen for Jesus
Evangelical Artisans Confront Capitalism in Jacksonian Baltimore
William R. Sutton
"A welcome addition to a new wave of scholarship on religion and antebellum social history that argues for the relevance of evangelical Protestantism in popular movements. . . . Sutton has done a remarkable job of combing records to discover a strand of thought and a group of men historians otherwise would know little about. His findings speak to a broad scholarly audience, and his work makes a significant contribution to several fields of historical study."
Media

Description

Reviews

Bio

Subjects
1994 Kenneth Scott Latourette Prize in Religion and Modern History (Conference on Faith and History)
When industrialization swept through American society in the nineteenth century, it brought with it turmoil for skilled artisans. Changes in technology and work offered unprecedented opportunity for some, but the deskilling of craft and the rise of factory work meant dislocation for others.
Journeymen for Jesus
explores how the artisan community in one city, Baltimore, responded to these life-changing developments during the years of the early republic.
Baltimore in the Jacksonian years (1820s and 1830s) was America's third largest city. Its unions rivaled those of New York and Philadelphia in organization and militancy, and it was also a stronghold of evangelical Methodism. These circumstances created a powerful mix at a time when workers were confronting the negative effects of industrialism. Many of them found within Methodism and its populist spirituality an empowering force that inspired their refusal to accept dependency and second-class citizenship.
Historians often portray evangelical Protestantism as either a top-down means of social control or as a bottom-up process that created passive workers. Sutton, however, reveals a populist evangelicalism that undergirded the producer tradition dominant among those supportive of trade union goals. Producers were not socialists or social democrats, but they were anticapitalist and reform-minded. In populist evangelicalism they discovered a potent language and ethic for their discontent. Journeymen for Jesus presents a rich and unromanticized portrait of artisan culture in early America. In the process, it adds to our understanding of the class tensions present in Jacksonian America.
"A welcome addition to a new wave of scholarship on religion and antebellum social history that argues for the relevance of evangelical Protestantism in popular movements. . . . Sutton has done a remarkable job of combing records to discover a strand of thought and a group of men historians otherwise would know little about. His findings speak to a broad scholarly audience, and his work makes a significant contribution to several fields of historical study."
William R. Sutton is a Teaching Associate at the University High School of the University of Illinois.