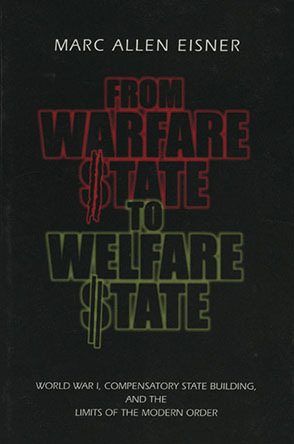 From Warfare State to Welfare State
World War I, Compensatory State-Building, and the Limits of the Modern Order
Marc Allen Eisner
Buy
From Warfare State to Welfare State
World War I, Compensatory State-Building, and the Limits of the Modern Order
Marc Allen Eisner
"This book is a product of sound scholarship, impressive learning, good organization and writing, and penetrating analytical power. Its publication promises to make a major contribution to the ongoing debates in history and the social sciences about the making and the limits of the modern American state and why it differs from its counterparts elsewhere."
Description

Reviews

Bio

Subjects
When American history is divided into discrete eras, the New Deal stands, along with the Civil War, as one of those distinctive events that forever change the trajectory of the nation's development. The story of the New Deal provides a convenient tool of periodization and a means of interpreting U.S. history and the significance of contemporary political cleavages. Eisner's careful examination of the historical record, however, leads one to the conclusion that there was precious little "new" in the New Deal. If one wishes to find an event that was clearly transformative, the author argues, one must go back to World War I.
From Warfare State to Welfare State reveals that the federal government lagged far behind the private sector in institutional development in the early twentieth century. In order to cope with the crisis of war, government leaders opted to pursue a path of "compensatory state-building" by seeking out alliances with private-sector associations. But these associations pursued their own interests in a way that imposed severe constraints on the government's autonomy and effectiveness in dealing with the country's problems—a handicap that accounts for many of the shortcomings of government today.
"This book is a product of sound scholarship, impressive learning, good organization and writing, and penetrating analytical power. Its publication promises to make a major contribution to the ongoing debates in history and the social sciences about the making and the limits of the modern American state and why it differs from its counterparts elsewhere."
"This book rewards through its lucid account of policy and institutional continuities between the Great War and the New Deal as much as it rewards through its overall theoretical conception of American politics."
"[Eisner's] new work goes far in historicizing how the roots of public and private power intertwined. While such conclusions resonate with earlier work by Grant McConnell and Theodore Lowi, Eisner has carved out a truly new space by linking this literature with the works of Skocpol, Skowronek, Hawley, and Arnold. His book will surely be useful to historians, political scientists, and anyone interested in the origins and limitations of the modern state."
Marc Allen Eisner is Professor of Government at Wesleyan University and the author of Antitrust and the Triumph of Economics (1991), Regulatory Politics in Transition (1993), and The State in the American Economy (1995).