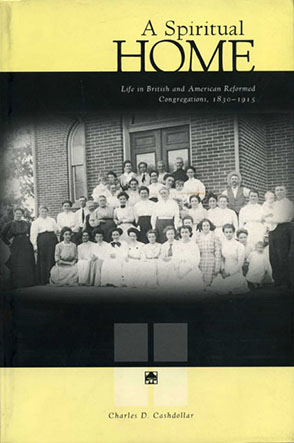 A Spiritual Home
Life in British and American Reformed Congregations, 1830–1915
Charles D. Cashdollar
BUY
A Spiritual Home
Life in British and American Reformed Congregations, 1830–1915
Charles D. Cashdollar
"A wonderful book on a neglected subject. Cashdollar provides a richly textured picture, offering insight into the workings of Protestant congregational life. He makes his case in a uniquely thorough and altogether engaging manner."
Description

Reviews

Bio

Subjects
A Spiritual Home explores congregational life inside British and American Reformed churches between 1830 and 1915. At a time when scholars have become interested in the day-to-day experience of local congregations, this book reaches back into the nineteenth century, a critically formative period in Anglo-American religious life, to examine the historical roots of congregational life.Taking the perspective of the laity, Cashdollar ranges widely from worship and music to fund-raising and administration, from pastoral care to social work, from prayer meetings to strawberry festivals, from the sanctuary to the kitchen. Firmly rooted in broader currents of gender, class, notions of middle-class respectability, increasing expectations for personal privacy, and patterns of professionalization, he finds that there was a gradual shift in emphasis during these years from piety to fellowship. Based on records, publications, and memorabilia from about 150 congregations representing eight denominations, A Spiritual Home gives us a comprehensive, composite portrait of religious life in Victorian Britain and America.
"A wonderful book on a neglected subject. Cashdollar provides a richly textured picture, offering insight into the workings of Protestant congregational life. He makes his case in a uniquely thorough and altogether engaging manner."
"Cashdollar's survey of congregational life manages to be both systematic and engaging, providing an impressive weight of evidence for his generalizations without burying the reader in a surfeit of detail."
"Cashdollar wisely retains the transatlantic focus of his previous work, showing how Reformed Christians traversed national boundaries while keeping their religious identities intact. For nineteenth-century religious history at the congregational level, A Spiritual Home is an essential starting point."
"Charles Cashdollar has written a fascinating book from a refreshingly different perspective.
Cashdollar's book is a clearly written and impressively researched contribution to the literature on Anglo-American religious life in the Victorian era."
"In particular, Cashdollar is to be praised for documenting and exploring significant changes such as from church discipline to pastoral counseling and from piety to fellowship."
Charles D. Cashdollar is a Professor of History at Indiana University of Pennsylvania. His previous book, The Transformation of Theology, 1830-1890: Positivism and Protestant Thought in Britain and America, was published by Princeton University Press in 1989. His articles have been published in Church History, Harvard Theological Review, Journal of Presbyterian History, Journal of the History of Ideas, and Pennsylvania Magazine of History and Biography.