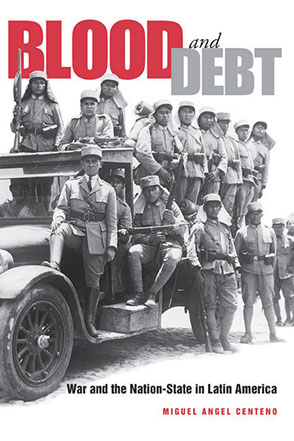 Blood and Debt
War and the Nation-State in Latin America
Miguel Angel Centeno
Buy
Blood and Debt
War and the Nation-State in Latin America
Miguel Angel Centeno
"Blood and Debt is much too rich in concepts and supporting descriptive events to give deserved justice in a brief review. Clearly, it is an outstanding study, destined to be the standard work in the area for some time to come."
Media

Description

Reviews

Bio

Subjects
Honorable Mention, 2003 Mattei Dogan Award, Society for Comparative Research
What role does war play in political development? Our understanding of the rise of the nation-state is based heavily on the Western European experience of war. Challenging the dominance of this model,
Blood and Debt
looks at Latin America's much different experience as more relevant to politics today in regions as varied as the Balkans and sub-Saharan Africa.
The book's illuminating review of the relatively peaceful history of Latin America from the late eighteenth through the early twentieth centuries reveals the lack of two critical prerequisites needed for war: a political and military culture oriented toward international violence, and the state institutional capacity to carry it out. Using innovative new data such as tax receipts, naming of streets and public monuments, and conscription records, the author carefully examines how war affected the fiscal development of the state, the creation of national identity, and claims to citizenship. Rather than building nation-states and fostering democratic citizenship, he shows, war in Latin America destroyed institutions, confirmed internal divisions, and killed many without purpose or glory.
"Blood and Debt is much too rich in concepts and supporting descriptive events to give deserved justice in a brief review. Clearly, it is an outstanding study, destined to be the standard work in the area for some time to come."
"However, Centeno's path breaking book will stimulate a wealth of follow-on studies."
Miguel Angel Centeno is Professor of Sociology at Princeton University. His Democracy Within Reason (Penn State, 1994; revised edition, 1997) was named an "Outstanding Academic Book" by Choice.