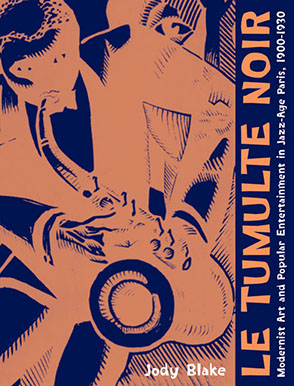 Le Tumulte noir
Modernist Art and Popular Entertainment in Jazz-Age Paris, 1900–1930
Jody Blake
Buy
Le Tumulte noir
Modernist Art and Popular Entertainment in Jazz-Age Paris, 1900–1930
Jody Blake
"Blake's groundbreaking synthesis . . . is well-documented, vividly written, and beautifully illustrated. It greatly helps deepen our understanding of the complexities and apparent contradictions of modernism and its relations to African and African American cultures in colonialist Europe."
Description

Reviews

Bio

Subjects
In France of the early twentieth-century, the term
art nègre
was as likely to refer to the black music and dance of America as to the sculpture of Africa. Indeed, music and dance, which both racial theorists and novelists portrayed as the "primitive" arts par excellence, were widely believed to exemplify the "genius" of blacks. In
Le Tumulte noir
, Jody Blake traces the profound impact African sculpture and African American music and dance had upon Parisian popular entertainment as well as upon avant-garde, modernist art, literature, and theater.
Through her discussion of the reception of ragtime and jazz, as well as other African visual and performing art forms, Blake provides new ways of understanding the development of modernist "primitivism," from Matisse and Picasso to Dada and Surrealism. She also demonstrates that the influence of art nègre went well beyond the art world. From the notorious cakewalk to the Charleston, African American idioms played a key role in shaping modern cultural, social, and political life.
"Blake's groundbreaking synthesis . . . is well-documented, vividly written, and beautifully illustrated. It greatly helps deepen our understanding of the complexities and apparent contradictions of modernism and its relations to African and African American cultures in colonialist Europe."
"Blake's work is a must-read for those who, though not exclusively art historians, are nonetheless particularly interested in the influence of African American jazz artists and their lasting impact on French cultural art forms."
"One would be hard put to find a more succinct summary of the aesthetic importance of black art, song, and dance to the modern world."
"Blake is concerned primarily with the a historical disconnection and ideologically problematic and exploitative appropriation of things African and Afro-American by Europeans. It is in this problematic appropriation that Blake makes his most forceful arguments, taking special care to illustrate the transformative process by which the Parisian establishment sought to 'civilize' le tumulte noir."
Jody Blake is Curator of the Tobin Collection of Theatre Arts at the McNay Art Museum. She is co-author with Jeannette Lasansky of Rural Delivery: Real Photo Postcards from Central Pennsylvania, 1905–1935 (Penn State, 1996).