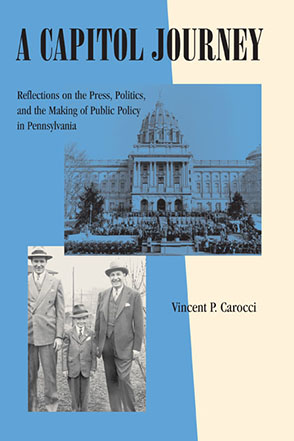 A Capitol Journey
Reflections on the Press, Politics, and the Making of Public Policy in Pennsylvania
Vincent P. Carocci
Buy
A Capitol Journey
Reflections on the Press, Politics, and the Making of Public Policy in Pennsylvania
Vincent P. Carocci
"Whether you are happy about—or horrified by—the hardball politics played in Harrisburg, you will learn much from A Capitol Journey about the 'stories behind the stories' of Pennsylvania government over the past four decades. As an outsider looking in, and as an insider looking out, Vince Carocci is the perfect guy to write this book."
Description

Reviews

Bio

Table of Contents

Sample Chapters

Subjects
The last half of the twentieth century was a time of great social and economic change for Pennsylvanians. It was also a tumultuous time in state politics. Vincent Carocci lived through these years, spending the last four decades of the century as a journalist and political insider, rising to the post of press secretary to Governor Robert P. Casey in 1989. In
A Capitol Journey
, this veteran journalist and political insider offers a colorful and honest look at the ups and downs of state politics, Pennsylvania style.
Carocci's story is the story of a professional lifetime in and around Pennsylvania state government. He was part of the State Capitol press corps during an era that is now long gone, and never likely to return. He describes the characters who covered the news in the State Capitol, their work habits, their character, their strengths, and their foibles. Carocci's story is also the story of the legislative process and those who gave it life and breath. He describes an unpredictable, sometimes unsightly process of politics, personal machinations, and legislative reorganizations. Of particular note, Carocci recounts his appearance before a federal grand jury and testimony at a federal corruption trial. He also describes how an innocent Christmas lunch between an unpredictable Senate Majority Leader and three of his staff set off a chain of events that ultimately cost the Democrats political control of the Senate, a blow from which they still have not recovered.
Finally, Carocci's story is the story of Pennsylvania governors, six in all, who assumed the pinnacle of political power in the state—their successes, their shortcomings, and, above all, their legacies. Having worked most closely with Robert Casey, Carocci recounts the many trials and tribulations of his two terms in office, including the 1992 Democratic convention when Casey's steadfast opposition to abortion made him a virtual outcast within his own party, and the recurring medical problems that challenged him throughout his tenure.
All of this and more Carocci measures up from a very personal vantage point, making A Capitol Journey a lively and a satisfying introduction to the political culture of the Keystone state.
"Whether you are happy about—or horrified by—the hardball politics played in Harrisburg, you will learn much from A Capitol Journey about the 'stories behind the stories' of Pennsylvania government over the past four decades. As an outsider looking in, and as an insider looking out, Vince Carocci is the perfect guy to write this book."
"Vince's book is a fine introduction to the political culture of our state."
"This is a book worth reading by anyone trying to understand the operation of Pennsylvania's state government in the latter part of the 20th century."
"Carocci is an excellent storyteller and has some insights into Pennsylvania politics and government not available at the moment anywhere else. Anyone searching for a classic insider account, complete with anecdotes and analysis, will find the book profitable to read."
Vincent P. Carocci covered state politics in Harrisburg during the 1960s for UPI and AP and then again in the early 1970s for The Philadelphia Inquirer. He then served on the Senate staff of the Democratic Party for thirteen years. From 1987 to 1995 he was a senior staffer for Governor Robert P. Casey during his two terms in office. From 1995 to 2003 he was Director of Government Affairs for Capital BlueCross. Now retired, he lives near Harrisburg.
Contents
Preface
Introduction: Early Years
Part 1: The Press
1. The Legislative Correspondents
2. Frank and Lindy: One Memorable Ride, One Memorable Coal Mine
3. The Divvy and a Pulitzer Prize
4. Reader Beware: Editorial Comment to Follow
5. Forks in the Road
Part 2: The Pennsylvania Senate
6. The Pennsylvania Senate, 1970s Style
7. The Senators
8. Legislative Reorganizations and Strange Bedfellows
9. Transgressions
10. The Vince
Part 3: The Governors
11. Chief Executive Officer
12. David L. Lawrence (1959–1963)
13. William Warren Scranton II (1963–1967)
14. Raymond Phillip Shafer (1967–1971)
15. Milton J. Shapp (1971–1979)
16. Richard L. Thornburgh (1979–1987)
Part 4: The Casey Years
17. The Casey Pursuit
18. Reforming the Liquor Control System
19. Bouncing Around the Governor's Office on the Way to a Dream
20. The Budget from Hell
21. The Longest Week
22. Health: The Issue That Just Wouldn't Go Away
23. Reflections, Recovery, Reentry
24. The Final Year
Postscript
Introduction: Early Years
The sun was setting on a cool, clear evening in April 1961 when I drove over the Harvey Taylor Bridge for the first time into the city of Harrisburg, Pennsylvania, the capital of the Commonwealth. I had just completed a two-year tour with the U.S. Army Intelligence Corps in Washington, D.C. I was arriving in Harrisburg to join the United Press International (UPI) bureau in Harrisburg to begin what I envisioned would be a professional career as a political journalist.
The trip from the nation's capital had not gone well. Not well at all. Some forty-five minutes south of Harrisburg, in the quiet country town of Emmitsburg, Maryland, the radiator on my 1958 Dodge sedan had overheated and required immediate service. Now Emmitsburg and the people who call it home are pleasant enough, without question. But for a stranger on the road on an April Monday morning, a stranger in a hurry to reach his destination in pursuit of a career, it was not where I wanted to be. Fortunately, a mechanic's shop was nearby. The problem was fixable, but it would take time . . . six hours, in fact. I had no alternative but to wait. It was not an auspicious start to a new career path.
I was twenty-four. Harrisburg, in my set of professional aspirations, was to be but the first stop on a road to national political reporting. I wanted to go back to Washington where folks like Jack Bell of the Associated Press and Merriman Smith of United Press International, James Reston and Tom Wicker of the New York Times, Marquis Childs of the St. Louis Post-Dispatch, Peter Lisagor of the Chicago Tribune were the headliners of the national press corps. And a new president, John Fitzgerald Kennedy, and prominent politicians like Vice-President Lyndon Johnson, Speaker of the House Sam Rayburn, Senate Minority Leader Everett Dirksen, Senator Hubert Humphrey of Minnesota were the newsmakers. My hope that day was to return to the nation's capital to work and walk among them.
Harrisburg is only 125 miles north of Washington, D.C., but my journey really had its origin another 125 miles further to the northeast in Scranton, Pennsylvania, my birthplace. What is it they say? You can take the boy out of Scranton, but you can't take Scranton out of the boy. On that old saw, I am decidedly Exhibit One.
I was born December 5, 1936, the first child of Roy and Sophie Carocci, in St. Mary's Hospital in the south side section of the city. The building still stands today, structurally pretty much as it was sixty-odd years ago but now it's a day school for Jewish children. I was christened Vincent Roy Carocci, the first grandchild of the proud Ivo and Elizabeth ("Lizzie" to the family) Carocci; the first great-grandchild of Marie Antoinette and Vincenzo Carocci. Great-grandfather Vincenzo was deceased by the time of my birth, but his wife, Marie Antoinette, "Nona Tota" to us children, was the undisputed matriarch, the commanding presence, the elder, the glue that bonded our family (immediate and extended) as one.
"Space" was not a part of our lexicon or culture at the time. Ivo and Lizzie ("Nono and "Nonie") and their two children, Roy and Alva, shared the 519 Ripple Street homestead with Nona Tota, Nona's older daughter, Adrienne, her husband, Tommie Preno, and their two children (Russell and Joanna). Just half a block down the street Nona Tota's youngest daughter, Alice, lived with her husband, Bernie Mascioni, their three girls, and Bernie's mother (Nonie Mugs, we called her). On the second floor of that house lived Bernie's sister, Rose, her husband, John Barbini, and their two children.
We came together as family often—every Sunday, every holiday, and many days each week in between. What values I learned in life, I learned on Ripple Street. And I'm a much better person for it. Nona Tota ruled the roost in that stern yet elegant manner of hers. She and Vincenzo had migrated to this country from the Perugia region of Italy. I'm told she was a maid for an aristocratic family. Vincenzo was a shoemaker and a musician. They met at a town festival. They courted and they married. Her family was not pleased. For some inexplicable reason, they thought she had married beneath her station. Legend had it that her family disavowed her. That may account for their migration from Italy to America and, ultimately, Scranton.
I knew my great-grandmother for but a short time. She spoke little English, but she was beloved by her children and grandchildren. I remember them whispering about how beautiful a woman she was in her younger days. For as long as she lived (I was eight when she passed), she was the unquestioned mistress of the Ripple Street house, the command post, if you will. She had the unwavering love and devotion of her family. She commanded that by her mere presence. She never had to demand it once.
South Scranton was a neighborhood in the classic definition of the word. It covered a thirty-or-so square-block area, fifteen or twenty minutes removed first by trolley, then by bus from downtown Scranton. It was a neighborhood of modest, middle-to lower-income family homes, most of them Italian families. It had a drugstore (Notari's); three family-run grocery stores (Bartoli's, Bucari's and Constantini's); two family bakeries (Notari's and Schiavi's); a barbershop (Curcio's); a movie theatre (Favini's); our church (St. Francis of Assisi with a pastor by the name of O'Malley); a public elementary school and two Italian American social clubs, the Dante Literary Society and the 20th Ward Social and Athletic Club. The latter two, most assuredly, were misnamed because there was nothing literary or athletic to either. But they served their purpose as evening and Sunday afternoon gathering places for the men of the neighborhood. Cards and shuffleboard and, at the Dante, bocce were the activities of choice. As a child and a teen, I saw plenty of the inside of both in the company of my father.
When I was growing up, my father, Roy, was my best friend. My grandfather, Ivo, was my hero. I had a special bond with both, though for different reasons.
Roy Carocci was a beer-truck driver for most of his adult life. He worked hard to support his wife, son, and daughter by doing the heavy lifting on that beer truck of his. I never heard him complain once about his lot. He made do with the little he had . . . his ever-present cigars; his easy chair; bowling on Friday nights with the Dante gang, followed by pasta and an all-night card game; family gatherings at Ivo and Lizzie's; a little Vaughn Monroe on the radio and three-handed pinochle with his wife and son on Sunday evenings before he retired for the night to begin the workweek once more.
As I grew older, my time came to help my dad deliver beer, particularly on my holiday vacations from college when he needed help the most. We talked a lot in that truck on those occasions. Nothing momentous or profound, usually sports and politics, often how I was doing and where I hoped to go with my life. It was time well spent, a time for a young man to learn first-hand from his father the literal meaning of physical labor and to witness how hard a father would work to make his way in life to make a life for his family.
Some moments stand out more than others. One in particular was when my father took me on a Dante bus ride to old Shibe Park in Philadelphia in 1948 (or was it 1949?) for my first major-league baseball game, a doubleheader between the Philadelphia Athletics and the New York Yankees. Joe DiMaggio in the twilight of his illustrious career played the first game that day. He hit a home run high in the left-field upper deck the first time I saw him swing a bat. I also got to shake hands with Yankee first baseman Joe Collins, a South Scranton boy of considerable baseball talent who made it to the "Bigs" and was kind of a hero around our town.
Young boys tend to remember those moments and cherish them as they grow older. I remember the Yanks won the doubleheader. I remember Herman Buscarini, Roy's best friend and organizer of these twice-a-summer Dante rituals, pulling out his accordion for the final leg home after our dinner stop. I remember the men, most of them Italian, gathering in the back of the bus for lusty choruses of songs from their native land. I remember I was exhausted with excitement. I fell asleep shortly thereafter, somewhere in the second stanza of "Oi, Marie."
Ivo Carocci also was a very special man to me, but in a different sort of way. I still remember him each and every day. Always a smile on his face and a pleasant word on his tongue; always immaculately dressed, white shirt and tie; a straw hat in the summer ("skimmers" we called them) and Hamburgs in the winter. His hat, his cigar (like father, like son), and his smile were his trademarks.
Ivo came to this country at age three with his immigrant father and mother. As an adult he also labored hard to provide for his family, always in the beer business but never on the truck. His special qualities attracted the attention of the city's Democratic political leadership and in the 1940s he was invited to run as a candidate for City Council, probably to add ethnic and neighborhood balance to a political ticket in what was largely an Irish town. Scranton also was a Republican town at the time. Ivo lost his first race by fewer than three hundred votes. But the party's candidate for mayor, "Friendly" Jim Hanlon—he became known as the "Friendly Mayor of the Friendly City"—won. Political power in Scranton was shifting. Two years later, Ivo was endorsed again for council by the Democratic City Committee. This time he won handily. The Democrats assumed political control of both the mayor's office and the council. I was just in grade school at the time. But my grandfather's electoral experience introduced me to politics at a very young age, and my appetite for the process never diminished through the years.
My grandfather took his public duties seriously. If I heard him ask the question once, I heard him ask it countless times. "What's the right thing to do?" he'd inquire of his colleagues as he contemplated his vote on issues before the council. Not a bad road map for public service, when you think about it. The first years of Scranton's new Democratic regime were marked by paved roads for the adults to travel on their way to and from their labors and neighborhood park development for the children to play in. Ivo was a proud supporter of both. He recognized immediately how good roads and developed playgrounds would improve the quality of life in Scranton for young and old. In later years he led the fight against rising utility rates and for protection of homes threatened by coal-mine subsidence throughout the city. His effort was rewarded by the party and the voters. He subsequently was elected to two more four-year terms. When he died after the first year of his third term, my father was selected to replace him. He won a special election to fill the remaining two years of his father's term and then won a four-year term in his own right.
Ivo Carocci was the first person of Italian ancestry to be elected to public office in the city of Scranton. That was important to him. Just how important I never realized until that Sunday in September 1954, when I was departing for my freshman year at Penn State. I remember that day as if it were yesterday: my mother, tearing up at each goodbye during the obligatory visits to the aunts and uncles. Her first-born was leaving home . . . my grandmother Nonie fretting that I would never get enough to eat on the just plain American dormitory cooking I would find in college . . . my father, proud that his son would have the opportunity to receive a college education (the first of the family so enabled), but eager to get started on the three-and-a-half-hour trip to State College . . . my aunts and uncles, happy for me but not quite certain I was cut from the stuff to make it on my own . . . and their sons and daughters, my cousins, envious that I was breaking the traces, anxious for their time to come as it surely did . . .
My grandfather stood off to the side that morning, calm and serene, but ever so aware of what was happening around him. He loaned us his car, the Chrysler New Yorker, to make the trip. I suspect he gave my dad the money to buy the lunch and the dinner we would have that day. Just before we were about to leave, he called me aside. We stood in the upstairs hallway, alone for a brief moment. And he said to me, "I've worked hard to make the Carocci name a good name in this city. I expect you will do nothing to change that in any way." With that, he kissed my forehead, shook my hand, slipped me ten dollars, and sent me on my way.
That was almost fifty years ago. But the message of that plain-spoken, wise, and generous self-made man was not lost on me. He was telling me that I was about to embark on a wonderful opportunity, but that opportunity was not free of responsibility to myself, my family, and my family name.
Family was not a word I merely learned. It was a word I literally lived. Family taught me values, it nourished my traditions, it reminded me of my responsibility to others in my family. Through the years, as Ivo cautioned me that day, I came to learn that the worth of our lives will not be measured merely by the number of days we live, but rather, by the quality of the lives we lead, and the quality of the legacy we leave behind for our children and theirs to come. Ivo taught me that, and I am forever grateful that he did.
My grandfather died of a heart attack one Sunday during my junior year in college. Reflecting on his life, an editor of the Scranton Times wrote,
In public and private life there was nothing of sham and pretense about Ivo Carocci.
He was a kindly, charitable man, most of whose contributions to the welfare of his neighbors and to the needy orphans of Italy, his native land, were known only to himself and his recipients.
His character and personality made it easy for him to win and hold friends. In his private business dealings, his word was his bond. Those who had been fortunate enough to enjoy his friendship will mourn his passing. His family can be comforted by knowing that his life has been a rich one, and that as a private individual and a public official he represented the highest type of American citizen.
Roy Carocci died in his sleep in 1985. There were no editorials for him. But neither he nor we needed any. He had lived a long and full life, long enough to see his children grow into self-sustaining adults, to see them marry and have children of their own. Though he knew them for only a few years, he came to know all seven of his grandchildren, and they him. He loved them beyond expression, and they returned his affection. He was a good father and a good grandfather. That would have been epitaph enough for him.
It's strange, indeed, how one's life path can be charted more by happenstance than premeditation. It happened twice in my career. The first occasion occurred in my senior year at Scranton Central High School when my English teacher, Miss Jordan, asked me to write an article for the high school literary magazine, though "literary" may be too strong a characterization. I did, and because I did, I walked the first step on this journey that would take me to Harrisburg that April evening some seven years later.
"You write beautifully," Miss Jordan told me on publication. "You should pursue it."
"Beautifully" was without doubt an overstatement. To this day, I can't even remember the subject of the article. What I do remember is that when I saw the byline, "By Vince Carocci," well, I was hooked. But good! For the first time I began entertaining seriously the thought of going to college to pursue a degree in journalism, which is how events ultimately played out.
The second crossroad came as I was winding down my active duty tour as an Army Intelligence photo interpreter in Washington, D.C. There were three options to consider:
The first was to return to the Johnstown Tribune Democrat, my first employer, where I spent nine months between college graduation and active military service as a general assignment and sports reporter. I had an offer to go back in that same capacity. Johnstown and its people were both rock solid, but it was not the place for me. One option easily discarded.
The second was to stay in Washington, D.C., as a civilian employee of the Central Intelligence Agency, with whom I had collaborated in my Army Intelligence activities. It was not an unattractive offer. Washington was a place of great social opportunities for a young bachelor, and, politically, with the exciting 1960 presidential election just concluded and a new administration inaugurated, it was, in the vernacular, hot to be there. This offer I could not dismiss so casually.
The third option was to head up to Harrisburg to restart a career in journalism, this time political journalism with the UPI capital bureau. I never had lost the bug to write professionally and my interest in politics was as strong as it was when my grandfather and father were running for election to Scranton City Council. I never entertained the notion to run for public office myself. But the opportunity to write about those who did had more than limited appeal to me.
What to do, what to do? I, frankly, was conflicted—so much so that I accepted an invitation from one of my Army housemates, who also was being separated from active service, to visit Atlanta, Georgia, our first week out of the military, where I hoped to clear my head. We were in Atlanta only a day or two when an urgent call came from my prospective CIA supervisor, who told me, without going into detail, that I was needed back in the city the next day. I told him I wasn't quite ready to return. He said if I didn't come back, he couldn't promise me the job would still be waiting. I said, Well, if that's the way it must be, then it must be. I'd have to pass. End of story. Washington and the CIA were out. Harrisburg and political journalism were in. That's how I found myself driving over the Harvey Taylor Bridge when I did.
Before the month was out, I learned the reason for the rushed call from Washington. The newly inaugurated Kennedy administration had inherited a secret plan from the departed Eisenhower administration to unseat Fidel Castro and his Communist regime in Cuba. The plan called for an attack on the island by a troop of anti-Castro Cubans which, it was predicted, in turn would spark an anti-Castro upheaval among the general Cuban population. I was to be one of a team of photo interpreters conducting prelaunch photo analysis of the targeted landing sites and surrounding environs.
The mission became known as the Bay of Pigs. It was, of course, a colossal failure. The sentiment of the Cuban people was badly misread by the U.S. Intelligence apparatus and badly misrepresented by the anti-Castro Cubans who pressed the Eisenhower and Kennedy administrations so aggressively for the attack. In hindsight, this serious political and operational miscalculation undoubtedly created the climate for the more threatening Cuban Missile Crisis a year and one-half later which set the United States and Russia on a nuclear collision course. My presence and participation in the Bay of Pigs preparation certainly would not have altered the course of events. But it certainly would have altered the course of my life and career. It's not something I spent a lot of time . . . any time, frankly . . . wondering about through the years.
So this is how things ultimately come to pass in one's roadmap to a career. Harrisburg by way of Scranton, with stops in University Park, Johnstown, and Washington, D.C., in between. AAA could not have mapped this route in advance.
Harrisburg, clearly, was not the city of Kennedy, Johnson, Nixon, Humphrey, Rayburn, and Dirksen. But it was the city of Governor David Lawrence, Senate President Pro Tempore Harvey Taylor, and Republican State Chairman George I. Bloom, with visits by U.S. Congressman William J. Green and U.S. Senators Joseph Clark and Hugh Scott (Philadelphians all) thrown in for good measure. Each of these politicos in his own right was a major player in Pennsylvania politics, and Pennsylvania at the time was a major player in the national politics of their respective parties. It was not a bad place at all for an aspiring young journalist to begin his pursuit of a career as a national political reporter.
I was to report the next morning to the Harrisburg UPI office under the watchful eye and steady hand of Bureau Chief Lloyd Rochelle to man the UPI Pennsylvania radio desk from 6:30 A.M. to 2:30 P.M. daily. It was not a challenging assignment, mostly rewriting the overnight copy of the UPI Capitol Hill staff every hour on the hour for transmittal to UPI's several radio clients across the state. But it was a beginning.
Little did I know that I would spend forty years of my forty-two-plus-year professional career in the state capital region nestled in the quiet and family-friendly environs of Central Pennsylvania . . . that during my reportorial travels on Capitol Hill I would meet a scheduling secretary in the office of Lt. Gov. Raymond P. Shafer . . . that we would marry and raise our family of four children in suburban Harrisburg . . . and that, ultimately, we would call it home for good. All I knew that night was that the next day would be the first day on my new life, my Capitol journey. I was ready.
Mailing List
Subscribe to our mailing list and be notified about new titles, journals and catalogs.