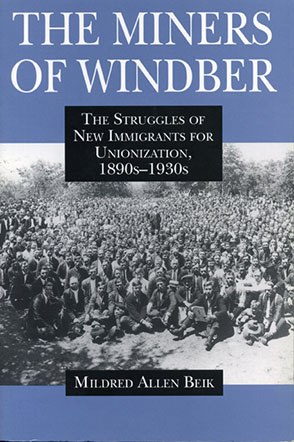 The Miners of Windber
The Struggles of New Immigrants for Unionization, 1890s-1930s
Mildred Beik
Buy
The Miners of Windber
The Struggles of New Immigrants for Unionization, 1890s-1930s
Mildred Beik
"Mildred Allen Beik's account of a Pennsylvania coal town in the first three decades of this century is a powerful story of repression and resistance. This is both an important historical story and a lesson that Americans should keep in mind as they debate the merits of unions and the dismantling of the welfare-state in the late twentieth century."
Media

Description

Reviews

Bio

Subjects
Winner of the 1996 Book of the Year from the International Labor History Association
In 1897 the Berwind-White Coal Mining Company founded Windber as a company town for its miners in the bituminous coal country of Pennsylvania.
The Miners of Windber
chronicles the coming of unionization to Windber, from the 1890s, when thousands of new immigrants flooded Pennsylvania in search of work, through the New Deal era of the 1930s, when the miners' rights to organize, join the United Mine Workers of America, and bargain collectively were recognized after years of bitter struggle.
Mildred Allen Beik, a Windber native whose father entered the coal mines at age eleven in 1914, explores the struggle of miners and their families against the company, whose repressive policies encroached on every part of their lives. That Windber's population represented twenty-five different nationalities, including Slovaks, Hungarians, Poles, Italians, and Carpatho-Russians, was a potential obstacle to the solidarity of miners. Beik, however, shows how the immigrants overcame ethnic fragmentation by banding together as a class to unionize the mines. Work, family, church, fraternal societies, and civic institutions all proved critical as men and women alike adapted to new working conditions and to a new culture. Circumstance, if not principle, forced miners to embrace cultural pluralism in their fight for greater democracy, reforms of capitalism, and an inclusive, working-class, definition of what it meant to be an American.
Beik draws on a wide variety of sources, including oral histories gathered from thirty-five of the oldest living immigrants in Windber, foreign-language newspapers, fraternal society collections, church manuscripts, public documents, union records, and census materials. The struggles of Windber's diverse working class undeniably mirror the efforts of working people everywhere to democratize the undemocratic America they knew. Their history suggests some of the possibilities and limitations, strengths and weaknesses, of worker protest in the early twentieth century.
"Mildred Allen Beik's account of a Pennsylvania coal town in the first three decades of this century is a powerful story of repression and resistance. This is both an important historical story and a lesson that Americans should keep in mind as they debate the merits of unions and the dismantling of the welfare-state in the late twentieth century."
Mildred Allen Beik is an independent scholar living in Atlanta. She has taught at the Georgia Institute of Technology and Emory University and served as a consultant in various public history workshops.
Also of Interest
Mailing List
Subscribe to our mailing list and be notified about new titles, journals and catalogs.