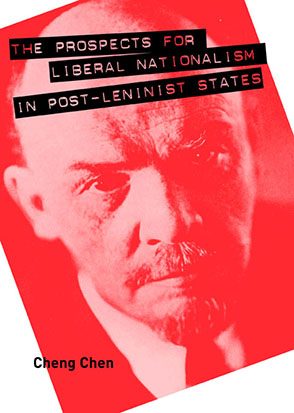 The Prospects for Liberal Nationalism in Post-Leninist States
Cheng Chen
BUY
The Prospects for Liberal Nationalism in Post-Leninist States
Cheng Chen
"The Prospects for Liberal Nationalism in Post-Leninist States is the first book to systematically compare the impact of Leninist legacies on postcommunist national identity. Chen's main argument—that the fusion of indigenous Leninism and nationalism in Russia and China presents greater obstacles to the development of liberal nationalism than in comparable cases in Eastern Europe—represents a welcome reminder that the excessive concentration on the here and now in postcommunist studies has prevented us from adequately conceptualizing the impact of Leninist legacies on contemporary developments. A well-written, lucid, and thought-provoking book."
Description

Reviews

Bio

Table of Contents

Sample Chapters

Subjects
The fall of communism in the Soviet Union led many to hope and expect that liberal democracy would immediately take root across postcommunist states, marking what Francis Fukuyama famously referred to as the "end of history." Since then, however, a very different picture has emerged, most notably in the form of nationalist sentiments that have steered many postcommunist countries in an illiberal direction, even in regimes committed to market reforms and formally democratic institutions.
Cheng Chen examines this phenomenon in comparative perspective, showing that the different pathways of nation-building under Leninism affected the character of Leninist regimes and, later, the differential prospects for liberal democracy in the postcommunist era. In China and Russia, Chen shows, liberalism and nationalism were more difficult to reconcile because Leninism was indigenous and had a more significant impact on nation-building. In Hungary and Romania, by contrast, Leninism was a foreign import and had less of an effect on traditional national identity. As we witness the struggle to establish democracy in places such as Afghanistan and Iraq, a study that examines the salience of historical legacies seems particularly timely.
"The Prospects for Liberal Nationalism in Post-Leninist States is the first book to systematically compare the impact of Leninist legacies on postcommunist national identity. Chen's main argument—that the fusion of indigenous Leninism and nationalism in Russia and China presents greater obstacles to the development of liberal nationalism than in comparable cases in Eastern Europe—represents a welcome reminder that the excessive concentration on the here and now in postcommunist studies has prevented us from adequately conceptualizing the impact of Leninist legacies on contemporary developments. A well-written, lucid, and thought-provoking book."
"This is a compelling comparative study of communist regimes that succeeds in crossing some unhelpful but durable geographical and intellectual divides. In particular, Chen draws her cases from both Europe and Asia, and she accounts for types of nationalist development (liberal versus illiberal) by referring to variations in both ideology and the political-economic institutions of state socialism."
"

Cheng Chen's study of liberal nationalism in postcommunist states is a path-breaking volume that analyzes with great erudition the important subject of the lingering legacies of Marxist-Leninism on postcommunist states.

"
"This is a valuable book because it appears just as the possible development of virulent nationalism in many post-Leninist states has taken on new urgency."
Cheng Chen is Associate Professor of Political Science at SUNY Albany.
Contents
List of Tables and Figures
Acknowledgments
List of Abbreviations
Introduction
1. Liberalism, Leninism, and the National Question
2. Russia: The Problem of Rising Extremism
3. China: Nationalism with Chinese Characteristics
4. Romania: Legacies of "National Stalinism"
5. Hungary: The Marginalization of Illiberal Nationalism
Conclusion: The Prospects for Liberal Nationalism
Bibliography
Index