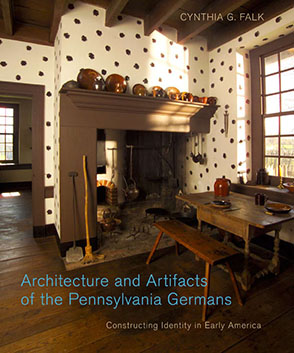 Architecture and Artifacts of the Pennsylvania Germans
Constructing Identity in Early America
Cynthia G. Falk
BUY
Architecture and Artifacts of the Pennsylvania Germans
Constructing Identity in Early America
Cynthia G. Falk
"This book—beautifully printed on high-quality paper and enhanced by excellent black-and-white photos and sketches—reflects the high quality of the material culture in the German areas of Pennsylvania. . . . Architecture and Artifacts of the Pennsylvania Germans is worthy of acquisition by libraries, scholars, the general public, and collectors of antiques and art."
Description

Reviews

Bio

Table of Contents

Sample Chapters

Subjects
How did a mid-eighteenth-century group, the so-called Pennsylvania Germans, build their cultural identity in the face of ethnic stereotyping, nostalgic ideals, and the views imposed by outside contemporaries? Numerous forces create a group's identity, including the views of outsiders, insiders, and the shaping pressure of religious beliefs, but to understand the process better, we must look to clues from material culture.
Cynthia Falk explores the relationship between ethnicity and the buildings, personal belongings, and other cultural artifacts of early Pennsylvania German immigrants and their descendants. Such material culture has been the basis of stereotyping Pennsylvania Germans almost since their arrival. Falk warns us against the typical scholarly overemphasis on Pennsylvania Germans' assimilation into an English way of life. Rather, she demonstrates that more than anything, socioeconomic status and religious affiliation influenced the character of the material culture of Pennsylvania Germans. Her work also shows how early Pennsylvania Germans defined their own identities.
"This book—beautifully printed on high-quality paper and enhanced by excellent black-and-white photos and sketches—reflects the high quality of the material culture in the German areas of Pennsylvania. . . . Architecture and Artifacts of the Pennsylvania Germans is worthy of acquisition by libraries, scholars, the general public, and collectors of antiques and art."
"[Cynthia G. Falk] analyzes what kinds of objects were associated with people of German heritage of various ranks and religious denominations. . . . Students of sociology and ethnicity in our earliest years as a state and nation should find this volume of great interest and value. She raises points not usually seen in books about early years of German settlements in our state."
Cynthia G. Falk is Assistant Professor of Material Culture at Cooperstown Graduate Program of SUNY Oneonta.
Contents
List of Illustrations
Acknowledgments
Introduction
1 German or Georgian?
2 Industry, Economy, and Ignorance
3 From Awkwardness to Civility
4 Luxury
5 Changes and Choices
Appendix A: "An Account of the Manners of the German Inhabitants of Pennsylvania" (1789), Benjamin Rush
Appendix B: "Progress of Cultivation in Pennsylvania" (1792), Jacques-Pierre Brissot de Warville
Notes
Index
Mailing List
Subscribe to our mailing list and be notified about new titles, journals and catalogs.