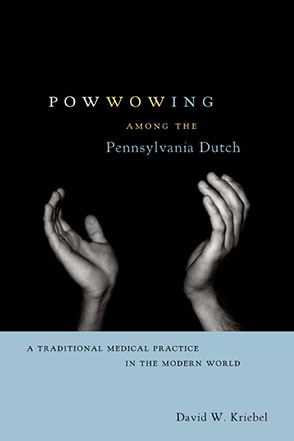 Powwowing Among the Pennsylvania Dutch
A Traditional Medical Practice in the Modern World
David W. Kriebel
BUY
Powwowing Among the Pennsylvania Dutch
A Traditional Medical Practice in the Modern World
David W. Kriebel
"Making the subject even more fascinating is Kriebel's contention that some modern powwow activists have reinvigorated the ancient practice as a 'new age' phenomenon. Altogether, a fascinating exploration of a novel subject."
Description

Reviews

Bio

Table of Contents

Sample Chapters

Subjects
Known in Pennsylvania Dutch as
Brauche
or
Braucherei
, the folk-healing practice of powwowing was thought to draw upon the power of God to heal all manner of physical and spiritual ills. Yet some people believed—and still believe today—that this power to heal came not from God, but from the devil. Controversy over powwowing came to a climax in 1929 with the York Hex Murder Trial, in which one powwower killed another who, he believed, had placed a hex on him.
Based on seven years of fieldwork and extensive interviews, David Kriebel's study reveals the vibrant world, history, and culture of powwowing in southeastern and central Pennsylvania. He describes, compares, and contrasts powwowing practices of the past and the present; discusses in detail the belief in powwowing as healing; and assesses the future of Braucherei. Biographical sketches of seven living powwowers shed additional light on this little-understood topic.
A groundbreaking inquiry into Pennsylvania German culture and history, Powwowing Among the Pennsylvania Dutch opens a window onto an archaic, semi-mystical tradition still very much in practice today.
"Making the subject even more fascinating is Kriebel's contention that some modern powwow activists have reinvigorated the ancient practice as a 'new age' phenomenon. Altogether, a fascinating exploration of a novel subject."
"A well-written and wonderfully enjoyable book. Part of the volume's appeal stems from Kriebel's integration of case studies and appendices that allow powwowers and their clients to speak for themselves."
"An engaging introduction to the practice, and . . . a serious source for the study of a field to which there has been paid far too little attention."
"An engaging read that illustrates the longevity of folkways within American ethnic groups despite the changes in the larger worlds of medicine and culture."
David W. Kriebel is an anthropologist and writer specializing in religion and medicine. He has published articles on powwowing in The Journal of the Center for Pennsylvania German Studies, The Pennsylvania German Review, and Esoterica.
Contents
Preface
1. On the Trail of a Lost Art
2. A Powwow Primer
3. Powwow Ritual: Structure and Performance
4. Powwowing, Medicine, and the Act of Healing
5. Powwowing in Pennsylvania
6. Some Contemporary Powwowers
7. A Pennsylvania Dutch Model of Powwowing
8. The Persistence of Powwowing
Appendixes
1. Theoretical Background
2. Glossary of Illnesses
3. An Excerpt from Albertus Magnus: Egyptian Secrets
4. Life Dates of Twentieth-Century Powwowers in This Study
5. Characteristics of Twentieth-Century Powwowers in This Study
6. Data on Twentieth-Century Ritual Practice
7. Additional Powwow Cases
Bibliography
Index
Mailing List
Subscribe to our mailing list and be notified about new titles, journals and catalogs.