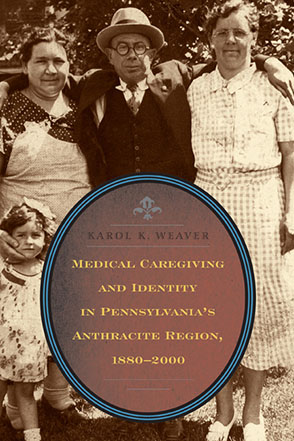 Medical Caregiving and Identity in Pennsylvania's Anthracite Region, 1880–2000
Karol K. Weaver
BUY
Medical Caregiving and Identity in Pennsylvania's Anthracite Region, 1880–2000
Karol K. Weaver
"Karol Weaver spins a compelling tale about the practice of vernacular medicine among the immigrant communities of Pennsylvania's anthracite region. Using oral interviews, advice manuals, hospital records, folklore, and social science literature, she demonstrates the significance of ethnicity, gender, age, and religion in the access to and delivery of folk therapies and medical treatment during the late nineteenth and early twentieth centuries. While women acted as healers to family members and neighbors, providing herbal remedies and midwifery and caregiving services, men, as miners, faced myriad ailments that they self-treated with alcohol, tobacco, and patent medicines. These southern and eastern European immigrants made use of traditional Pennsylvania Dutch healers (powwowers) and also sought out faith healing to treat a variety of maladies. While the histories of mining and labor in the anthracite region of Pennsylvania have been well documented, much less is known about medical practices among working-class immigrants. Weaver's well-researched and clearly written monograph goes a long way toward filling that gap in the scholarship."
Description

Reviews

Bio

Table of Contents

Sample Chapters

Subjects
While much has been written about immigrant traditions, music, food culture, folklore, and other aspects of ethnic identity, little attention has been given to the study of medical culture, until now. In Medical Caregiving and Identity in Pennsylvania's Anthracite Region, 1880–2000, Karol Weaver employs an impressive range of primary sources, including folk songs, patent medicine advertisements, oral history interviews, ghost stories, and jokes, to show how the men and women of the anthracite coal region crafted their gender and ethnic identities via the medical decisions they made. Weaver examines communities' relationships with both biomedically trained physicians and informally trained medical caregivers, and how these relationships reflected a sense of "Americanness." She uses interviews and oral histories to help tell the story of neighborhood healers, midwives, Pennsylvania German powwowers, medical self-help, and the eventual transition to modern-day medicine. Weaver is able to show not only how each of these methods of healing was shaped by its patrons and their backgrounds but also how it helped mold the identities of the new Americans who sought it out.
"Karol Weaver spins a compelling tale about the practice of vernacular medicine among the immigrant communities of Pennsylvania's anthracite region. Using oral interviews, advice manuals, hospital records, folklore, and social science literature, she demonstrates the significance of ethnicity, gender, age, and religion in the access to and delivery of folk therapies and medical treatment during the late nineteenth and early twentieth centuries. While women acted as healers to family members and neighbors, providing herbal remedies and midwifery and caregiving services, men, as miners, faced myriad ailments that they self-treated with alcohol, tobacco, and patent medicines. These southern and eastern European immigrants made use of traditional Pennsylvania Dutch healers (powwowers) and also sought out faith healing to treat a variety of maladies. While the histories of mining and labor in the anthracite region of Pennsylvania have been well documented, much less is known about medical practices among working-class immigrants. Weaver's well-researched and clearly written monograph goes a long way toward filling that gap in the scholarship."
"Finally, a scholar has tackled in rich detail the meeting of folk and modern medical beliefs and practices during international migration. Medical Caregiving and Identity in Pennsylvania's Anthracite Region is a valuable introduction to the powwowers, wise neighbors, midwives, regional hospitals, and mining company and immigrant doctors who offered mining communities a panoply of changing health care choices. This book is highly recommended for anyone interested in the social history of U.S. immigration."
"Many thousands of immigrants found work in the coal mines of central and eastern Pennsylvania around 1900. . . . [Karol K. Weaver] provides great details about the customs and practices that the immigrants and their families observed to overcome minor and even severe medical problems during those early years. This is the first major book to focus on medical care in the coal regions of the late 19th and 20th centuries."
"Medicine is as much an art as it is a science. It is this subject of medicine as art that Karol K. Weaver covers in her excellent new study Medical Caregiving and Identity in Pennsylvania's Anthracite Region. . . . Well written and researched, it should be included on every reading list dealing with American social and labor history, as well as health care delivery."
"Weaver's book . . . is a fascinating read and contributes to the growing body of literature on local medical cultures in the United States and their transformation over time. The author convincingly demonstrates the importance of medical practices to ethnic identity, and the crucial roles of gender and religion in popular healing."
"In Medical Caregiving and Identity in Pennsylvania's Anthracite Region, 1880-2000, Karol Weaver skillfully weaves history and the lives of medical caregivers together within the context of policy, class, gender, and a transcultural society."
Karol K. Weaver is Associate Professor of History at Susquehanna University.
Contents
List of Illustrations
Acknowledgments
Introduction
1 The Anthracite Coal Region
2 Professional Medicine in the Anthracite Coal Region
3 Mothering Through Medicine: The Neighborhood Women
4 Powwowers and Pennsylvania German Medicin
5 Miners, Masculinity, and Medical Self-Help
6 Moving from Traditional Medicine to Biomedicine
Conclusion
Notes
Bibliography
Index
Mailing List
Subscribe to our mailing list and be notified about new titles, journals and catalogs.