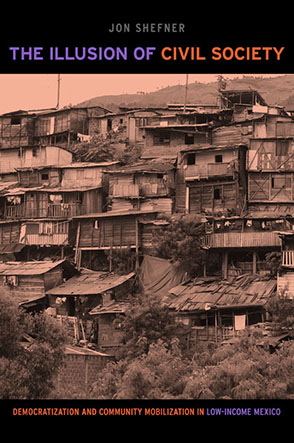 The Illusion of Civil Society
Democratization and Community Mobilization in Low-Income Mexico
Jon Shefner
BUY
The Illusion of Civil Society
Democratization and Community Mobilization in Low-Income Mexico
Jon Shefner
"

Shefner provides a fascinating account of popular sector organizing in a poor Mexican community from 1994 through 2004. This is an important period in Mexico's history, and Shefner does a splendid job of immersing the reader in his own process of personal engagement and re-engagement with the people he has known for more than ten years. The result is a study that addresses critical issues in Latin American politics today, including the impact of transitions to democracy on civil society and the pervasive endurance of clientelism.

"
Media

Description

Reviews

Bio

Subjects
2009 Honorable Mention - Global Division of the Society for the Study of Social Problems' Best Book Award.
Much has been written about how civil society challenges authoritarian governments and helps lead the way to democratization. These studies show that neoliberal economic policies have harmed many sectors of society, weakening the state and undermining clientelistic relationships that previously provided material benefits to middle- and low-income citizens, who are then motivated to organize coalitions to work for greater social justice and equality. Recognizing this important role played by civil society organizations, Jon Shefner goes further and analyzes the variegated nature of the interests represented in these coalitions, arguing that the differences among civil society actors are at least as important as their similarities in explaining how they function and what success, or lack thereof, they have experienced.
Through an ethnographic examination extending over a decade, Shefner tells the story of how a poor community on the urban fringe of Guadalajara mobilized through an organization called the Unión de Colonos Independientes (UCI) to work for economic improvement with the support of Jesuits inspired by liberation theology. Yet Mexico's successful formal democratic transition, won with the elections in 2000, was followed by the dissolution of the coalition. Neither political access for the urban poor, nor their material well-being, has increased with democratization. The unity and even the concept of civil society has thus turned out to be an illusion.
"

Shefner provides a fascinating account of popular sector organizing in a poor Mexican community from 1994 through 2004. This is an important period in Mexico's history, and Shefner does a splendid job of immersing the reader in his own process of personal engagement and re-engagement with the people he has known for more than ten years. The result is a study that addresses critical issues in Latin American politics today, including the impact of transitions to democracy on civil society and the pervasive endurance of clientelism.

"
"

This highly readable yet scholarly account of political and social mobilization among low-income irregular settlements in Guadalajara draws upon the author's fieldwork from the mid-1990s through the present. Shefner successfully weaves the story of urban social movements against the backdrop of Mexico's democratic opening and strengthening of civil society. The qualitative methodology is especially impressive, making extensive use of participant observation and key informant interviews. An excellent addition to the literature.

"
"This volume is a finely wrought piece of scholarship that will appeal not only to students of civil society but also to scholars (and critics) of neo-liberalism, globalization, democratization, patron-client relations, and urban transformation in Latin America and other parts of the global south."
Jon Shefner is Associate Professor of Sociology and Director of the Interdisciplinary Program in Global Studies at the University of Tennessee, Knoxville.
Mailing List
Subscribe to our mailing list and be notified about new titles, journals and catalogs.